Game
Tips Vainglory Bagian 2: ‎Lakukan 6 Hal Ini Agar Mendapatkan Last Hit
Dapatkan lebih banyak gold untuk membeli item penting secepatnya dengan last hit
Last hit merupakan bagian penting yang tidak terpisahkan dari game Multiplayer Online Battle Arena (MOBA). Baik itu MOBA PC seperti Dota 2 dan League of Legends ataupun MOBA mobile seperti Mobile Legends, Arena of Valor, dan Vainglory.
Kenapa harus last hit sebanyak-banyaknya? Jawabannya mungkin sudah Anda ketahui yakni guna mendapatkan gold lebih banyak untuk membeli item penting secepatnya, sehingga Anda bisa owning permainan.
Di artikel ini saya ingin membahas tips untuk mendapatkan last hit secara lebih spesifik di mode game baru 5V5 Vainglory Sovereign's Rise. Kenapa kemampuan ini begitu penting Anda kuasai di Vainglory? Berikut tips mendapatkan last hit.
1. Kuasai Sistem Kontrol Tap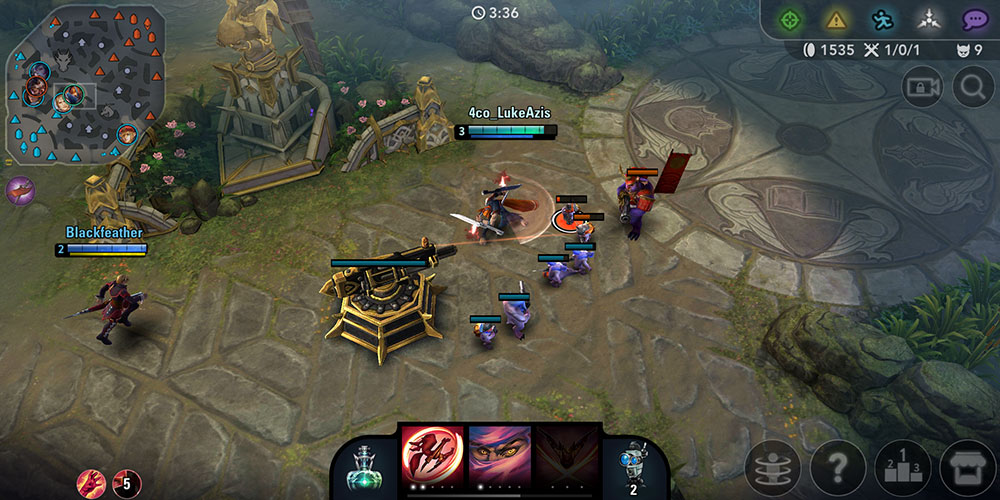 Ya, Vainglory merupakan game MOBA mobile yang hingga saat ini masih menggunakan sistem kontrol tap, bukan virtual analog seperti yang ada pada AOV dan ML. Menantang Anda lewat kontrol yang intuitif namun tetap presisi. Meski bagi pemain baru, kontrol tersebut mungkin terasa lebih sulit dibandingkan virtual analog.
Sistem kontrol ini diklaim jauh lebih baik dibandingkan virtual analog. Karena Anda bisa mengontrol permainan lebih akurat dan memiliki tingkat respons yang lebih tinggi, itulah kenapa last hit menjadi bagian yang sangat penting di Vainglory.
2. Jangan Auto Attack Minion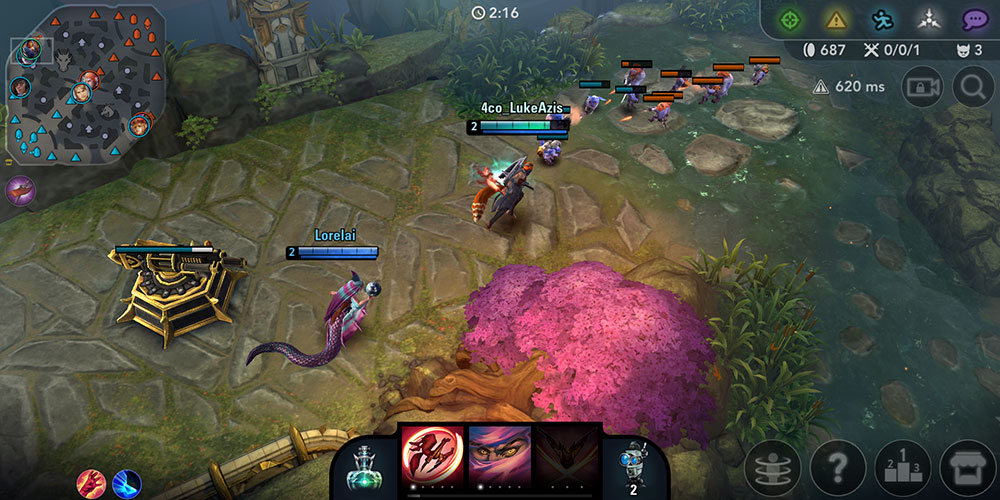 Untuk mendapatkan gold secara maksimal dari minion, auto-attack itu haram hukumnya. Sebab auto-attack atau menyerang minion secara membabi buta akan membuat Anda kehilangan timing untuk mendapatkan last-hit.
Anda harus menunggu sampai sekiranya HP minion sudah cukup untuk satu kali pukul mati. Bila minion musuh malah mati dibunuh minion kawan, maka Anda tidak mendapatkan gold.
3. Kenali Minion Lane
[embed]https://youtu.be/1XaNlkVtBDQ[/embed]
Mungkin terkesan sepele, tapi bila ingin menjadi pemain yang pro - mengenal minion dan gold yang dihasilkan juga merupakan hal penting. Di Vainglory, ada beberapa jenis minion yang menghasilkan gold berbeda-beda, misalnya:
Range minion 20 gold
Siege minion 45 gold
Kapten minion 70 gold
4. Gunakan Trik Lane Freeze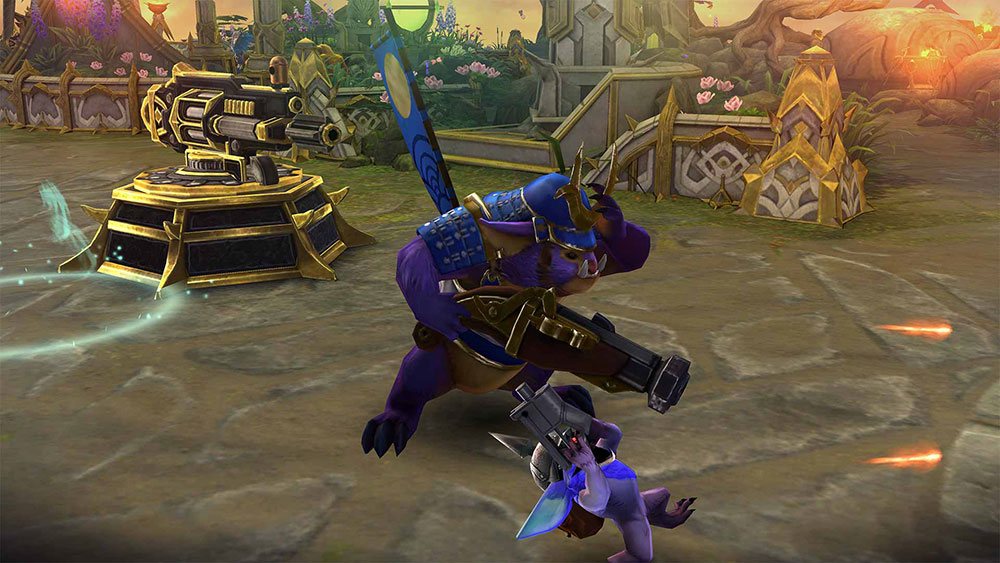 Teknik lane freeze merupakan cara menghentikan titik temu minion di posisi yang lebih dekat dengan turret Anda. Untuk melakukannya Anda hanya perlu berhenti terlalu agresif melukai minion-minion musuh.
Usahakan juga jangan sampai minion musuh ditembaki oleh turret Anda, agar titik temu minion berada di posisi yang menguntungkan.
5. Temukan Timing Ketika Memukul Minion 
Tiap hero punya skill yang berbeda-beda dan perlu waktu hingga serangan mengenai minion. Ada yang sangat cepat, ada juga yang sangat lambat.
Anda harus membiasakan diri dengan serangan tersebut agar menemukan timing yang tepat untuk mendapatkan last hit. Selain itu, Anda juga perlu memperhatikan jumlah damage serangan.
6. Gunakan Item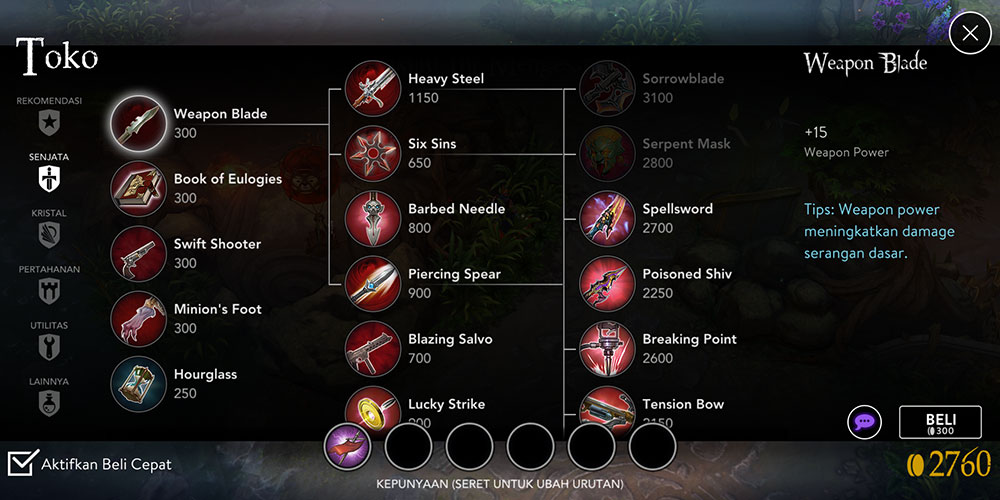 Tidak semua hero punya damage yang besar, agar tidak kalah cepat dengan hero lain yang punya damage besar maka Anda bisa membeli item yang bisa menambahkan damage sejak level dini.
Untuk memudahkan last hit, bila Anda menggunakan hero jarak jauh maka mendekat ke minion yang ingin dibunuh. Makin dekat dengan minion yang ingin dibunuh, serangan lebih untuk mengenai minion yang diincar.
Are you sure to continue this transaction?
processing your transaction....