Tjetak Peroleh Pendanaan Seri A, Perluas Layanan Pengemasan Produk
Pendanaan dipimpin oleh Vertex Ventures
Marsya Nabila - 25 August 2020
Startup pengembang kemasan produk Tjetak mengumumkan perolehan pendanaan seri A dengan nominal dirahasiakan, dipimpin Vertex Ventures. Dana tersebut akan digunakan untuk ekspansi wilayah, penguatan talenta, pengembangan fitur, serta peningkatan kapasitas lab dan fasilitas pengemasan.
"Peningkatan lab dan fasilitas pengemasan ini penting dilakukan untuk menunjang tingginya permintaan pasar dan melakukan inovasi untuk kemasan-kemasan yang kami produksi," terang Co-Founder Tjetak Anggara Pranaspati dalam keterangan resmi, Selasa (25/8).
Angga menyebutkan, putaran pendanaan ini ditutup di saat yang tepat, terutama banyak kalangan masyarakat Indonesia yang mulai berbisnis dan perusahaanyang mengalami peningkatan penjualan berbasis online sejak pandemi. Hal ini mendorong dunia usaha untuk memiliki kemasan yang baik sebagai cara meningkatkan brand value di mata pelanggan.
Pernyataan ini didukung oleh data yang dia kutip dari Tokopedia, bahwa di platform marketplace tersebut jumlah penjual yang bergabung mengalami kenaikan hingga 250%.
"Oleh karena itu, Tjetak sebagai startup solusi packaging yang memiliki spesialisasi di bidang kemasan memiliki potensi besar untuk bertumbuh dan melayani lebih banyak perusahaan di Indonesia."
Managing Partner of Vertex Ventures SEA Joo Hock Chua menambahkan, "Tjetak berada di posisi strategis untuk membantu para UMKM dan perusahaan besar memenuhi kebutuhan kemasan yang unik dan inovatif. Kami senang bisa menjadi investor dalam pendanaan Seri A dan mendukung pertumbuhan Tjetak sedari awal."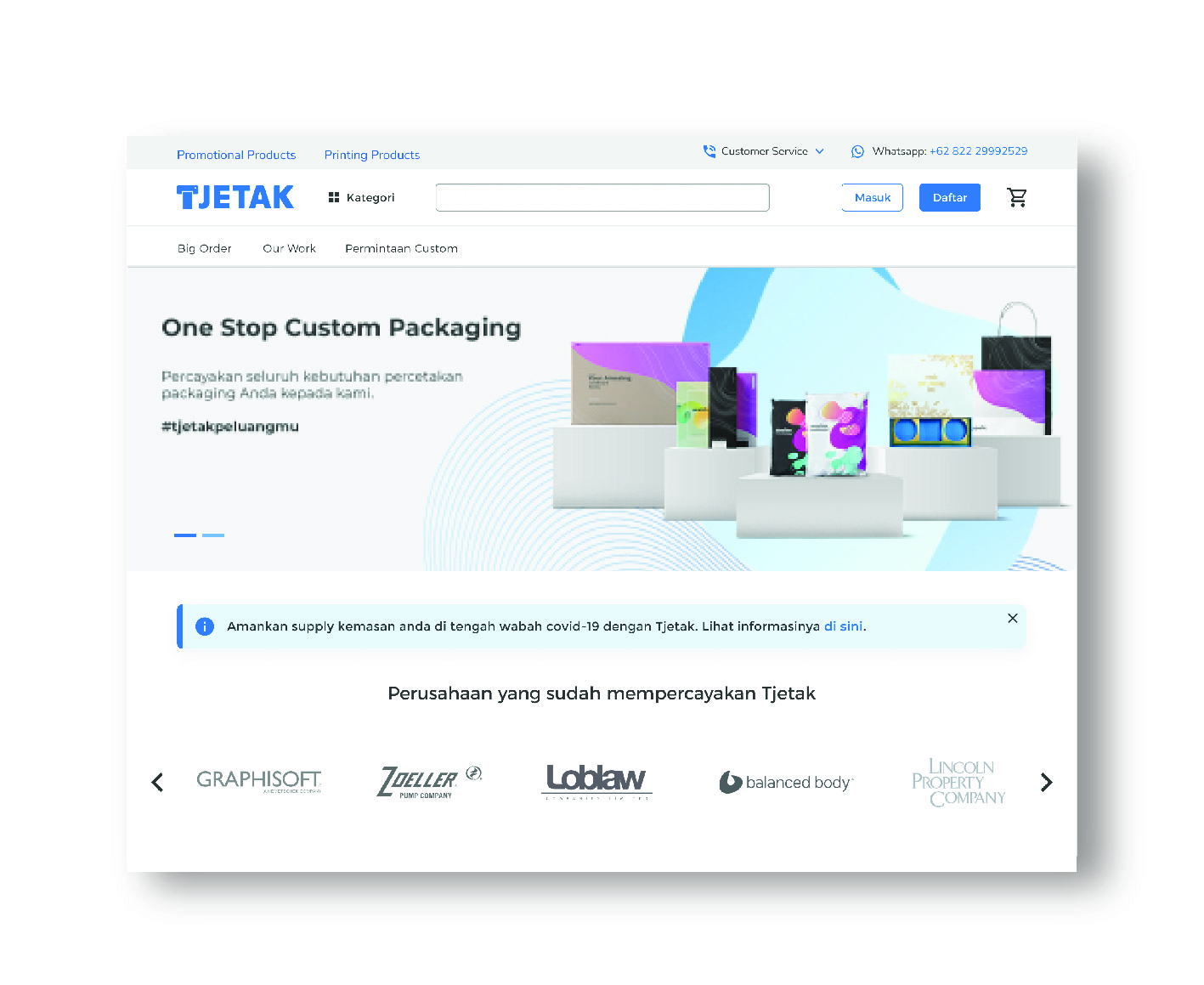 Perkembangan bisnis Tjetak
Selain Anggara, Tjetak juga didirikan oleh dua co-founder lainnya yakni Raffisal Damanhuri dan Hasandi Patriawan pada 2018. Mereka melihat industri kemasan memiliki sejumlah isu, misalnya proses untuk mendapatkan harga butuh waktu yang lama dan spesifikasi yang rumit. Apabila proses desain kemasan yang tidak tepat dapat menimbulkan kerugian materiil buat pebisnis, dan proses produksi kemasan tidak berjalan transparan, sehingga dapat mengganggu waktu produksi.
Dalam menyelesaikan isu tersebut, Tjetak mengombinasikan kecanggihan teknologi dan keahlian dalam kemasan. Misalnya, dalam proses permintaan harga, terdapat teknologi Tjetak Pricing Engine yang dapat mengalkulasi harga hingga 70% lebih cepat dibandingkan prosedur konvensional.
Untuk memberikan transparansi yang lebih baik, klien dapat melakukan tracking produk di platform Tjetak. Di sana mereka dapat mengetahui tahapan-tahapan pengerjaan yang sedang berlangsung dan mendapatkan pembaruan berkala mengenai estimasi waktu produksi.
Saat ini pengguna Tjetak datang dari beragam jenis industri, seperti di FMCG untuk kemasan produk pasta gigi, F&B, e-commerce, logistik, farmasi dengan skala bisnis mulai dari skala besar hingga UKM. Perusahaan menawarkan empat kategori pengemasan, yakni corrugated carton box/kardus, offset printing packaging, flexible packaging, dan rigid boxes.
Angga menuturkan, ke depannya Tjetak berencana untuk berinovasi di kategori sustainable packaging atau kemasan yang ramah lingkungan. Dengan demikian, para kliennya dapat bertransisi ke arah sana. "Kami juga ingin mengembangkan teknologi yang bisa membantu desain struktur dan grafis, agar bisa memenuhi berbagai tipe kemasan yang diinginkan oleh klien," tutupnya.
Are you sure to continue this transaction?
processing your transaction....