Tokopedia's GMV in 2019 Projected to Reach 222 Trillion Rupiah
Focused on local penetration than global expansion for 100 million population still lack of tech access
Marsya Nabila - 14 October 2019
Tokopedia's prediction on the GMV (Gross Merchandise Value) this year exceeds Rp222 Trillion or equivalent to 1.5% of Indonesia's GDP. Last year, Tokopedia's GMV is at Rp73 trillion (0.5% of GDP). This is bigger than FEB UI's Economic and Community Inquiry Department (LPEM FIB UI) prediction at Rp170 trillion.
Tokopedia's Co-Founder & CEO, William Tanuwijaya said, it'll be fascinating once the projection comes true, the Indonesian economy could be centralized on Tokopedia's platform. Without producing any goods, the company can make a significant impact through millions of people doing business on its platform.
He also mentioned Tokopedia's long-term target to contribute up to 5% to the GDP in the next 10 years.
"Entering the second decade, we still have lots of homework due to the beginning of an equal digital economy. In order to increase GDP's contribution from 1.5% to 5%, we need to evolve by supporting farmers, also fisherman to have equal technology infrastructure," he said on Thursday (10/10).
Tokopedia, to achieve the target, should change its business focus through penetration to the lowest layer of the population. It is for every part of this country can have equal technology infrastructure from Tokopedia to enhance their business.
There's a hundred million Indonesian population live in the countryside and have no privilege over internet access to learn and develop a business. They tend to get a higher price for products from the city due to tough distribution.
"In the village, the challenge is low-quality infrastructure, this could be an opportunity on how we encourage them to stay and build a business instead of migrating to the city."
The statement confirms Tokopedia's intention not to go global. He said Makassar is more important than Manila, Sukanagara more important than Singapura, the company is to get more relevant and valuable to Indonesia.
Therefore, the company is open to collaboration with various business and industry, either governmental or non-governmental. An initiative was started with West Java Government by launching Desa Digital Powered by Tokopedia.
For a starting point, Desa Digital is to be distributed to 5 thousand villages in West Java as an education space to learn all about the digital industry. In terms of photo-taking, email marketing, etc.
Tanuwijaya guaranteed the distribution to 5 thousand villages is to be achieved in 12 months. West Java will be the first location for trial before Desa Digital goes to other provinces.
"We'll receive feedback so that when we arrive at other areas, the investment won't be too much. Any mistake we've made in West Java shouldn't be repeated."
Another innovation based on the will to build the rural area is a smart warehouse named TokoCabang. It has been launched gradually in Jakarta, Bandung, and Surabaya. "We tried to break the business development risk that often missed with TokoCabang. Thus, business owners don't have to expand physically, enough with our warehouse."
Tokopedia, with West Java government, is now connected to public service digitization. An example is Tax for Vehicle (PKB) payment through Tokopedia E-Samsat.
He also mentioned, tax revenue has been increased since the service launched in July 2019, the number even bigger than in 2018. "The result shows Tokopedia as the biggest contributor to tax revenue in West Java."
Overall, the government has 900 different taxes. When it's all been digitized, the bookkeeping should be easier for the government. Soon, people can renew their passport through Tokopedia.
Research with LPEM FIB UI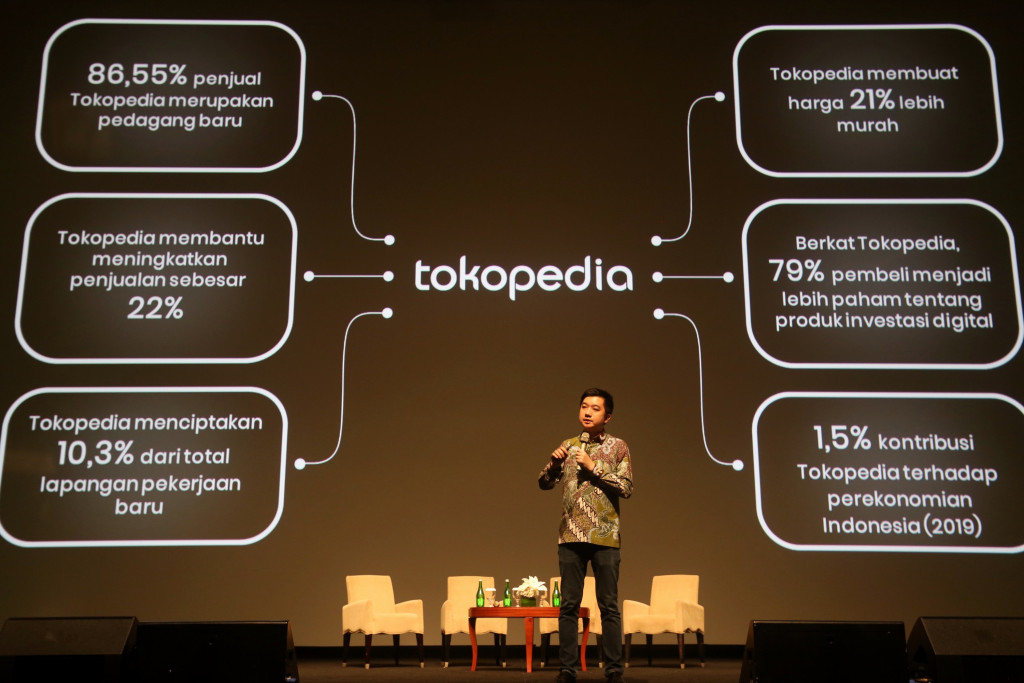 On the same occasion, LPEM FIB UI also reveals its research titled "Dampak Tokopedia terhadap Perekonomian Indonesia." There are three methods used, Inter Regional Output (economic relation), Location Quotient (detecting products with most benefit based on region), and survey to 12,683 respondents, consist of 2,677 merchants and 10,006 consumers.
A survey conducted this year using Tokopedia's internal data last year. "We've found various results from the method. The survey was designed in 2019, distribution was made to merchants and consumers according to their systems," Vice Director of LPEM FIB UI, Kiki Verico said.
There are several findings, such as 6.4 million registered merchants start and develop business through Tokopedia. Last year, the number is at 5 million. 86.55% of merchants are new players and 94% are the ultra micro category (sales with turnover below Rp100 million per year).
About 46,3% were workers and 38.6% of sellers in Tokopedia are producing their own products. They're using local material (77,4%).
In terms of economic empowerment, Tokopedia is capable to increase sales up to 22%. In fact, some regions outside Java have significant growth. Gorontalo for example, reach up to 55.09%, Jambi at 41.88%, Sumut at 36.67%, Kaltim at 35.71%, and Lampung at 34.27%.
Transactions also occur across the country. Almost 90% of the transaction occurred in Eastern Indonesia come from the West (56%), and East (33%). Meanwhile, transactions in the Middle Region come from West (54%) and East (11%). It shows, sellers in East Indonesia can now reach buyers to the tip of western Indonesia, vice versa.
Another finding shows Tokopedia has given many options for SMEs in the region to buy cheaper materials. Most of them are outside Java, such as Bengkulu (54,5%), Sulawesi Tenggara (53,85%), Gorontalo (46,15%), NTB (46,15%), and Maluku (45,45%).
Noted in this research, 857 thousand new occupations, 309 thousand of those are putting Tokopedia as the main source of income. The number is to increase to 1.13 million occupations this year.
Regarding the economic contribution of Tokopedia to the GDP, there's a slight difference in the calculation. LPEM FEB UI said the estimation number of Tokopedia's GMV last year is at Rp170 trillion. Meanwhile, Tokopedia has claimed its contribution (from the GMV) last year is at Rp73 trillion and this year to exceed Rp222 trillion.
"Rp222 trillion is the number from Tokopedia. As calculated by filtering, the number is around Rp170 trillion. Filtering is the real number that represents domestic demand."
Last year, there are more than 90 million active users per month in Tokopedia's platform. The employees are now at 5 thousand people in total.
Tokopedia's closest competitor, Bukalapak, has previously announced the estimated GMV this year exceeding $5 billion (over 70 trillion Rupiah) with more than 2 million transactions per day. The number increased from last year at $3.2 billion (around 48 trillion Rupiah), said Bukalapak's Founder & President, M. Fajrin Rasyid.
– Original article is in Indonesian, translated by Kristin Siagian
Application Information Will Show Up Here
Are you sure to continue this transaction?
processing your transaction....