Twitter Blue Mulai Ekspansi ke Lebih Banyak Negara, Plus Hadirkan Sejumlah Fitur Anyar
Para pelanggan Twitter Blue kedatangan tiga fitur baru: Ad-Free Articles, Top Articles, dan Twitter Blue Labs
Twitter resmi meluncurkan layanan subscription-nya, Twitter Blue, pada bulan Juni lalu di Australia dan Kanada. Sekarang, mereka sudah siap membawanya ke lebih banyak negara, dimulai dari Amerika Serikat dan Selandia Baru.
Di kedua negara tersebut, Twitter mematok tarif berlangganan masing-masing sebesar US$2,99 dan NZ$4,49. Seperti yang sudah dijelaskan sebelumnya, para pelanggan Twitter Blue bisa menikmati sejumlah fitur eksklusif macam Undo Tweet, Reader Mode, maupun kustomisasi UI.
Dalam kesempatan yang sama, Twitter Blue juga kedatangan tiga fitur anyar. Yang pertama adalah Ad-Free Articles, yang pada dasarnya merupakan reinkarnasi layanan bernama Scroll. Sesuai namanya, fitur ini memungkinkan pelanggan untuk mengakses konten dari sejumlah situs tanpa diganggu oleh iklan.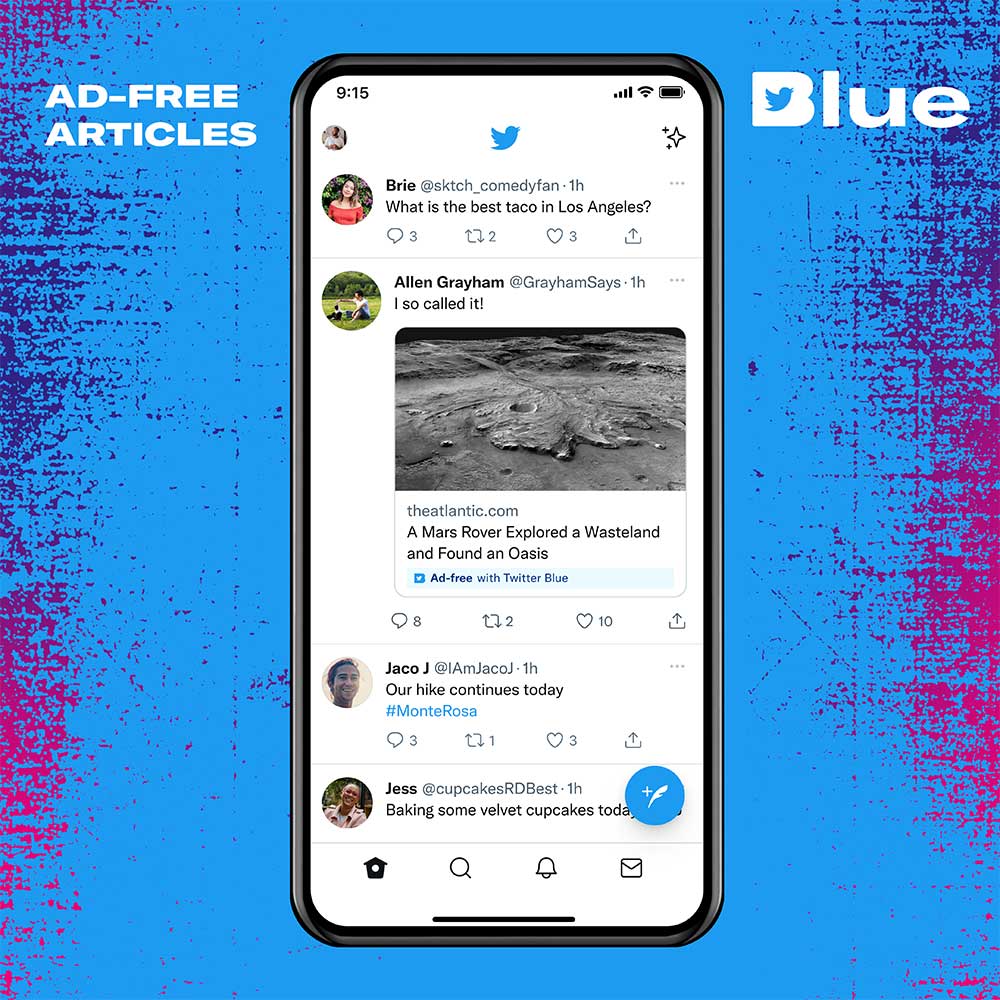 Situs-situs ternama yang mendukung sejauh ini mencakup The Washington Post, L.A. Times, USA Today, The Atlantic, Reuters, The Daily Beast, Rolling Stone, BuzzFeed, Insider, dan The Hollywood Reporter. Jumlahnya dipastikan bakal bertambah ke depannya, serta akan meliputi media-media publikasi di lebih banyak negara.
Twitter memastikan bahwa win-win solution yang ditawarkan oleh Scroll sebelumnya tetap mereka terapkan di Twitter Blue dengan cara membagi tarif subscription yang dibayarkan para pelanggan dengan media publikasi yang menjadi mitra. Pelanggan diuntungkan, media publikasi pun tidak kehilangan pemasukan.
Twitter memang tidak merincikan persentase sistem bagi hasilnya, akan tetapi target mereka adalah supaya masing-masing media publikasi bisa menghasilkan 50% lebih banyak dari setiap pembaca ketimbang jika mereka mengandalkan pemasukan dari iklan.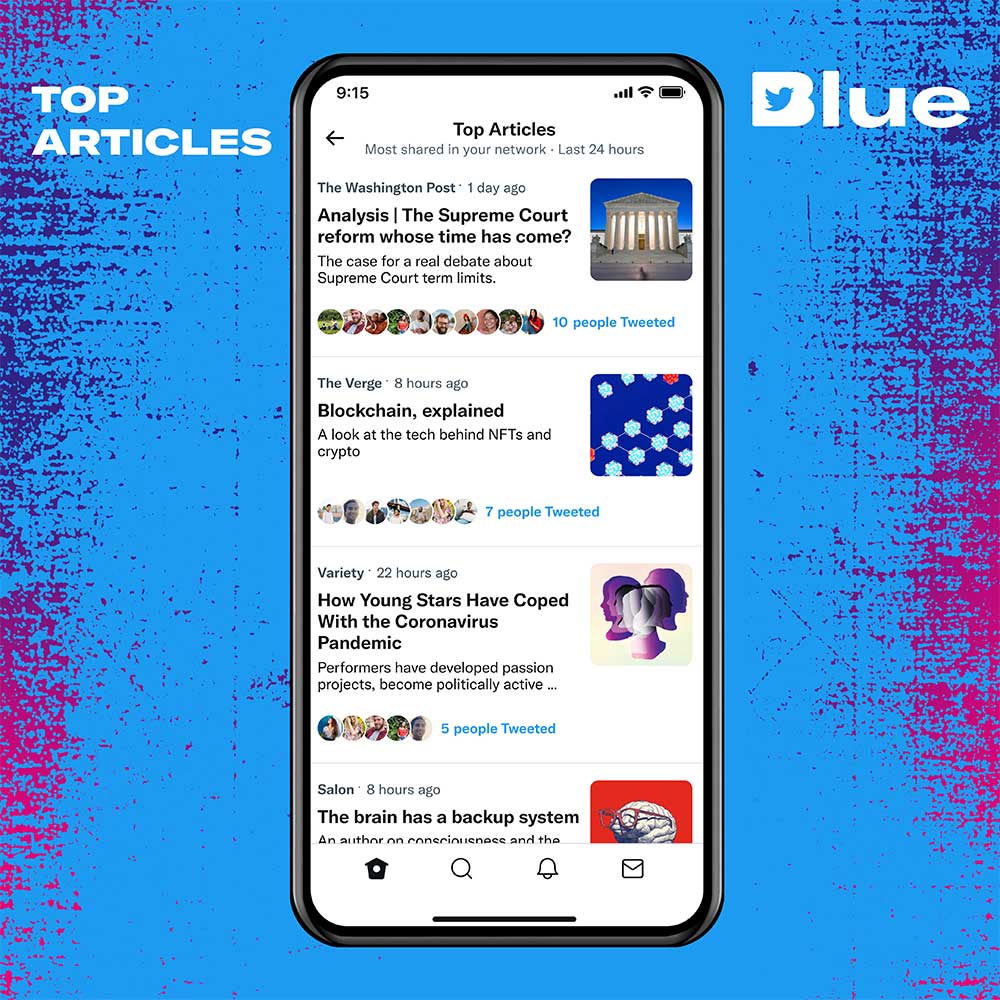 Fitur yang kedua dinamai Top Articles, dan ini juga merupakan reinkarnasi layanan lain, yakni Nuzzel. Fungsinya pun sama persis, yaitu menampilkan deretan artikel yang paling banyak dibagikan selama 24 jam terakhir oleh orang-orang yang diikuti. Anggap saja ini kurasi konten otomatis dari circle masing-masing pelanggan.
Ketiga, Twitter juga mempersilakan para pelanggan untuk mengakses lebih awal fitur-fitur eksperimental lewat Twitter Blue Labs. Untuk sekarang memang baru ada dua fitur yang bisa dijajal — Longer Video Uploads dan Pinned Conversations — tapi ini tentu bakal terus berubah seiring tim produk Twitter bekerja.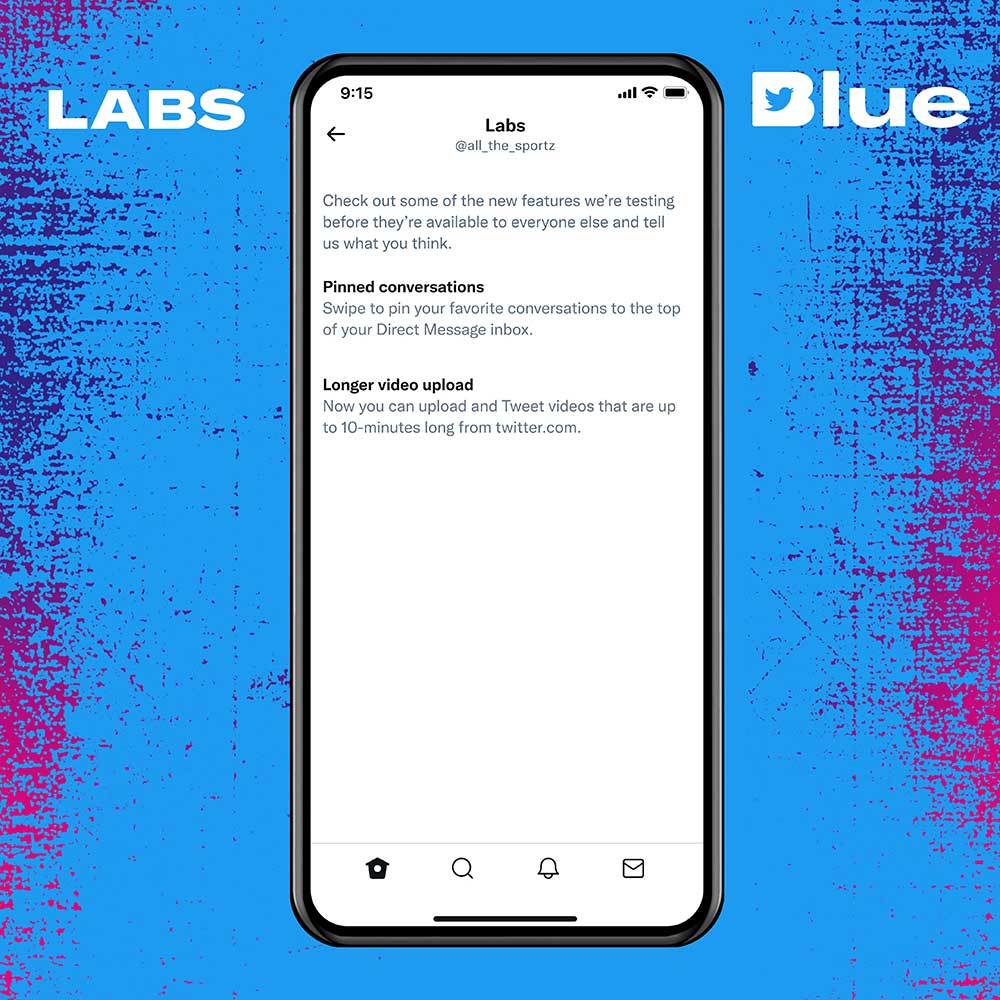 Ke depannya, Twitter sudah punya rencana untuk menambahkan lebih banyak lagi fitur eksklusif buat para pelanggan Twitter Blue. Mereka tentu juga akan menghadirkan layanan tersebut ke lebih banyak negara, meski sejauh ini memang belum ada informasi kapan Indonesia bakal kebagian.
Twitter juga masih punya banyak PR, terutama terkait kompatibilitas. Setidaknya untuk sekarang, aspek ini sangat tidak konsisten. Fitur Top Articles misalnya, sejauh ini cuma tersedia di perangkat Android dan desktop. Sementara itu, fitur kustomisasi UI baru bisa dinikmati oleh pengguna perangkat iOS.
Sumber; Twitter.
Are you sure to continue this transaction?
processing your transaction....