Twitter Diam-diam Bikin Fitur yang Mirip dengan Snapchat
Twitter tak menampik sedang mengembangkan fitur baru, tapi menolak membeberkan lebih jauh
Bambang Winarso - 15 February 2019
Ketika Snapchat menolak pinangan Facebook, banyak orang sudah menduga raksasa jejaring sosial itu akan melakukan segala cara untuk membuat Snapchat menyesal. Meski percobaan pertama, kedua dan ketiganya gagal, Facebook tak menyerah dan memutuskan untuk secara "brutal" menjiplak fitur Snapchat kemudian membenamkannya ke potfolionya seperti WhatsApp, Messenger dan bahkan Instagram. Platforma terakhir menjadi yang paling sukses karena berhasil menumbangkan popularitas Snapchat Stories – fitur asli yang menjadi kiblat bagi Instagram Stories.
Dari persembunyiannya, Twitter diam-diam berkeinginan mengikuti langkah yang ditempuh oleh Facebook. Meski terbilang terlambat, menurut Techcrunch jejaring sosial yang masih saja stagnan itu diam-diam mengembangkan fitur kamera yang memiliki konsep serupa dengan Snapchat dan Instagram. Fitur baru ini nantinya dirancang agar pengguna dapat membagikan foto dan video ke lini masa setelah sebelumnya dimodifikasi dengan berbagai hal, seperti teks, coretan, stiker dan lain-lain. Fitur siaran langsung juga disebutkan sebagai salah satu penghuni di dalamnya.
4/ Twitter image caption overlay / location sticker feature (hidden feature/enabled) pic.twitter.com/GHKPe8p3jt

— Matt Navarra (@MattNavarra) 6 Februari 2019
News Camera diyakini akan menjadi nama bagi fitur baru Twitter tersebut, sebagaimana terlihat dalam bocoran yang dicuitkan oleh Matt Navarra pekan lalu. Bocoran terbaru, Matt bahkan memperlihatkan bagaimana cara kerja News Camera.
NEW! Twitter is testing a 'News Camera' feature... Let's you add location details and colour overlays to photos, videos, or live streams. Has a redesigned composer UI too. First spotted by me here: https://t.co/s455vYgumypic.twitter.com/P11XxOkGva — Matt Navarra (@MattNavarra) 14 Februari 2019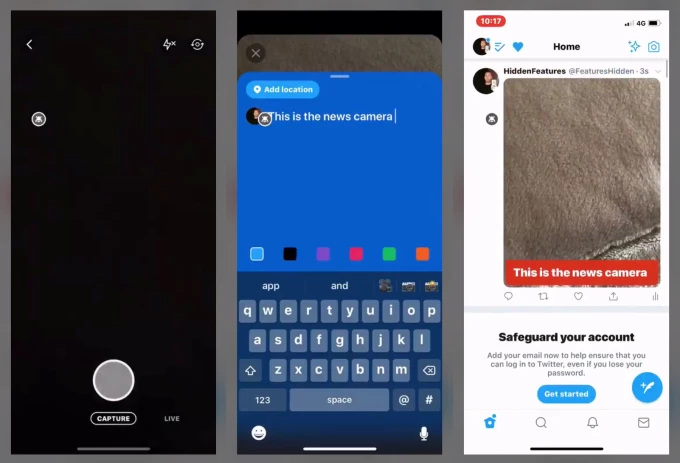 Dalam screenshot di atas, News Camera tampak agak berbeda dari tampilan media yang diunggah ke Twitter yang rata-rata terpotong. News Camera tampil dengan ukuran penuh tanpa dipangkas. Untuk menampilkan jendela kamera, pengguna cukup menggeser layar ke kiri ketika berada di lini masa kemudian dari sana pengguna bisa menjepret atau merekam video untuk dibagikan. Pengguna juga bisa menambahkan lokasi tepat di atas caption.
Belum jelas kapan fitur ini akan digulirkan ke publik. Tetapi pihak Twitter telah mengonfirmasi kepada Techcrunch bahwa pihaknya memang sedang mengerjakan fitur baru yang memudahkan pengguna membagikan konten foto dan video.
Sumber gambar header Adweek.