Twitter Uji Coba Fitur Polling dengan Sejumlah Pengguna Terpilih
Glenn Kaonang - 28 September 2015
Belum lama ini, Twitter tampaknya sedang menguji fitur baru yang memungkinkan pengguna untuk mengadakan pemungutan suara, alias polling melalui sebuah tweet. Fitur ini baru bisa diakses oleh sejumlah pengguna saja, dan terkesan cukup eksklusif karena tidak semua akun terverifikasi kebagian jatah untuk mencobanya.
Tombol untuk mengaktifkan fitur polling ini terdapat pada jendela compose Twitter versi web, tepatnya di sebelah tombol media dan lokasi. Dari situ pengguna bisa membuat polling yang terdiri dari dua pilihan jawaban, A atau B.
Seluruh pengguna Twitter bisa ikut berpartisipasi dalam suatu polling dalam jangka waktu 24 jam sejak polling tersebut dibuat. Twitter akan menampilkan berapa sisa waktunya, berapa yang sudah ikut menyumbangkan suaranya, dan berapa persentase pemilih tiap jawaban.
Info menarik: Fitur Edit Foto dan Video Baru dari Twitter Akan Segera Hadir?
Ini sebenarnya bukan pertama kali Twitter bereksperimen dengan fitur polling. Tahun kemarin, banyak pengguna yang sempat berpartisipasi dalam pollingevent Piala Oscar, akan tetapi aksesnya hanya bisa lewat aplikasi mobile saja. Dalam kesempatan lain, akun @support Twitter sendiri juga sempat memanfaatkan fitur polling guna mendapatkan masukan dari pengguna.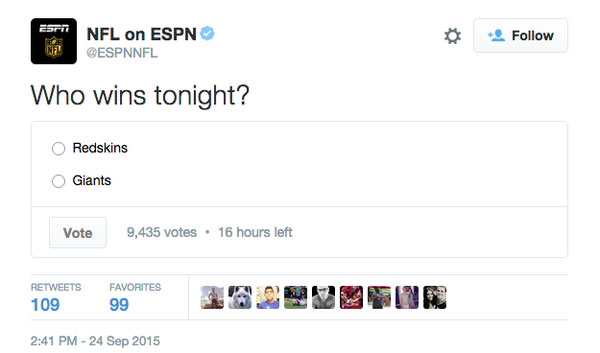 Twitter belum mengungkapkan apakah fitur ini nantinya bakal tersedia buat seluruh pengguna atau tidak. Namun satu hal yang bisa dipastikan, polling dalam Twitter cuma bisa dibuat dan diakses lewat aplikasi resmi dan tampilan web Twitter.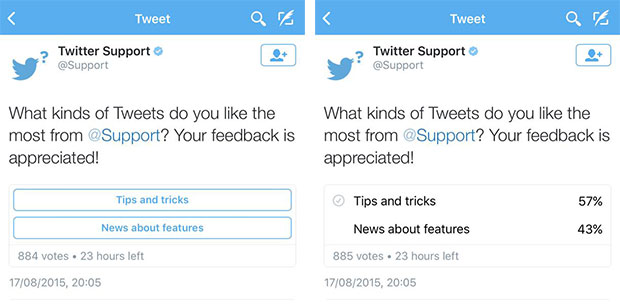 Sesungguhnya akan ada banyak manfaat yang bisa diambil jika Twitter benar-benar menerapkan fitur baru ini nantinya. Saat ada isu tertentu yang sedang hangat dibicarakan misalnya, kita bisa memantau seberapa besar perbedaan opini di antara para pengguna. Kalaupun ternyata cuma tersedia untuk akun tertentu saja, toh kita tetap mendapatkan cara baru berinteraksi di Twitter.
Sumber: The Guardian. Gambar header: Twitter via Shutterstock.
Are you sure to continue this transaction?
processing your transaction....