Aplikasi ridesharingUber mengumumkan kerja sama dengan aplikasi transportasi multimoda TRAFI, berupa integrasi layanan Uber yang masuk dalam aplikasi TRAFI sebagai salah satu rekomendasi pilihan sarana transportasi bagi warga Jakarta dan sekitarnya.
Untuk mendapatkan informasi perjalanan, pengguna hanya perlu mengunduh aplikasi TRAFI di smartphone mereka, lalu memasukkan tujuan di bagian "Get Directions". Setelah itu, pengguna akan melihat berbagai pilihan transportasi yang berbeda dan menemukan logo Uber di sana.
Apabila pengguna ingin memilih layanan Uber, mereka cukup memilih "Go To App" untuk memesan kendaraan. Jika pengguna belum mengunduh aplikasi Uber, pilihan tersebut akan membawa pengguna untuk mengunduh aplikasi dan melakukan registrasi akun baru.
Layanan Uber ini berlaku untuk semua produk seperti uberMOTOR, uberX, uberXL, dan uberBLACK.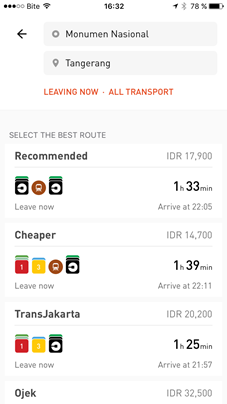 "Integrasi ini bertujuan untuk memberikan pilihan dan kenyamanan lebih dalam merencanakan perjalanan dan memilih moda transportasi sesuai kebutuhan. [..] memungkinkan masyarakat menikmati waktu tempuh perjalanan yang lebih efisien," terang Head of Public Policy & Government Affairs Uber Indonesia John Colombo, Senin (29/5).
Dia melanjutkan TRAFI merupakan salah satu partner global bagi Uber. Ketika pertama kali teken kerja sama di kawasan Baltik tahun lalu, keduanya memang berencana akan melanjutkan ke negara lainnya di mana keduanya beroperasi.
"TRAFI memiliki kesamaan visi dengan kami. Mereka ingin meningkatkan kemampuan orang untuk memakai multimoda transportasi, sekaligus mengurangi penggunaan kendaraan pribadi. Uber dan TRAFI juga sama-sama sedang fokus di negara berkembang."
Saat DailySocial menjajal layanan tersebut, rupanya dalam aplikasi TRAFI tidak hanya terdapat pilihan Uber. Juga tersedia pilihan Grab dan Go-Jek.
Lengkapi opsi perjalanan
Bagi TRAFI, kehadiran Uber di dalam aplikasi menjadi pelengkap opsi perjalanan yang bisa dipilih sesuai kebutuhan, mulai dari yang paling direkomendasikan, paling murah, hingga pilihan dengan lebih sedikit berjalan kaki. Moda transportasi yang tersedia di TRAFI mulai dari Transjakarta, KRL, bis, bis berukuran sedang, hingga angkutan kota (angkot).
"Kerja sama ini sifatnya tidak eksklusif. Kami terbuka dengan [aplikasi ride hailing] lainnya, namun belum bisa disebutkan," ucap Country Manager TRAFI Indonesia Dimas Dwilasetio.
Dia mengungkapkan pihaknya terus melengkapi pendataan jenis transportasi yang digunakan masyarakat Jakarta, sejak TRAFI pertama kali diluncurkan pada Mei 2016. Disebutkan ada lebih dari 600 angkot, sekitar 85% telah terintegrasi dengan sistem informasi real-time Transjakarta, dan integrasi penuh dengan jadwal KRL.
Ketika ditanya mengenai rencana TRAFI pada tahun ini, Dimas bilang pihaknya belum berencana untuk ekspansi ke kota lainnya. Saat ini TRAFI Indonesia masih fokus pada penguatan bisnisnya di Jakarta. Lagipula, sambungnya, untuk ekspansi ke kota lain TRAFI perlu melakukan riset mengenai moda transportasi yang digunakan oleh masyarakat.
"Untuk ekspansi ke kota lain, kami perlu riset mengenai transportasi yang digunakan masyarakat setempat. Itu butuh tim yang perlu turun ke lapangan untuk mapping. Sedangkan saat ini tim kami di Indonesia masih 10 orang yang fokus ke data, untuk tim teknisi ada di kantor pusat," pungkas Dimas.
Application Information Will Show Up Here
Application Information Will Show Up Here
DailySocial.id adalah portal berita startup dan inovasi teknologi. Kamu bisa menjadi member komunitas startup dan inovasi DailySocial.id, mengunduh laporan riset dan statistik seputar teknologi secara cuma-cuma, dan mengikuti berita startup Indonesia dan gadget terbaru.