Unit Bank Mandiri di Singapura Berinvestasi ke Tribe, Penyelenggara Akselerator Blockchain
Dinilai menjadi salah satu strategi perseroan untuk membuka jalan yang lebih lebar dalam bertransfomrasi digital
Randi Eka - 14 April 2021
Tribe Accelerator hari ini (14/4) mengumumkan perolehan investasi strategis baru dari Mandiri Investment Management Singapore, anak perusahaan dari Bank Mandiri. Korea Investment Partners, Greg Kidd, dan Stellar Partners juga turut terlibat untuk mendukung program akselerator blockchain pertama yang didukung pemerintah Singapura tersebut. 
Selain untuk peningkatan program akselerator, dana juga akan digunakan dalam pengembangan Tribe Academy; termasuk memperluas cakupan bisnisnya agar dapat merangkul lebih banyak startup dan talenta blockchain.
Selain itu, Tribe juga menginformasikan bahwa startup yang telah berpartisipasi dalam programnya telah mengumpulkan pendanaan $70 juta, didukung investor global. Sejauh ini sudah berjalan 4 batch, beberapa startupnya meliputi DigiX, WhatsHalal, xfers, dan lain-lain.
"Kami mendukung berbagai startup blockchain termutakhir dari seluruh dunia , dengan total valuasi lebih dari $1 miliar, yang memecahkan masalah mulai dari keamanan pangan hingga pengiriman obat [...] Kami senang menyambut investor strategis baru kami dari Indonesia, serta Amerika Serikat, Korea Selatan, dan Hong Kong untuk membantu perluasan ke pasar baru," sambut CEO Tribe Yi Ming Ng.
Sementara itu CIO Mandiri Investment Kevin Widjaja berkomentar, "Mandiri Investment Management Singapore memiliki rekam jejak dalam mendukung startup lokal, terutama yang berada di garis depan deep technology. Selama bertahun-tahun Tribe telah mendukung beberapa perusahaan baru yang menggunakan blockchain untuk berbagai masalah. Berinvestasi di Tribe memungkinkan kami membantu mereka memperluas jejak dan jaringan global."

Jalan digital transformasi Bank Mandiri?
Kendati use case-nya sangat luas, tidak dimungkiri dalam fase awalnya blockchain mulai tenar karena dinilai dapat mendemokratisasi layanan finansial dengan pendekatan yang lebih efisien. Di Indonesia sendiri geliat inovasi blockchain tergolong masih sangat minim -- paling banyak dimanfaatkan untuk hal-hal berkaitan dengan aset mata uang kripto.
Masuknya Bank Mandiri ke lanskap ini juga bisa diartikan sebagai upaya perusahaan dalam menjembatani transformasi digital yang direncanakan. Merujuk pada Corporate Digital Transformation Report 2020 yang diterbitkan DSInnovate, pendekatan investasi ke ekosistem finansial menjadi salah satu strategi yang memang ditekankan untuk menghasilkan apa yang mereka sebut dengan "value generation".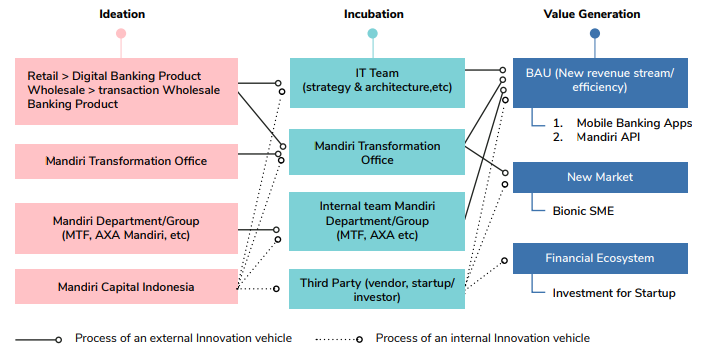 Di Indonesia sendiri, mereka mengoperasikan CVC Mandiri Capital Indonesia, fokusnya berinvestasi ke berbagai layanan fintech, baik yang menjangkau kalangan konsumer maupun pebisnis. Upaya sinergi lain, khususnya dengan perusahaan digital, dilakukan dengan pendekatan integrasi melalui API layanan perbankan yang mereka sajikan.
Kendati disrupsi blockchain untuk industri finansial di Indonesia belum kentara, namun perlahan tapi pasti banyak yang menilai bahwa penemuan-penemuan inovasi teknologi yang lahir bisa saja menghadirkan paradigma baru yang mengganggu bisnis legasi. Dengan lebih awal masuk dan berbaur dengan ekosistem, memungkinkan bagi para pemimpin pasar untuk dapat up to date dengan mensinergikan bisnis dengan perkembangan teknologi yang lebih relevan.
Are you sure to continue this transaction?
processing your transaction....