Unit Purwarupa Console Xbox Ternyata Masih Bisa Beroperasi, Seperti Ini Wujudnya
Desainnya merupakan inkarnasi sesungguhnya dari kata 'Xbox'.
Terpaut jarak tujuh tahun dari ketika Sony memperkenalkan PlayStation generasi pertama dengan langkah perdana Microsoft memasuki ranah home console, tapi saat ini, mereka berdua adalah kompetitor besar. Xbox sendiri merupakan console game pertama yang digarap oleh perusahaan Amerika setelah produksi Atari Jaguar dihentikan di tahun 1996.
Xbox juga mempunyai nama yang unik. Terdiri dari dua elemen, 'X' dan 'box', realisasi dari konsep ini bisa Anda temukan pada bentuk huruf X yang diintergrasikan pada unit console Xbox pertama. Arahan desain tersebut akhirnya lenyap di Xbox 360, dan hanya menyisakan nama. Dan Anda akan kaget jika tahu sejauh apa Microsoft berani membenamkan tema X di rancangan purwarupa Xbox.
Boleh jadi, Anda sudah pernah melihat wujud prototype Xbox karena Microsoft sempat memperlihatnya. Kembali ke tahun 2000 sebelum dirilis resmi, sang perusahaan memamerkan purwarupa Xbox di Game Developers Conference. Penampilannya benar-benar menyerupai huruf X raksasa. Ketika itu, console dipresentasikan langsung oleh Bill Gates sendiri dan head of Xbox Seamus Blackley.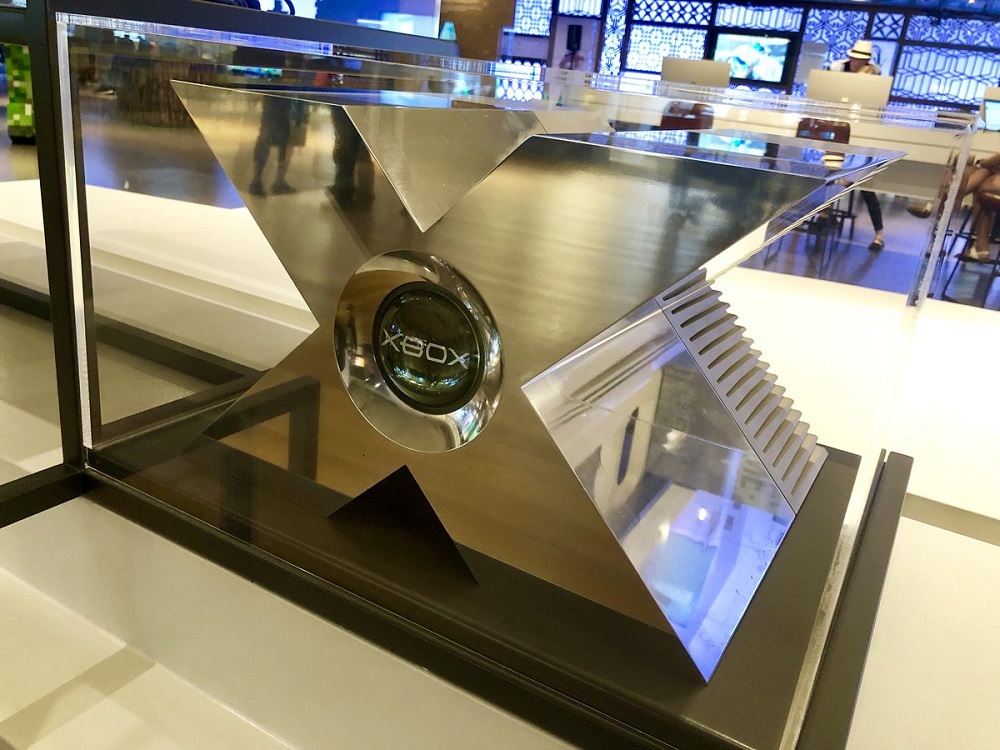 Unit prototype tersebut dipamerkan untuk memberikan developer gambaran mengenai apa yang sedang Microsoft kerjakan sekaligus mendemonstrasikannya pada media. Namun waktu itu, Microsoft tidak menjelaskan kemampuan versi retail-nya. Mungkin karena alasan praktis, sang produsen akhirnya memodifikasi rancangan Xbox lebih jauh sehingga tampil berupa console yang kita kenal sekarang.
Berdasarkan informasi dari buku Opening the Xbox tulisan Dean Takahashi (jurnalis teknologi yang telah menekuni gaming selama 21 tahun dan menjadi lead writer di GamesBeat), Microsoft harus mengeluarkan dana sebesar US$ 18 ribu untuk tiap purwarupa Xbox yang mereka buat. Salah satu penyebabnya adalah penggunaan material premium: tubuh prototype dibentuk dari bongkahan aluminium padat.
This was the showcase unit to show partners and press. It worked.

[There were actually several, and they travelled the world. I lugged these damn things over every continent literally.] — Seamus Blackley (@SeamusBlackley) June 30, 2018
Dan ada kabar gembira bagi fans berat Microsoft. Berdasarkan tweet terkini mantan head of Xbox Seamus Blackley, unit purwarupanya ternyata masih dapat beroperasi. Bukan itu saja. Blackley juga mengonfirmasi bahwa Microsoft membuat lebih dari satu prototype, dan perangkat yang dipresentasikan Bill Gates dipakang kembali dalam etalasi kaca di Microsoft Visitor Center, berlokasi di Redmond Washington.
The original Xbox prototype from Bill Gates's GDC 2000 keynote is on display at the new Microsoft Visitor Centre. Absolute unit. Love it. pic.twitter.com/KMxOPNmTTJ — Graeme Boyd (@AceyBongos) June 30, 2018
Walaupun rancangan ala huruf X memang tidak praktis, prototype Xbox merupakan bagian penting dari sejarah console game dan rancangannya begitu distingtif sehingga mampu mencuri perhatian mereka yang ada di sekitarnya.
Console memang semakin canggih dengan desain yang kian mungil. Kita telah memasuki fase akhir siklus hidup console generasi kedelapan, dan tak lama lagi kita akan menjadi saksi kelahiran perangkat-perangkat next-gen. Namun mungkin, presentasi unit-unit anyar itu belum bisa menandingi karakteristik dan keunikan Xbox generasi pertama.
Sumber: Eurogamer.
Are you sure to continue this transaction?
processing your transaction....