Versi Revisi Pertama PlayStation 5 Punya Sistem Pendingin yang Lebih Inferior
Komponen heatsink-nya lebih ringkas daripada milik PS5 versi orisinal, alhasil bobotnya pun berkurang drastis
Glenn Kaonang - 30 August 2021
Belum lama ini, beredar kabar bahwa Sony mulai memasarkan PlayStation 5 versi revisi pertamanya di Australia. Versi tersebut tampak identik dengan yang pertama diluncurkan, akan tetapi desain dudukannya sedikit berbeda, dan bobotnya hampir 300 gram lebih ringan.
Tidak seperti sebelumnya, dudukan baru itu mengandalkan thumbscrew ketimbang sekrup biasa, sehingga konsumen bisa memasang atau melepasnya tanpa memerlukan bantuan obeng. Namun yang mencurigakan tentu adalah perbedaan bobotnya, sebab 300 gram itu sangatlah signifikan, dan semestinya dapat kita rasakan perbedaannya dengan mudah.
Daripada sekadar berasumsi, saya ingin mengajak Anda menonton video unggahan YouTuber Austin Evans. Di video tersebut, Austin membandingkan unit PS5 Digital Edition yang pertama dirilis dengan unit revisinya (yang sejauh ini baru dijual di Australia, Jepang, dan Amerika Serikat). Benar saja, angka di timbangannya menunjukkan selisih berat 287 gram antara versi lama dan barunya.
Untuk mengetahui apa yang berubah, Austin lanjut membongkar jeroan kedua unit PS5 tersebut (karena sekali lagi, tampilan luarnya sama sekali tidak ada yang berubah). Usut punya usut, Sony rupanya telah mengganti komponen heatsink di PS5 versi revisi ini. Bentuknya lebih ringkas daripada milik versi orisinalnya, dan ukuran pelat tembaganya pun juga tidak sebesar sebelumnya.
Namun yang lebih penting untuk disoroti adalah, perubahan desain heatsink ini juga berdampak pada performa termal PS5. Pengujian yang Austin lakukan menunjukkan bahwa versi revisinya mencatatkan suhu sekitar 3° sampai 5° C lebih panas daripada versi orisinal. Meski demikian, dampaknya ke performa CPU dan GPU masih belum bisa diketahui.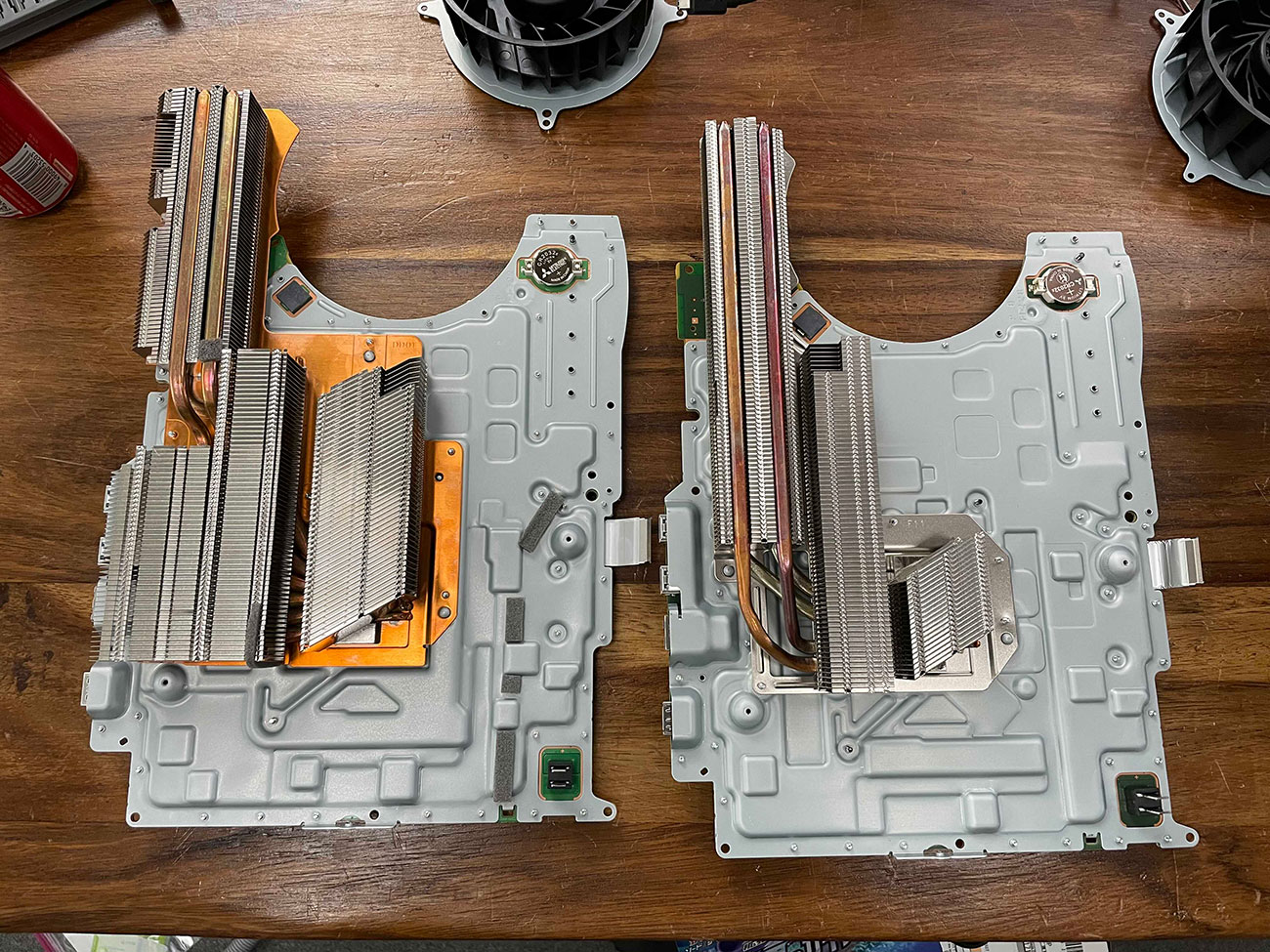 Kesimpulannya, PS5 versi revisi mengemas sistem pendingin yang lebih inferior ketimbang versi aslinya. Namun sejauh ini tidak diketahui apakah hal yang sama juga berlaku untuk PS5 standar yang dilengkapi disc drive.
Kenapa Sony menerapkan pembaruan yang ternyata malah berpengaruh negatif? Salah satu jawabannya mungkin adalah untuk menekan ongkos produksi. Kebetulan, Bloomberg belum lama ini melaporkan bahwa Sony sekarang sudah mulai mencetak laba dari penjualan PS5 standar.
Sumber: The Verge. Gambar header: Charles Sims via Unsplash.
Are you sure to continue this transaction?
processing your transaction....