Via App Xbox, Permainan Xbox One Bisa Dinikmati Dari Windows 10
Selain Cortana, rumor lain yang tidak kalah panas dibahas beberapa minggu lalu adalah kabar soal app Xbox di Windows 10. Ada apa gerangan? Apakah OS akan terintegrasi ke home console Microsoft itu? Hanya achievement atau malahan ada fitur cross-platform? Di event pengungkapan resmi Windows 10, akhirnya Microsoft menjelaskan dengan lebih terperinci.
Jangan langsung membayangkan bagaimana Windows kini mendukung seluruh game Xbox, karena hal tersebut masih jauh dari kenyataan. Layanan yang mereka umumkan memungkinkan PC ber-Windows 10 dan tablet menjalankan judul-judul Xbox One, dalam upaya Microsoft menyuguhkan 'fokus, semangat dan komitmen pada gaming ke Windows 10, menyempurnakan permainan PC dan perangkat gaming favorit'.
Fitur streaming permainan Xbox One ke PC boleh dibilang merupakan respon Microsoft terhadap mulai populernya layanan semisal Steam In-Home Streaming, Nvidia GameStream, serta PlayStation Now milik rival terbesarnya, Sony. Ia hadir melalui app Xbox built-in, menghubungkan Anda ke 50 juta pengguna Xbox Live, termasuk akses ke activity feed, achievement, dan messaging.
Bagaimana cara kerjanya? Kini game Xbox dapat di-stream langsung ke PC Windows 10 atau tablet dari console, dimanapun, dan apapun spesifikasi sistem Anda. Artinya, kini keyboard dan mouse tak lagi terbatas untuk pemain game PC, ditambah janji Microsoft akan kompatibilitas aksesoris Xbox One di waktu ke depan. Berkatnya, cross-platform juga jadi memungkinkan. Saya pribadi berharap gamer yang mahir dalam first-person shooter di PC bisa menjajal kemampuan melawan pemain console melalui Halo: The Master Chief Collection.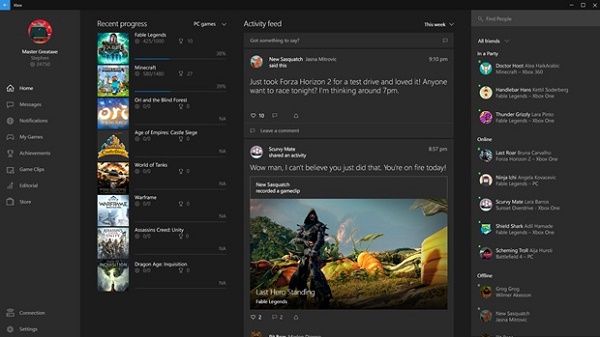 Info menarik: Bingung Pilih Xbox One Atau PS4? Playbox Jawabannya
Kelemahan terbesar pada layanan ini ialah sistem hanya berlaku satu arah: Xbox One ke PC atau tablet, tidak berlaku sebaliknya. Dan supaya dapat menggunakan fitur tersebut, sebelumnya Anda harus mempunyai unit Xbox One terlebih dulu. Begini, streaming game dihadirkan demi menjawab permintaan: "Saya ingin menikmati game bervisual cantik di PC sambil duduk santai di ruang keluarga."
Namun adakah konsumen yang mau duduk membungkuk di depan laptop ketika ada satu unit Xbox One siap dimainkan di ruang keluarga, apalagi kita juga belum tahu seperti apa performanya? Bahkan meski disebut-sebut sebagai sistem new generation, console modern (termasuk PlayStation 4) masih berjuang mati-matian menyuguhkan resolusi 1080p di 60 frame rate. Streaming dari console dibatasi performa sistem itu sendiri
Bagi saya, app Xbox dan streaming game memang menyenangkan buat mereka yang sudah mempunyai Xbox One. Namun andai streaming bersifat online dari server Microsoft ke PC Windows, Xbox One malah kehilangan nilai jualnya...
Sumber: Xbox.com.
Are you sure to continue this transaction?
processing your transaction....