Via Remote Access, Smart TV Samsung di 2019 Siap Dukung Keyboard dan Mouse
Remote Access memungkinkan TV tersambung secara nirkabel ke PC, tablet, smartphone serta perangkat lainnya.
Yoga Wisesa - 28 December 2018
Remote control sudah lama menjadi alat praktis untuk mengakses fungsi televisi, dan sejak fitur-fitur pintar mulai diadopsi perangkat tersebut, para produsen mencoba membubuhkan sistem kendali yang lebih intuitif, misalnya mencantumkan teknologi pendeteksi gerakan. Tapi sampai saat ini, teknik terbaik buat melakukan pencarian, baik di browser maupun YouTube, ialah dengan mengetik di keyboard.
Menyadari kelemahan tersebut, di tanggal 27 Desember 2018 kemarin Samsung resmi mengumumkan Remote Access, yaitu sebuah fitur baru yang akan diimplementasikan ke seluruh lini televisi pintar mereka di tahun 2019. Pada dasarnya, Remote Access memungkinkan TV tersambung secara nirkabel ke PC, tablet, smartphone serta perangkat lainnya, sehingga proses kendali dan navigasi konten bisa dilakukan dari mana saja.
Remote Access juga memberikan kesempatan bagi pengguna buat mengoneksikan periferal input seperti keyboard dan mouse ke televisi pintar Samsung. Produsen masih belum mengungkap cara kerjanya secara detail, namun mereka bilang Remote Access tidak membutuhkan koneksi HDMI terpisah. Kapabilitas ini tentu berpotensi merombak cara kita berinteraksi dengan televisi.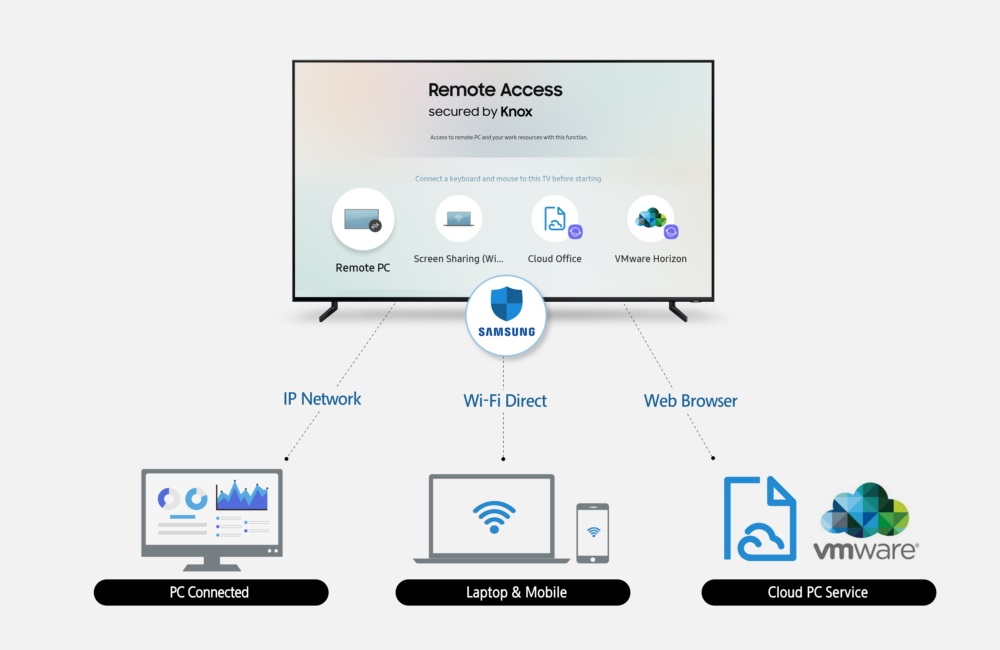 Selain memudahkan kita dalam menjelajahi web serta menikmati video game, Remote Access dapat sangat membantu bidang produktif. Dengannya, Anda diperkenankan menampilkan dokumen pekerjaan dari PC desktop atau laptop ke layar smart TV, membuat kontennya terlihat lebih jelas. Setelah itu, pekerjaan bisa dilanjutkan menggunakan keyboard dan mouse. Bekerja juga jadi lebih sederhana karena Remote Access menunjang layanan cloud office berbasis browser.
Samsung Remote Access dijanjikan dapat digunakan oleh semua orang didunia berkat dukungan VMware Horizon. Lalu di aspek keamanan, terutama di bidang konektivitas nirkabel dan layanan berbasis cloud, Samsung mengintegrasikan teknologi Knox mereka di sana (sebetulnya sudah dibubuhkan di televisi pintar Samsung sejak tahun 2015). Knox ditopang oleh update firmware secara berkala demi mengoptimalkan proteksinya.
"Samsung berkomitmen untuk menciptakan pengalaman penggunaan yang intuitif dan nyaman bagi para pengguna," kata executive vice president dari Samsung Electronics Visual Display Business Hyogun Lee di rilis pers. "Lewat Remote Access, konsumen dapat mudah mengakses berbagai program, aplikasi, serta layanan cloud yang terpasang di beberapa perangkat langsung via layar televisi."
Terakhir, Hyogun Lee mengungkapkan rencana Samsung untuk meneruskan kolaborasi bersama para mitra demi memperluas kompatibilitas fitur Remote Access sekaligus menambah lagi jumlah layanannya.
Via The Verge.
Are you sure to continue this transaction?
processing your transaction....