Vivo V9 Tampil Ekspresif Dalam Balutan Warna Biru
Vivo Indonesia telah merilis varian anyar Vivo V9 Cool Blue Limited Edition
Lukman Azis - 13 April 2018
Dua minggu berselang setelah peluncuran perdana Vivo V9 di candi Borobudur, Vivo Indonesia sudah membarui Vivo V9 dengan varian warna anyar, Cool Blue. Kendati dirilis secara limited edition, pihak Vivo enggan membeberkan angka pasti berapa jumlah yang diproduksi. Kenapa tak dirilis bareng warna black dan gold?
Edy Kusuma, General Manager for Brand and Activation Vivo Indonesia menjelaskan: "Kita sudah research tidak semua orang ingin warna biru, hanya sebagian kecil orang yang ingin warna biru, tapi sebagian kecilnya itu memiliki makna yang dalam dan terlihat dari ekspresinya."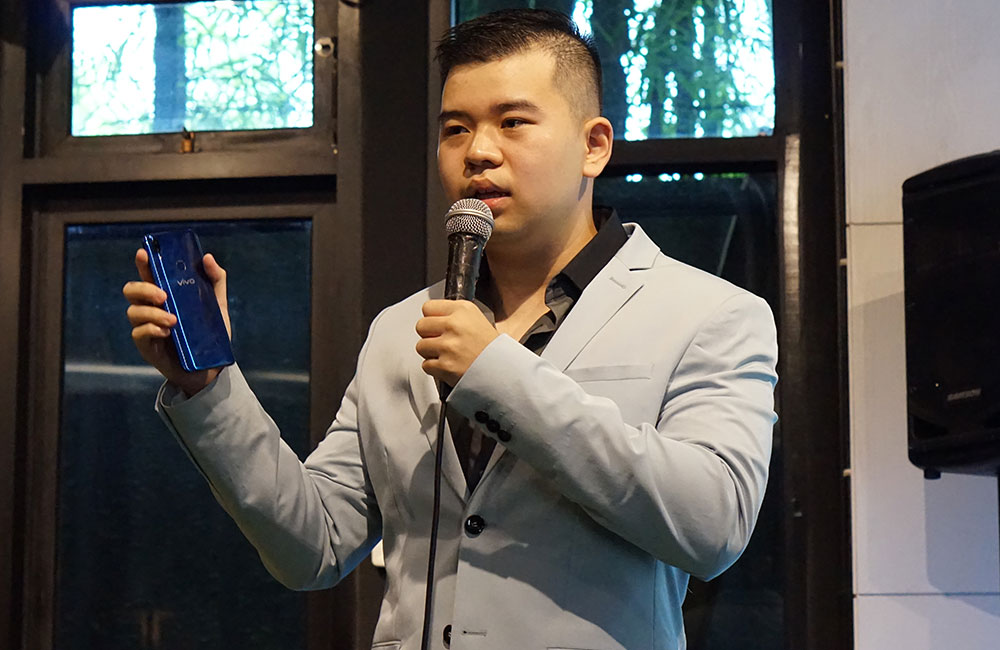 Lebih lanjut, Edy menambahkan. "Warna biru ini sangat cocok dengan orang Indonesia, sesuai dengan target pasar Vivo V9. Diperuntukkan untuk yang ingin tampil berbeda dan lebih menonjol dibanding lainnya".
Sudah menjadi rahasia umum, bila Vivo dan Oppo dimiliki oleh satu perusahaan yang sama. Apakah Vivo ikutan Oppo, seperti yang kita tahu Oppo F5 juga memiliki varian warna Dashing Blue?
Edy dengan tegas membantah, 'kami memiliki research secara independen dan kami membuat produk berdasarkan keinginan konsumen di Indonesia. Lagipula, warna brand kita juga biru", ujar Edy.
Kesan Menjajal Vivo V9 Cool Blue
Look dan experience, itulah dua hal yang saya tangkap pada varian baru Vivo V9 Cool Blue. Dengan sentuhan akhir glossy yang makin 'wah' bila terkena pantulan cahaya. Material body yang dikenakan masih sama, plastik polikarbonat yang memiliki ketahanan sangat baik terhadap benturan dan warnanya sangat bening.
Embel-embel limited edition juga memberi kesan eksklusif. Menurut Vivo, jumlah yang akan diproduksi tergantung pada antusias masyarakat Indonesia, yang pasti bakal disediakan hanya dalam ribuan unit saja.
Mengenai spesifikasi dan harga akan sama dengan Vivo V9 versi biasa. Vivo mengusung layar notch 6,3 inci Full HD+, bertenaga chipset Qualcomm Snapdragon 450 didukung RAM 4GB, dan ruang simpan 64GB.
Keunggulan lainnya terletak pada sisi fotografi, di mana Vivo V9 punya kamera depan 24-megapixel dan kamera ganda belakang 13-megapixel dan 2-megapixel dengan teknologi AI.
Vivo V9 warna biru dibanderol Rp3.999.000. Kata Vivo bakal ada kejutan khusus dalam paket penjualannya, tapi tidak disebutkan apa itu. Tertarik? Anda bisa dipesan secara pre-order di sejumlah e-commerce pada akhir bulan April nanti, setelahnya baru akan tersedia secara offline.
Are you sure to continue this transaction?
processing your transaction....