Terbuat dari Kertas, Weather Poster Suguhkan Informasi Cuaca Layaknya Smart Display
Manfaatkan "tinta pintar" yang dapat berganti warna ketika terkena perubahan suhu
Glenn Kaonang - 11 February 2019
Dewasa ini, mengecek ramalan cuaca bukan lagi hal yang sulit dengan begitu banyaknya aplikasi yang tersedia untuk smartphone. Namun semua itu sama saja bohong seandainya kita baru teringat untuk mengecek sesaat setelah meninggalkan kediaman.
Solusi yang lebih ideal bisa dengan menggunakan smart display macam Google Home Hub, terutama apabila perangkat tersebut ditempatkan di dekat pintu keluar rumah atau apartemen. Masih perlu alternatif lainnya? Coba lirik perangkat bernama Weather Poster berikut ini.
Weather Poster boleh Anda kategorikan sebagai smart display, akan tetapi ia sebenarnya tidak lebih dari secarik kertas yang dilengkapi dengan sebuah microprocessor. Istimewanya, kertas ini dicetak menggunakan "tinta pintar" yang dapat berganti warna ketika dipanaskan.
Berbekal data dari internet, icon-icon yang terdapat pada poster ini akan berubah warna berdasarkan kondisi cuacanya. Ya, perangkat ini hanya bisa berfungsi untuk menampilkan ramalan cuaca, dan itu pun secara sangat terbatas. Namun kita juga harus ingat bahwa ia sama sekali tidak dilengkapi dengan layar digital.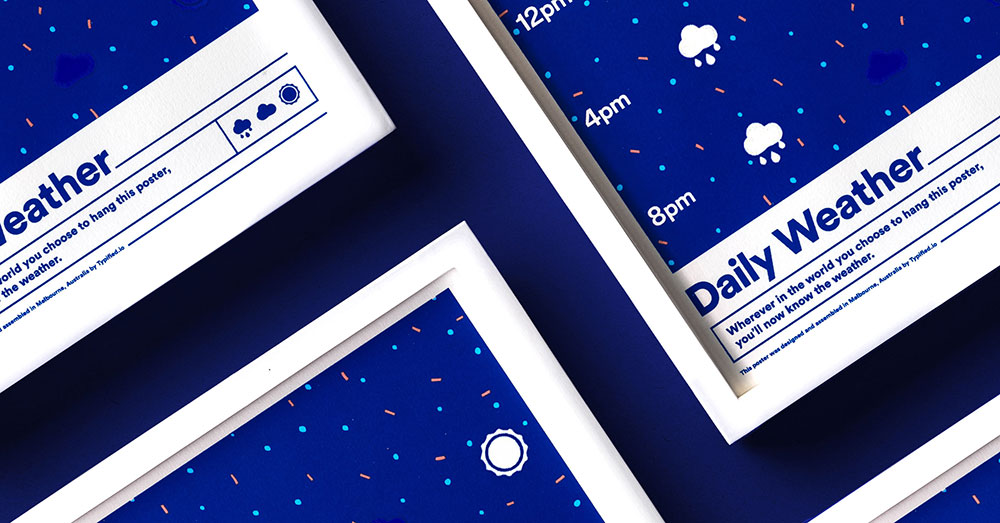 Maka dari itu, Weather Poster akan sangat ideal dijadikan dekorasi ruangan sekaligus pengingat untuk membawa payung jika digantungkan di dekat pintu keluar. Pengembangnya, startup asal Australia bernama Typified, sengaja mengawinkan elemen seni dan teknologi guna menciptakan produk yang berguna dalam kehidupan modern macam Weather Poster ini.
Yang saya sayangkan, harganya tergolong mahal. Di Kickstarter, Typified mematok harga early bird paling murah AU$189. Belum lagi ada biaya tahunan sebesar $7,5 untuk data ramalan cuacanya setelah dua tahun pemakaian.
Satu catatan terakhir, mengingat "tinta pintar" pada poster ini bereaksi terhadap panas, pengembangnya tidak menyarankan konsumen yang tinggal di area panas untuk membelinya, sebab kinerja Weather Poster akan kacau apabila suhu di kediaman kita selalu berada di angka 29° C atau lebih. Ya, sepertinya produk ini memang kurang cocok buat kita di Indonesia, namun tetap saja idenya meleburkan seni dan teknologi sangatlah menarik.
Sumber: The Verge.
Are you sure to continue this transaction?
processing your transaction....