WhatsApp Godok Fitur untuk Berbagi Foto dan Video dalam Kualitas Terbaik
Saat fiturnya sudah dirilis, kita tidak perlu lagi memanfaatkan trik mengirim foto dan video sebagai dokumen
Glenn Kaonang - 12 July 2021
Di titik ini saya yakin sebagian besar dari kita sudah paham bahwa WhatsApp bukanlah tempat yang ideal untuk saling berbagi foto atau video. Pasalnya, secara default semua foto dan video yang kita kirim melalui WhatsApp bakal menjalani proses kompresi demi meminimalkan jumlah kuota data yang terpakai. Alhasil, foto dan videonya bakal kelihatan lebih jelek ketimbang file asli dari sumbernya.
Saya bilang secara default karena sebenarnya ada semacam trik yang bisa dimanfaatkan untuk mengirim foto dan video dalam kualitas aslinya, yakni dengan mengirim foto dan video sebagai dokumen ketimbang sebagai konten galeri. Kalau cuma untuk membagikan satu atau dua foto/video saja, trik ini mudah sekali kita lakukan.
Namun kalau jumlah foto/video yang hendak dibagikan cukup banyak, trik ini bakal terasa merepotkan, sebab prosesnya harus kita ulangi untuk setiap foto/video. Kabar baiknya, ke depannya kita tidak akan lagi membutuhkan trik lama ini untuk saling berbagi foto dan video melalui WhatsApp dalam kualitas yang lebih baik.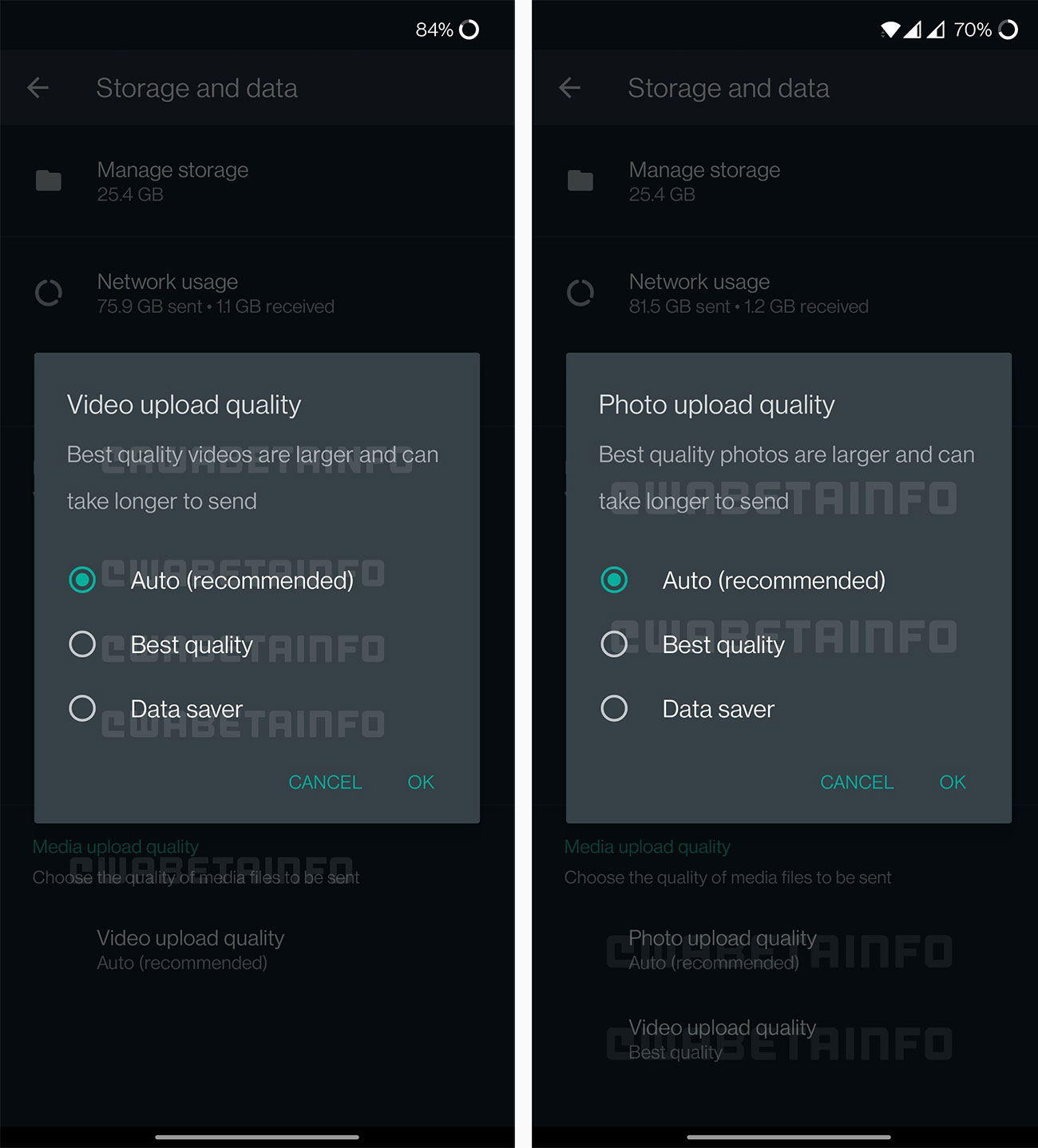 Berdasarkan temuan situs WABetaInfo, WhatsApp sedang menyiapkan fitur agar pengguna bisa memilih kualitas foto/video yang hendak dikirimkan. Fitur ini bisa ditemukan di menu pengaturan, dan pengguna bisa memilih satu dari tiga opsi yang tersedia: "Auto", "Best quality", "Data saver".
Tidak dijelaskan apakah "Best quality" berarti foto/video akan dikirim dalam kualitas aslinya tanpa menjalani kompresi sedikitpun, atau dengan tingkat kompresi yang minimal seperti yang dilakukan oleh Google Photos (demi tetap menjaga agar ukuran file-nya tidak terlampau besar). Terkait opsi "Auto", disebutkan bahwa WhatsApp bakal memilih sendiri algoritma kompresi yang terbaik untuk tiap-tiap foto atau video.
Sayangnya tidak ada yang tahu pasti kapan fitur ini bakal dirilis secara resmi. Untuk sekarang, fiturnya baru tersedia di versi beta terbaru WhatsApp untuk Android. Sejauh ini juga belum ada info mengenai ketersediaan fiturnya untuk WhatsApp versi iOS. Semoga saja bisa langsung tersedia di kedua platform ketika sudah diluncurkan secara resmi nanti.
Sumber: The Verge. Gambar header: Depositphotos.com.
Are you sure to continue this transaction?
processing your transaction....