Willson Cuaca to Invest a Lot More than Just Money in People Business
One of the most active investors in the VC industry talks about investing in people business
Kristin Siagian - 11 October 2019
This article is a part of DailySocial's Mastermind Series, featuring innovators and leaders in Indonesia's tech industry sharing their stories and point of view.
As one of the most active investors in the VC industry, Willson Cuaca has invested a lot more than just money in the people business. He is the early believer of Indonesia and Southeast Asia digital economy.
Many people only associate him with the VC industry, while he's expert at much larger field. Cuaca was born to be in the tech industry, he started young in the computer field and achieved many firsts during his early career. Who knows that he is a person with guts that can make it into the industry through a different approach.
Was founded in 2009, East Ventures managed to have 160 startup portfolios in hand and some are getting profitable. This year marked their 10th anniversary and more stories to come. He believes in the power of this nation and its population.
He talks about beliefs and the core value to run a business. DailySocial has translated the conversation into paragraphs below.
You are best known as one of the most active investors in the VC industry. When did you start?
Many people might think I only about VC industry, meanwhile, my early days was full of computer stuff and network thingy.
I began my academic year at Binus University in 1996, this was also the year when it becomes a university – from previously named STMIK. My school year is filled with other activities besides study. I became a course instructor at BNTRC before renamed into Binus Center. Amidst the tight schedule, I still find time to have fun playing games.
I always tried to be the first to learn everything. In my college years, I learned all about the local area network and find out about Linux which was actually the core to Android and iOS systems. Slackware was my favorite distribution. I tried to fathom the knowledge and become one of the first people to learn about Cisco equipment. I was the first Cisco Certified instructor in Indonesia to trained Cisco's engineer to be CCNA certified and the founding team of Cisco Networking Academy in Indonesia.
In 2000, I graduate university then hired as the Head of Infrastructure in an agriculture company. My job requires me to manage national wide intra-network connectivity.
Why did you move to Singapore?
Actually, I get bored easily, I need to find something new to do. It was 2001 when I observed the trend in internet security and learned enough to be a specialist, supporting firms in Singapore.
Around 2006, web-app was getting hype and I was encouraged to create my own app named Foyage. It was before iPhone launched and Blackberry widely used. I was also part of the first iPhone developer in Singapore and a few first Blackberry developers in the region.
After Foyage, I also created Apps Foundry with the aim to develop technologies and applications. Our first breakthrough is Scoop – #1 digital magazine reader in Indonesia- which was later acquired by Kompas.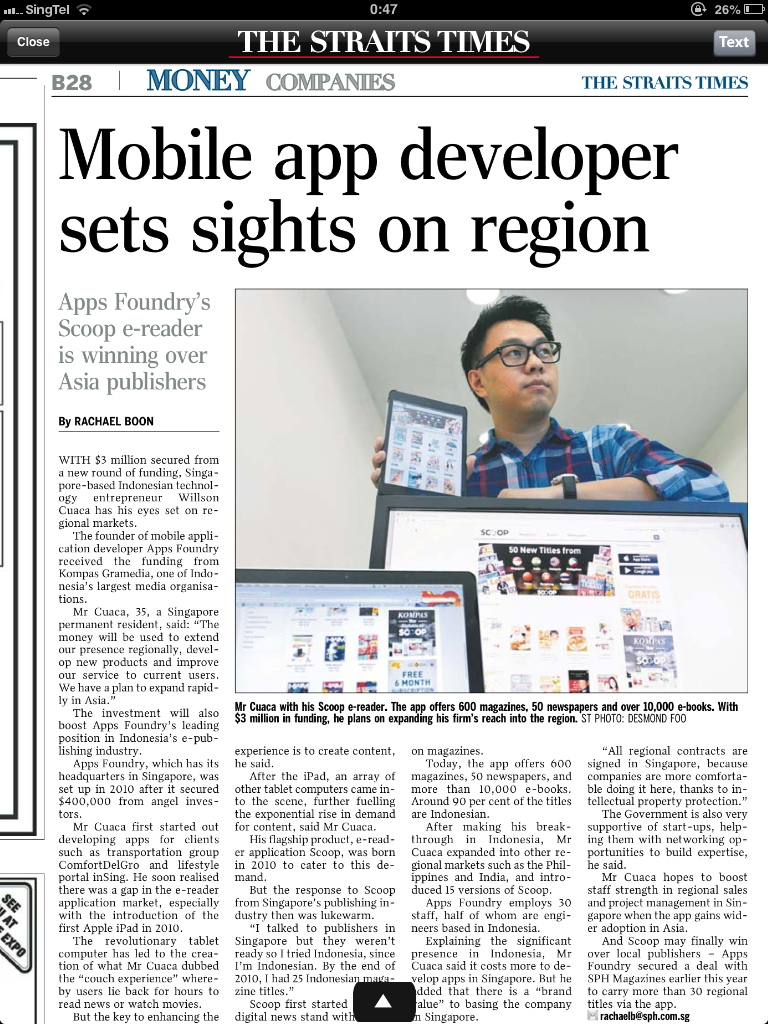 Tell me about the early days of East Ventures? How did you meet the partners?
My relation with Batara is all the way to 1993 when we're still in high school. When I went to Jakarta, he left for college in Japan. While I struggle with Foyage, he also exited his own company named Mixi. The website debuted on the stock market in 2006 and valued billions dollar, it was before the term unicorn coined. We then re-group again to create East Ventures in 2009 with 2 other partners. Taiga Matsuyama, the other partner, was the first investor of Batara's Mixi.
Foyage raised first money from Singapore government investment scheme in 2008. Not until then, I realized that Indonesia also has a huge opportunity in this industry. In 2009, we decided to form East Ventures.
We started Jakarta Ventures Night, inviting few investors from Japan and some local startups. In 2010, DailySocial's Rama Mamuaya also presented in the event and William Tanuwijaya from Tokopedia, the first in our portfolio. Later on, we invest in Disdus and made our very first exit. We're actually the first VC to have a complete cycle and that instantly boosted our confidence. It helped creating the flywheels effect.
To date, East Ventures has invested in 160 companies, mostly are the early-stage startups focuses on consumer internet, mobile, SaaS, media, retail education and much more. Recently, some are getting profitable as Indonesia's digital economy hit the inflection point.
With so many portfolios in hand, how could you manage?
The key is to invest in people. Once you meet the right one and clicked, you trust them enough to run independently and to bring out the best result through this deal.
We need 3 point of alignment with entrepreneur.
1. vision, what kind of problems to solve, what's the goal?
2. strategy, it's how to work things out, how to get it done?
3. tactical, this is more like the execution.
East Ventures and the founding team must have a same vision. In fact, I don't believe that investors could change their portfolios. We might advise strategy but it's the people (founders) who know what's best for their company.
You've created your own app, built your own VC, run the business. During your journey, have you faced any stumbling block?
Of course, there are ups and downs, but one thing I always believe is "things that don't kill you make you stronger".
I was so desperate that I couldn't raise funds for Foyage, but I'm not the kind of person who stops and stares while the industry's rapidly growing. We founded East Ventures in 2009, it was really hard to gain trust from people that time. We went some places, but no one believes except some Japanese innvestors, it was due to Batara's credential. However, I think it's the power of not giving up until it gets to the point where all the pieces put down together.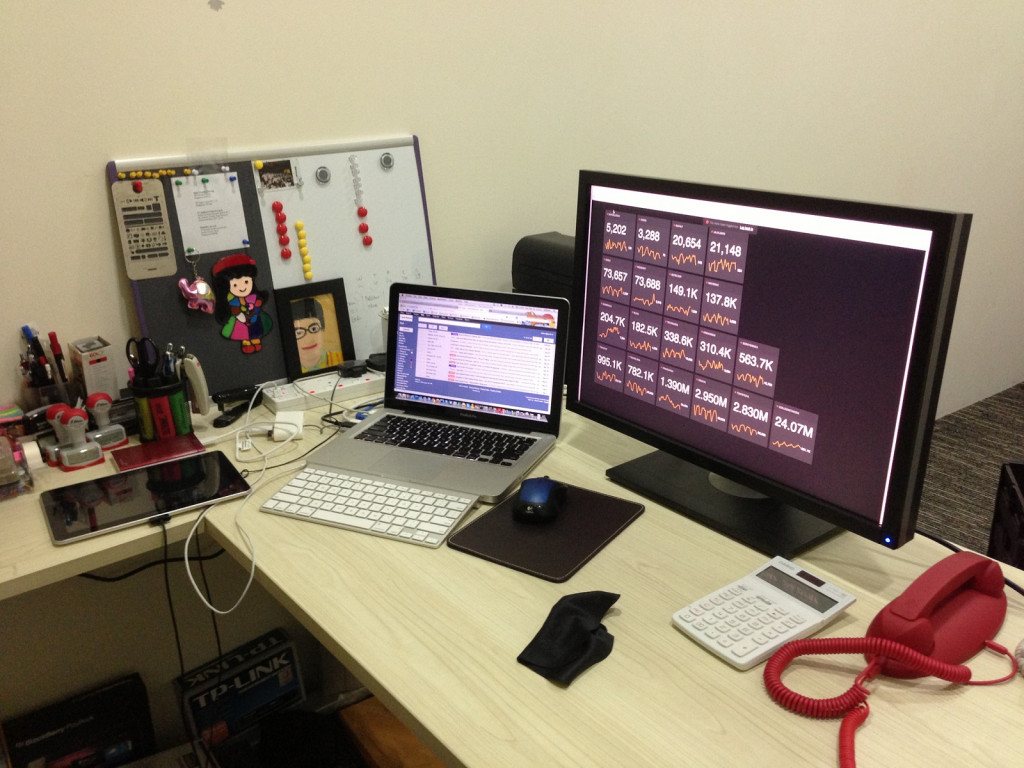 If no one believes in Indonesia's digital industry, why would you?
Emotionally, It's because I'm Indonesian. If not us, who else?
In terms of business, there are 30 million internet users in Indonesia. A huge size market, why wouldn't anyone make a move? At that time, there's only one problem. If we start now, when will we make it? This is where the leap of faith is necessary.
The thing is, Indonesia is capable of making something impossible happened. Instead of talking about American Dreams, why can't we create the Indonesian Dream. We are too focused on the story of some people who create big things somewhere, why don't we work things out and have people look at us. This kind of inferiority complex should have vanished from our mindset. We are a great nation with lots of people.
What makes you decide to invest in one?
There are three hypotheses on people;
1. integrity, a moral standard, you do the right thing when no one sees,
2. self-awareness, to know yourself and what you're capable of,
3. paradox, having contradictive traits, which means adaptive.
These things cannot be learned instantly or faked.
Once I met these criteria in people, no need to think or waste time. That is why most of our good deals were closed within 28 hours after the first meeting. These consistently happened overtime with Tokopedia, Traveloka, Kudo, Shopback, Ruangguru, Sociolla, The Fit Company, Kedai Sayur, Bahasa.ai and many more. Also, we tried to create a healthy ecosystem in this VC. Therefore, I wouldn't invest in competing businesses. We back our founders wholeheartedly.
In terms of academic background, how do you see people with the overseas title have an impact in the industry?
Casually, people who study overseas will have the privilege to gain insight from the global knowledge.  However, I don't believe people who study overseas will always be more successful. In fact, I believe people should have global knowledge to know and what's best for local execution.It is not always by studying abroad.
You survived many years in this industry. Do you have any specific support system?
Family is indeed the fundamental support that shapes your current self. I also believe that character was developed, not learned. That is why I find it hard to believe in the accelerator or mentoring concept that aims to turn someone into an entrepreneur.
The accelerator program, they might have done a very curated process to find talents, but in my concept, once a jewel, although it's covered in dirt, is still a jewel. The potential was there from the very beginning and developed through times.
I believe in serendipity, that is why I put my focus on people. A Chronos and Chairos concept, everybody has their own timeline, and the moment we met, the decision was made, whether to involve or not at each other's life.
If you really believe in Indonesia's digital industry, why won't you live in Indonesia?
In Singapore, we always get the best scenario, in terms of regulation and many more. While in Indonesia, everything is in the worst case, unexpected things often arose. I'd like to maintain my consciousness by having the contrast. The yin and yang, so to say. Therefore, My life could be more contrast and I have a clearer mind to identify the problem statement.
Also, Singapore is currently the hub in Southeast Asia.
After achieving many firsts in the computer and technology industry, also with East Ventures, what's next?
This is also the question I always ask myself every day, What should I do next? How can I transfer my knowledge to my team, for they can do their own things, in their own style, and have their own investees.
I can't have this role forever, that is why I have partners. I want to build East Ventures and make it institutional, raise the next generation team, and make sure it stays true to its mission, to be an Entrepreneurship Platform. Then, I will have time and space to think of something new again – or maybe I will do this forever. Let's wait for the stars to align.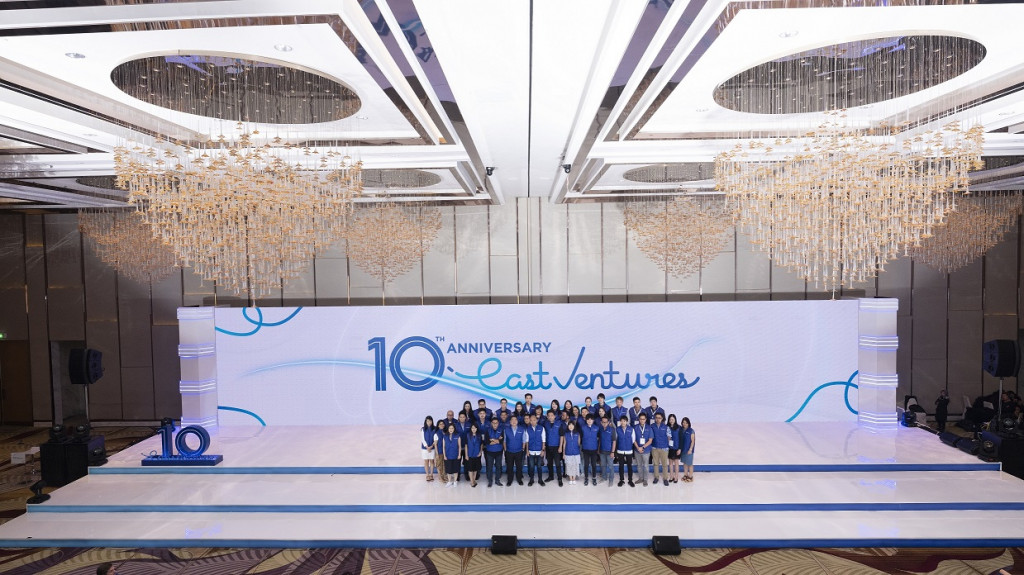 If you have something to say about the industry, what would you say?
The industry currently has a much larger pie. Indonesia, with so many issues in the country, offers quite many opportunities. Thus, I think the VC industry will stay long here.
To me, the VC industry is all about people business, the technology is just a tool.