Winterflame: The Other Side Melangkah ke Steam Greenlight
Yoga Wisesa - 11 May 2015
Awalnya dimaksudkan sebagai platform developer indie untuk menggarap karya digital, penyajian Steam Greenlight ternyata tidak semulus harapan banyak orang. Gabe Newell sendiri pernah mengungkap rencana penghapusan Greenlight, tapi tak berarti pembuat game akan berhenti memanfaatkannya. Ambil saja contohnya permainan asal Indonesia, Winterflame.
Masih melakukan kampanye pengumpulan dana hingga tanggal 29 Mei 2015 nanti, permainan berjudul Winterflame: The Other Side buatan tim Artoncode terlihat masuk ke Steam Greenlight pada awal bulan Mei. Saat Anda berkunjung pertama kali ke sana, sebuah pertanyaan langsung muncul: "Apakah Anda bersedia membeli permainan ini begitu ia tersedia di Steam?" Tentu saja, developer berharap kita menjawab 'Ya'.
Winterflame merupakan permainan dengan genre adventure, digarap dalam bidang 2D via pendekatan side-scrolling. Penyelesaian puzzle menjadi tema utama gameplay, Artoncode menjanjikan 50 buah teka-teki dalam lima area berbeda, dan lebih dari 20 kombinasi sihir untuk menyelesaikannya. Puzzle-puzzle tersebut dirancang demi menantang pemain melalui warna, musik dan logika, sengaja dibawakan supaya Anda terpana.
Info menarik: Winterflame: The Other Side, Game Petualangan Karya Anak Bangsa Menggalang Kampanye di Kickstarter
Gameplay tersebut terikat pada penyuguhan grafis permainan. Seperti Ori and the Blind Forest serta Child of Light, visual dan animasi yang mendetail ialah bagian terkuat dalam Winterflame. Aset in-game diciptakan dengan mengombinasi objek-objek tiga dimensi dan bidang dua dimensi, demi memastikan art direction-nya mendukung segi penyampaian cerita serta gameplay berbasis fisik.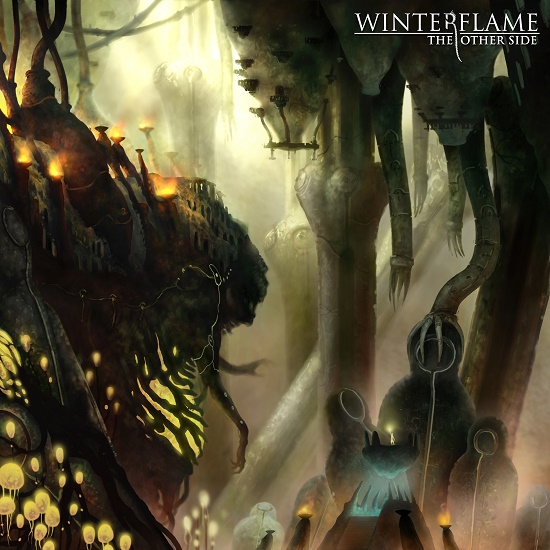 Winterflame mengambil latar belakang dunia fantasi Vandaria. Permainan mengisahkan perjalanan Lev, seorang pemuda yang hidup dalam komunitas makhluk magis Frameless. Sebagai satu dari sedikit manusia di Vandaria, Lev tidak mempunyai kemampuan sihir. Satu-satunya orang yang dapat menemani kesendiriannya adalah gadis bernama Raina. Suatu hari, Raina menghilang, memaksa Lev melakukan petualangan seorang diri.
Karya Artoncode ini mengusung mekanisme permainan yang 'tidak biasa ataupun terikat pada hukum alam'. Anda bisa menggunakan empat elemen buat berinteraksi: Z-Root, akar untuk memindahkan Lev dari satu posisi ke tempat lain; Flemo, yaitu tembakan api sihir; Airhole untuk membuka pusaran angin dan menyedot masuk benda-benda di sekitarnya; dan Bobble, gelembung pelindung dari air.
Dalam momentum pendaratan Winterflame di Steam Greenlight, game memperoleh banyak respon positif di bagian komentar. Jika semua berjalan lancar - termasuk proses crowdfunding di Kickstarter - Winterflame: The Other Side siap dimainkan bulan Maret 2016 di PC dan Mac.
Sumber: SteamCommunity.com.
Are you sure to continue this transaction?
processing your transaction....