YouTube Sedang Uji Paket Layanan Premium Lite dengan Tarif Bulanan Lebih Terjangkau
Fasilitas yang ditawarkan YouTube Premium Lite tidak lebih dari sebatas pengalaman menonton bebas iklan
Glenn Kaonang - 5 August 2021
Dengan tarif berlangganan Rp59.000 per bulan, YouTube Premium merupakan layanan subscription yang cukup menarik jika menimbang semua fasilitas yang ditawarkan. Seperti yang tercantum di situsnya, YouTube Premium tak hanya menawarkan pengalaman bebas iklan, melainkan juga akses ke YouTube Music Premium, offline download, serta background playback.
Di saat yang sama, saya tahu ada sebagian yang merasa tarif tersebut masih agak kemahalan karena yang mereka incar sebenarnya cuma sebatas kenyamanan menonton tanpa diinterupsi iklan. YouTube pun juga menyadarinya, dan mereka ingin menawarkan solusi dalam bentuk paket layanan baru bernama YouTube Premium Lite.
Premium Lite sejauh ini belum tersedia secara luas dan baru diuji di sejumlah negara di Eropa, persisnya di Belanda, Belgia, Denmark, Finlandia, Luksemburg, Norwegia, dan Swedia. Di negara-negara tersebut, Premium Lite ditawarkan dengan tarif 6,99 euro per bulan, atau sekitar 60 persen lebih murah daripada tarif YouTube Premium versi standar yang dipatok di sana, yakni 11,99 euro.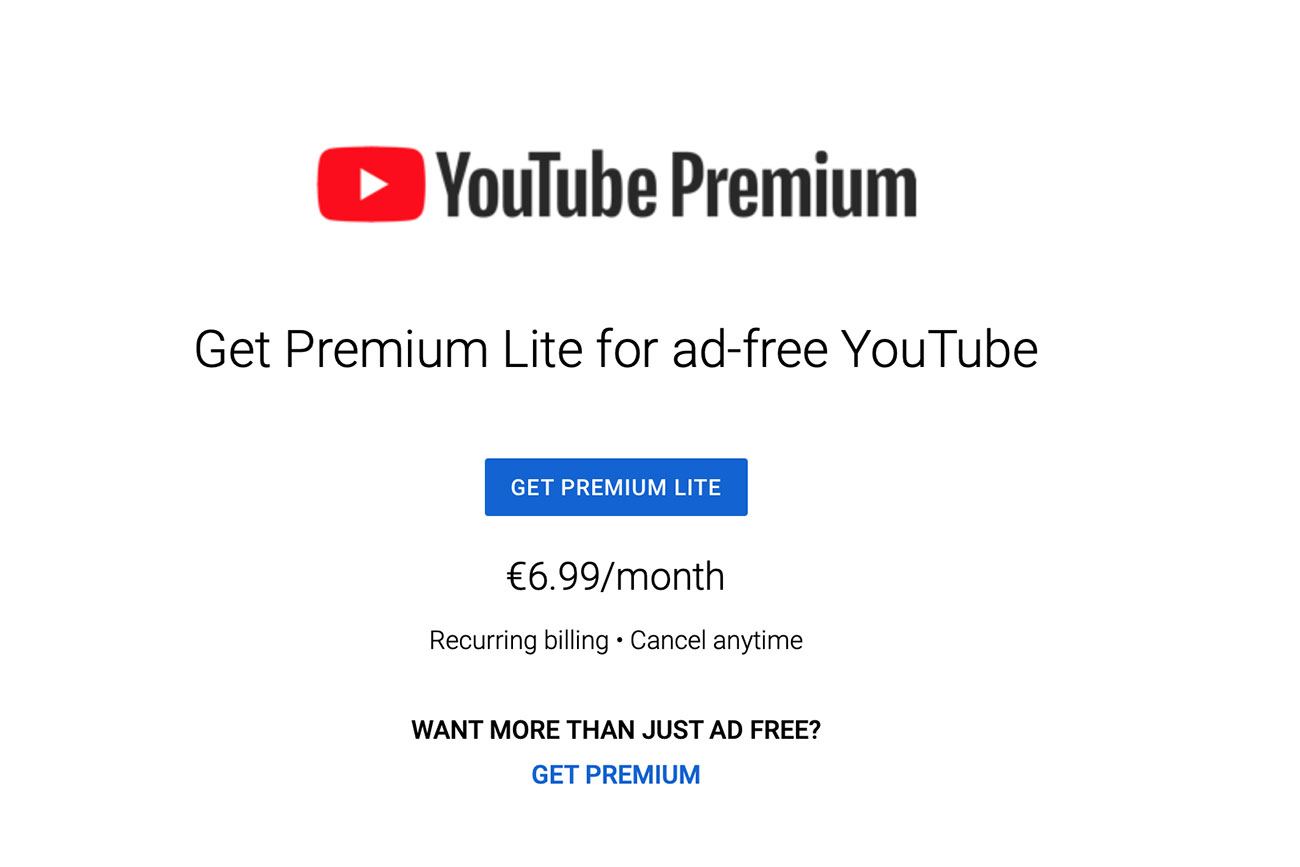 Fasilitas yang Premium Lite hadirkan sangatlah sederhana, yakni pengalaman menonton bebas iklan di YouTube, baik di web maupun di deretan aplikasinya (iOS, Android, smart TV, game console), termasuk halnya YouTube Kids. Offline download maupun background playback tidak termasuk. Pelanggan Premium Lite juga masih akan menjumpai iklan di YouTube Music.
Jadi kalau Anda sebal disodori iklan secara bertubi-tubi oleh YouTube, tapi tidak tertarik dengan fasilitas-fasilitas lain yang ditawarkan oleh YouTube Premium, maka paket layanan Premium Lite ini bakal jadi opsi alternatif yang menarik. Di Indonesia, saya bisa membayangkan YouTube mematok tarif bulanan sekitar Rp39.000 untuk Premium Lite, hemat hampir separuh ketimbang YouTube Premium standar.
Perlu dicatat, Google bilang bahwa status Premium Lite saat ini masih eksperimental, dan mereka bakal mempertimbangkan sejumlah paket lain berdasarkan masukan dari komunitas penggunanya.
Menawarkan paket berlangganan dalam beberapa tier yang berbeda merupakan salah satu cara untuk menjangkau lebih banyak kalangan konsumen, kurang lebih sama seperti yang Netflix lakukan selama ini.
Sumber: The Verge. Gambar header: Depositphotos.com.
Are you sure to continue this transaction?
processing your transaction....