DSLaunchpad – Indonesia's Largest Incubation Program
All our dreams can come true, if we have the courage to pursue them.

Walt Disney
Latest update
Program is done, and per 30 June 2020, we've got 3 participants getting seed funded after DSLaunchpad program. Go startups!
Within 6 days, we've received 593 registration submissions, and 73% is from outside of Jakarta! We've locked in 15 mentors, 4 super mentors and 21 VC Partners.
What is DSLaunchpad?
DailySocial believe that digital knowledge shouldn't be limited for people in big cities, but for all Indonesians wherever they maybe. DSLaunchpad, is the product of that belief and our hard work in building the technology platform behind it.
DSLaunchpad is Indonesia's largest startup incubation program, this program is organized by DailySocial.id and Orchestra.co.id in partnership with BiznetGio Cloud.
4 weeks intensive incubation program during Ramadhan
100% online
100 companies will be incubated
14 amazing mentors and 4 Super Mentors
Matchmaking with over 20 investors
Help participants build ideas to MVP
Who are the mentors and Super Mentors?
DailySocial is privileged to have network of amazing people building amazing companies and their willingness to give back to the startup ecosystem by helping out new startups grow and succeed. Hats off for our mentors and Super Mentors:

Confirmed list of Super Mentors and Mentors:
Kevin Aluwi – Cofounder & Co-CEO Gojek
Muhamad Fajrin Rasyid – Cofounder & President Bukalapak
Izak Jenie – CEO JAS Kapital, Founder MCAS Group
Dyota Marsudi – Executive Director Vertex Ventures
Rama Raditya – CEO Qlue
Harry K Nugraha – Ex Country Manager Intel
Hanindia Narendrata – CEO Telunjuk.com
Hadi Wenas – Chief Commercial Officer Amartha
Rizki Suluh Adi – Country Manager Element Inc
Daniel Tumiwa – Udemy for Government
Ronald Ishak – CEO Hacktiv8
Faizal Al Idrus – CEO Importir.org
Dondy Bappedyanto – CEO BiznetGio
Natali Ardianto – CEO Jovee
Joshua Kevin – Founder Talenta.co
Hadi Kuncoro – Group CEO PowerCommerce Asia
Andry Huzain – CTO Job2Go
Novistiar Rustandi – CEO HarukaEdu
James Chan – CEO Ion Mobility
Michael Tampi – Managing Partner Emera Kapital
If this list is not impressive for you, then we don't know what is.
Who can join DSLaunchpad?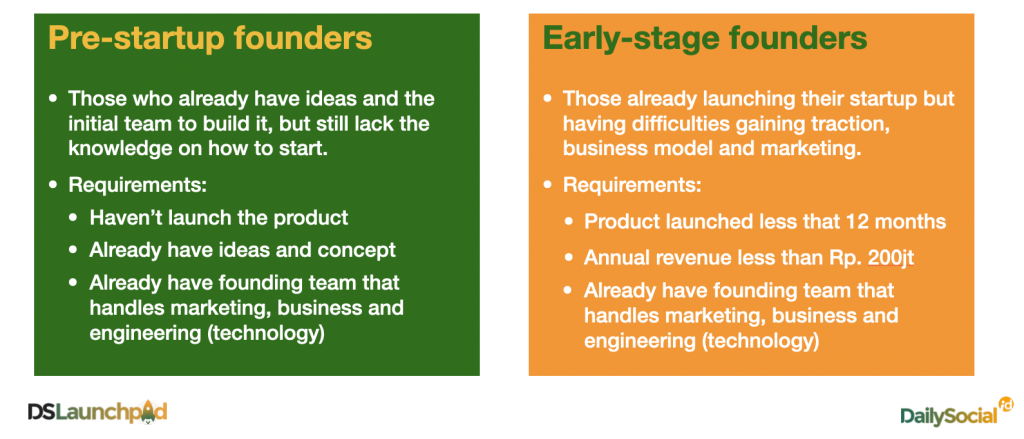 Aside from those requirements, we believe ANYONE can build their startup regardless of their education, background, race, religion and geographies.
VC Partners
Amazing entrepreneurs, check! But that's not all, we also have fantastic friends in the VC world that love to give back to Indonesia's tech startup scene and grow the industry.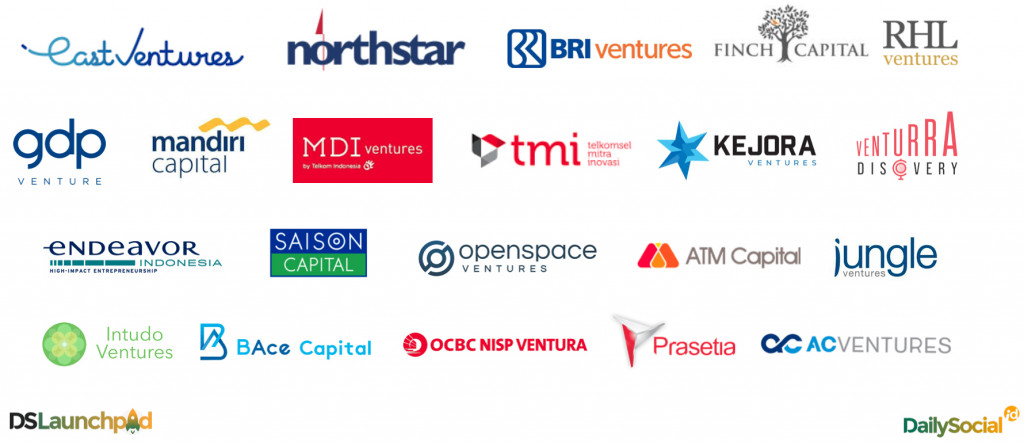 Timeline*
April 1st – Campaign starts
April 6th – 10th – Registration opens
April 20th – Incubation program kick-off
May 15th – Incubation program ends
May 18th-20th – Matchmaking with investors
*detailed timeline can still change
So, are you convinced?
A lot of people have dreams to build their own startup, but there will always be a reason NOT to do it. That's the difference between DO-ers and the rest: they never let REASON get in the way of RESULTS. Now, which one are you?
Register your startup here as soon as possible because registration is only open until April 10th!

For sponsorship opportunities, please email to rahmat@dailysocial.id.