algoritma dan Misi Mencetak Tenaga "Data Scientist" Berkualitas di Indonesia
Kerap menggelar workshop untuk kelas data science hingga R dan Phyton
Makin maraknya kehadiran startup hingga layanan e-commerce yang berbasis teknologi saat ini, memunculkan posisi baru yang memiliki peranan penting dalam bisnis. Mulai dari data analyst, data engineer, dan data scientist, semua posisi tersebut makin di cari namun terbilang masih sedikit jumlahnya.
Melihat potensi tersebut, algoritma, startup yang fokus kepada program dan kegiatan pendidikan untuk data scientist, hadir di Indonesia. Meskipun masih baru berjalan selama 4 bulan, algoritma memiliki visi untuk mencetak tenaga muda profesional yang ahli dalam pengolahan data.
"Saat ini untuk melihat dan mengolah data tidak cukup lagi menggunakan cara-cara lama, data semakin tidak teratur dan bersifat real-time, sehingga sudah harus dilakukan pendekatan yang lebih modern bukan lagi menggunakan cara konvensional," kata Co-Founder dan Course Producer algoritma Samuel Chan kepada DailySocial.
Nama Samuel Chan sebelumnya dikenal sebagai Founder dan CEO HyperGrowth, yang merupakan perusahaan teknologi yang mengembangkan solusi otomasi pemasaran untuk pengiklan mobile dan perusahaan aplikasi mobile. Hypergrowth juga sempat mengembangkan Growthbot. Setelah menjalankan bisnis selama 3 tahun, Samuel memutuskan melakukan pivoting dari Hypergrowth menjadi algoritma.
Bersama tim dan formula yang diklaim terbaik, Samuel Chan dan Co-founder-nya, Nayoko Wicaksono, mendirikan algoritma sebagai platform untuk belajar dan mengenal lebih jauh data science.
"Kita telah melakukan komunikasi yang intensif dengan investor ketika memutuskan untuk melakukan pivoting. Hal tersebut dilakukan untuk memastikan bahwa model bisnis yang baru lebih menjanjikan dan dengan tim yang ada saat ini memiliki potensi yang cerah untuk dikembangkan," kata Samuel.
Aktif menggelar workshop dan kelas data science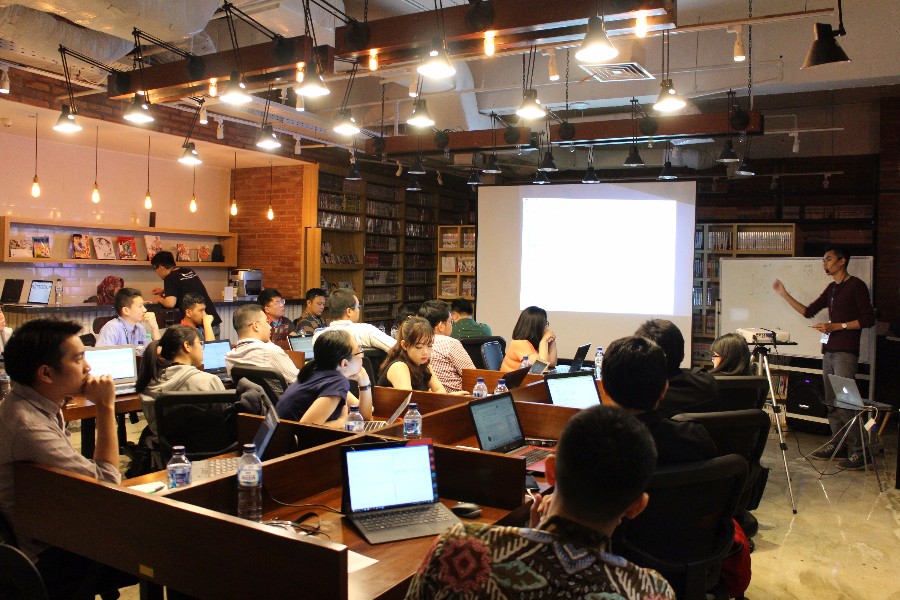 Masih kurangnya wadah atau platform yang menghadirkan kesempatan untuk belajar soal data science dan pengetahuan terkait lainnya, tenaga data scientist asal Indonesia masih sangat minim sehingga harus mengimpor tenaga data scientist dari negara lain.
"Saya melihat lingkungan kita saat ini belum memiliki tenaga yang cukup siap menghadapi perubahan teknologi saat ini. Dengan alasan itulah tim dari algoritma ingin merubah keadaan sesuai dengan visi dan misi kita," kata Samuel.
Saat ini algoritma telah memiliki sekitar 450 peserta yang telah mengikuti kegiatan workshop. Tidak hanya di Jakarta, tetapi juga di luar kota, seperti Surabaya. Sudah 13 workshop yang digelar oleh algoritma, dan dalam waktu dekat akan meluncurkan workshop terbaru tentang Python-based workshops. Secara keseluruhan algoritma menyediakan pelatihan untuk R and PYTHON juga pilihan untuk kursus dan bootcamps  data science.
algoritma juga sudah memiliki sekitar 22 klien korporasi sejak pertama diluncurkan. Meskipun masih sangat belia, algoritma disebutkan sudah memiliki tim solid berjumlah 12 orang.
"Dalam waktu 5 tahun ke depan ketika otomasi mulai menggantikan pekerjaan rutin manusia, algoritma ingin menjadi bagian dalam hal menyiapkan tenaga kerja yang handal dan terlatih," tutup Samuel.
Are you sure to continue this transaction?
processing your transaction....