Layanan Alumak Mudahkan UKM Temukan Platform Digital yang Tepat
Berhubungan dengan layanan teknologi finansial Aspire yang dikenal sebelumnya, dalam satu induk investor yang sama
Yenny Yusra - 8 April 2020
Untuk memudahkan UKM menjalankan bisnisnya selama pandemi COVID-19, Alumak Indonesia yang merupakan startup teknologi finansial penyedia rekening dan kartu kredit digital bagi bisnis, meluncurkan platform direktori yang mengkoleksi berbagai diskon dan akses gratis dari aplikasi dan layanan bisnis.
Kepada DailySocial Head of Growth Alumak Donnie Silalahi mengungkapkan, platform direktori tersebut diharapkan bisa memudahkan mereka untuk tetap jalankan bisnis seperti biasa.
"Dalam platform ini, kami tidak sendiri, melainkan mengkoleksi berbagai penawaran spesial yang juga disediakan berbagai perusahaan teknologi untuk jalankan bisnis lebih mudah dari rumah."
Untuk kebutuhan bisnis, Alumak turut andil menawarkan bebas biaya transfer bank selama periode April 2020, pembukaan rekening gratis tanpa saldo setoran awal, dan tidak ada biaya admin bulanan. Selain itu, dari mitra dan perusahaan teknologi lain, ada juga penawaran spesial yang bisa dinikmati.
Melalui situs TogetherAtHome.co, pengguna bisa memanfaatkan mulai dari gratis akses aplikasi virtual workplace untuk bekerja remote, layanan finansial, hingga software absensi jarak jauh bagi karyawan.
"Telah ada lebih dari 50 koleksi di platform ini. Harapannya semoga tidak berhenti di situ, para pelaku teknologi lain juga ikut berkontribusi menambahkan koleksi baru bagi keberlangsungan UKM," kata Donnie.
Beda entitas dengan Aspire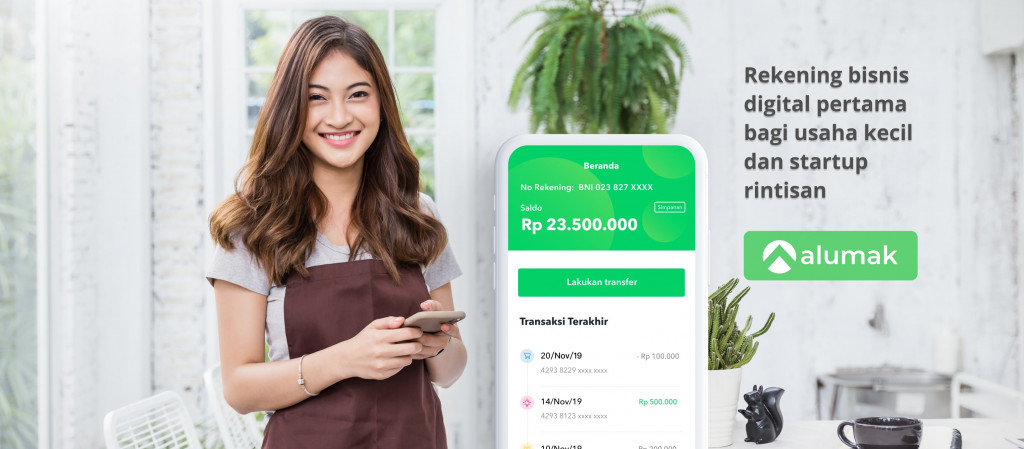 Disinggung apa hubungan antara Alumak dengan Aspire, yang merupakan platform layanan perbankan digital, Donnie menegaskan Alumak Indonesia adalah entitas berbeda dengan Aspire.
"Untuk Singapura dan Thailand platform tersebut (Aspire) masih ada, hanya di Indonesia yang sudah tidak ada. Dulu yang ditawarkan Aspire hanya lini kredit revolving, serupa dengan Pinjaman Rekening Koran. Alumak menawarkan lebih banyak layanan melalui kemitraan yang dijalin dengan platform teknologi berlisensi," kata Donnie.
Alumak Indonesia dan Aspire memiliki investor yang sama yaitu Aspire PTE Ltd. Secara khusus Alumak menyediakan berbagai layanan perbankan untuk bisnis kecil melalui kerja sama dengan mitra-mitra institusi keuangan terdaftar. Produk Alumak meliputi rekening bisnis multi fungsi untuk kelola kebutuhan keuangan usaha dan membantu UKM dalam mendapatkan pinjaman bisnis melalui mitra.
Didirikan pada Januari 2018 oleh mantan pendiri dan eksekutif Lazada, perusahaan ini lulus dari Y Combinator angkatan Winter 2018 dan merupakan bagian dari program Pertumbuhan Berkelanjutan YC angkatan Winter 2020. Alumak meluncur akhir bulan Febuari lalu, dan saat ini resmi tercatat sebagai penyelenggara IKD dari OJK, masuk ke fase Sandbox.
"Kami ingin membuka akses inklusif ke lebih banyak layanan finansial bagi para pelaku bisnis. Beberapa proyek besar yang akan kami luncurkan di tahun ini mencakup, aplikasi mobile banking terdedikasi untuk bisnis di pertengahan tahun ini, meluncurkan corporate card dengan reward management produktif dan multi akses yang mudah, dan layanan lain seperti transfer antar negara berbiaya terjangkau," kata Donnie.
Are you sure to continue this transaction?
processing your transaction....