AMD Perkenalkan Ryzen Mobile 4000 Series: Irit dan Kencang
AMD juga perkenalkan solusi A+A+A pada platformnya
AMD kembali meluncurkan lini prosesor terbaru mereka yang khusus digunakan pada laptop atau mobile. Kali ini, AMD Ryzen Mobile 4000 series diluncurkan secara online pada tanggal 27 Mei 2020 yang lalu. Walaupun AMD sering memberikan concall, namun ini adalah yang pertama meluncurkan prosesor mereka secara online.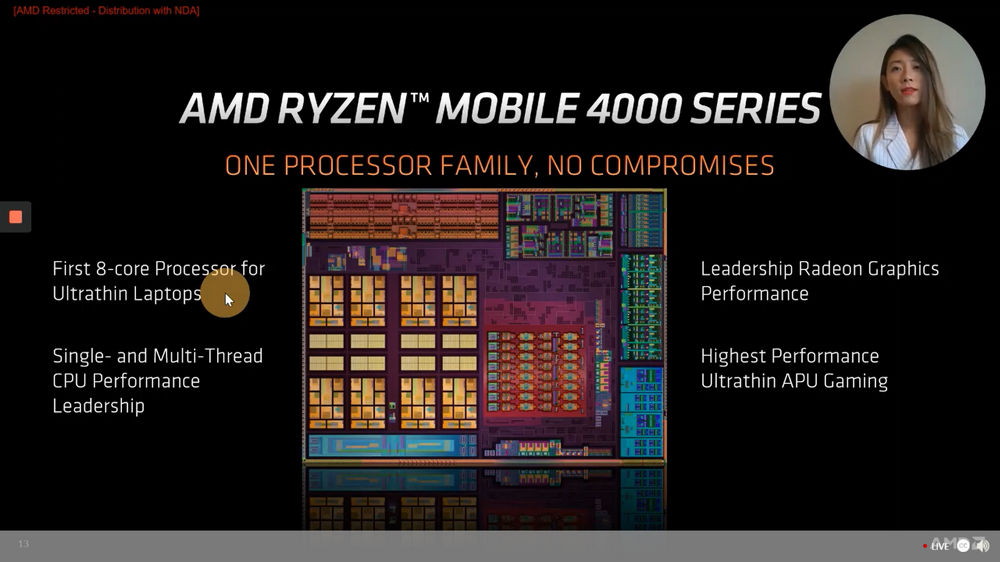 AMD Ryzen Mobile 4000 series merupakan sebuah APU yang diproduksi dengan proses pabrikasi 7 nm. APU ini sendiri merupakan yang pertama diciptakan untuk laptop tipis dengan inti prosesor hingga 8 unit dan threads yang mencapai 16. Pada peluncuran kali ini, ada tiga jenis APU yang diperkenalkan kali ini, yaitu Ryzen Mobile 4000 U Series, H Series, dan Pro Series. Namun, Pro Series tidak dibahas pada peluncuran kali ini.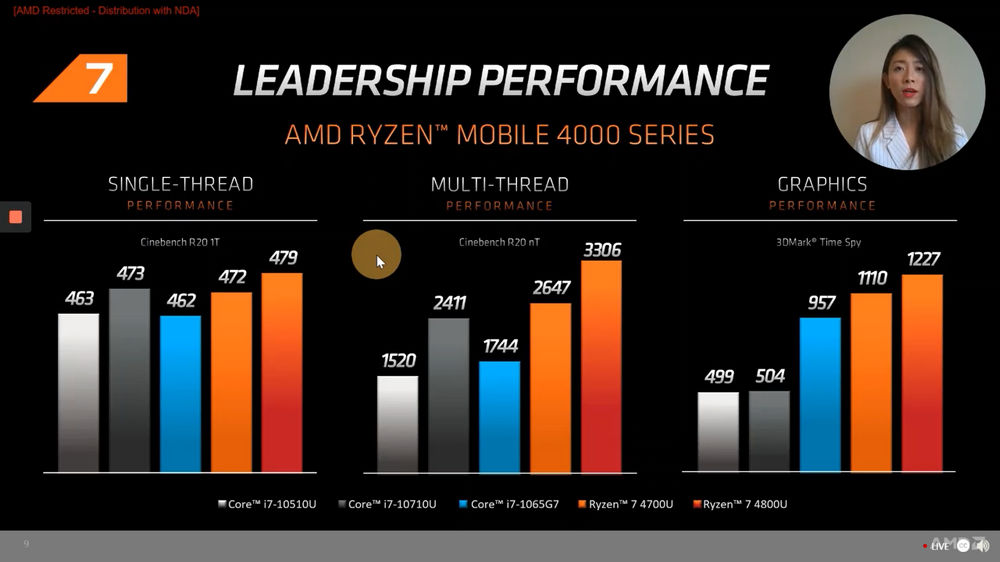 Ryzen Mobile 4000 U series merupakan APU yang khusus dibuat untuk laptop tipis atau dikenal dengan Ultrathin. APU yang sudah memiliki grafis terintegrasi   ini memiliki TDP 15 watt. Rentang inti prosesor yang dimiliki oleh seri U adalah dari empat hingga delapan core dan memiliki threads dari empat hingga 16. Selain itu, APU ini juga memiliki cache dengan total sampa 12 MB.
AMD memperlihatkan bahwa solusi APU mereka bahkan lebih cepat dari solusi generasi 10 yang dimiliki oleh pesaingnya. Kinerja single thread dan multithread yang dimiliki oleh Ryzen 7 4800U masih lebih unggul menurut klaim mereka. Selain itu, kinerja grafisnya dapat mencapai lebih dari dua kali lipatnya.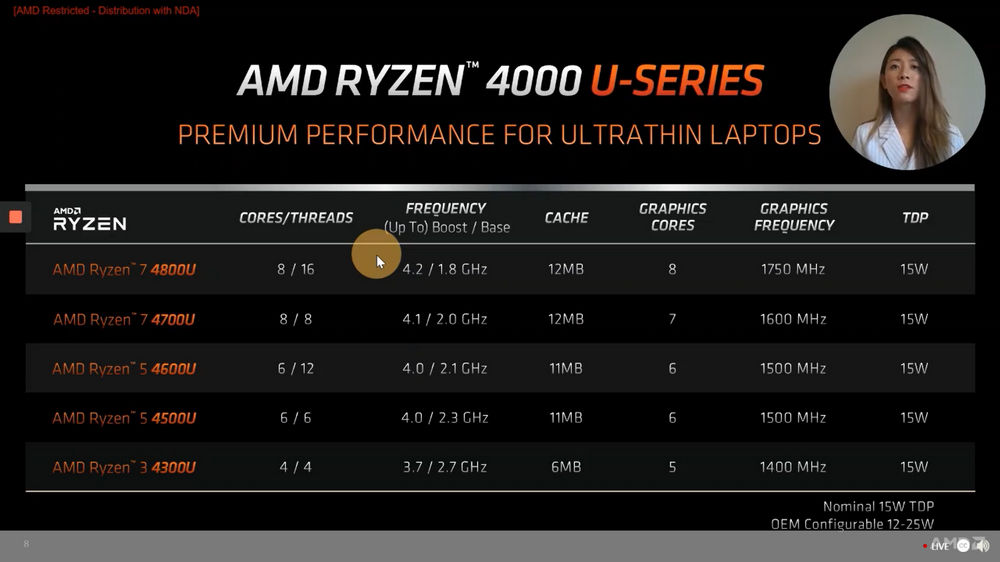 Setelah itu, AMD memperkenalkan Rzyen Mobile 4000H dan Hs.  Seri yang satu ini khusus dibuat oleh AMD untuk laptop yang ditujukan bagi para gamers dan content creator. Seri H merupakan seri terkencang yang memiliki TDP 45 watt, sedangkan seri HS merupakan versi cTDP dari seri H dengan TDP 35 watt.
AMD juga memperkenalkan solusi A+A+A pada peluncurannya kali ini. A+A+A tersebut berarti adalah AMD Ryzen Mobile, AMD Radeon Software and Technology, dan AMD Radeon Mobile Graphics. Untuk solusi grafis mobile, AMD juga sudah memperbarui lininya dengan Radeon RX 5000M series. Dan untuk solusi software, AMD sudah punya Radeon Adrenaline.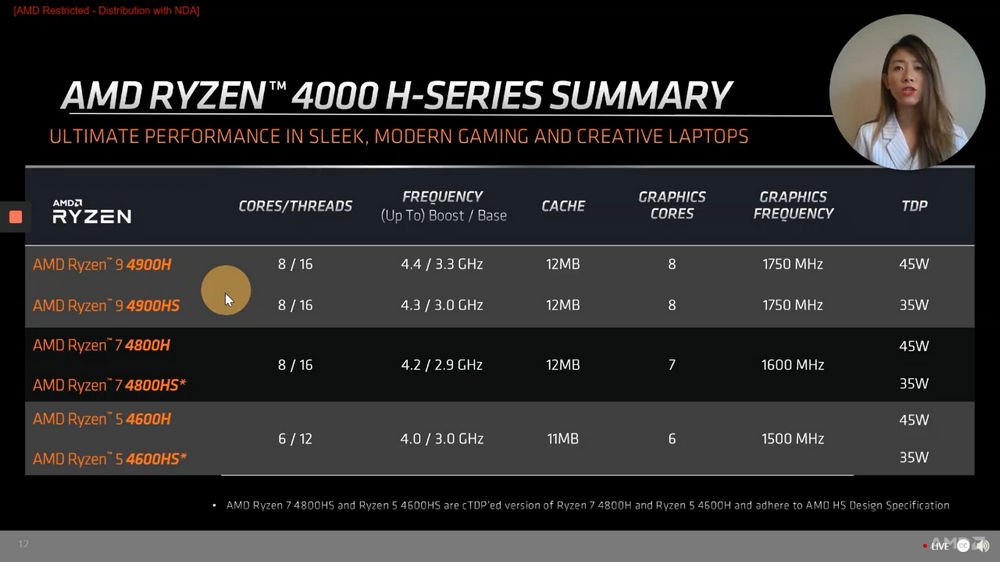 AMD juga memiliki teknologi bernama SmartShift dan solusi A+A+A. Teknologi ini memungkinkan sistem AMD untuk mengganti beban dan daya tergantung dari kebutuhan sebuah aplikasi. Misalnya untuk game yang membutuhkan kinerja grafis, TDP akan dialihkan dari CPU ke GPU. Hal ini diklaim mampu mendongkrak kinerja hingga 14% tanpa tambahan biaya.
Dell merupakan produsen pertama yang mengadopsi teknologi SmartShift ini pada laptop Dell G5 15 SE. ASUS, MSI, dan Lenovo disebut-sebut sebagai yang juga bakal menghadirkan SmartShift dalam waktu dekat ini.
Are you sure to continue this transaction?
processing your transaction....