Aplikasi iOS Pilihan Untuk Pecinta Fotografi
Aditya Daniel - 27 November 2014
VSCO Cam, aplikasi foto yang tersedia di platform Android dan iOS yang baru saja menerima pembaharuan dengan menghadirkan segudang fitur baru. Segmen aplikasi yang berhubungan dengan foto atau gambar memang tak pernah sepi.
Dengan persaingan yang ketat, tentulah para pengembang harus berusaha menghadirkan beragam fitur baru agar mampu bersaing dengan kompetitor.
Dalam artikel aplikasi iOS pilihan minggu ini saya akan berbagi tentang beberapa aplikasi alternatif untuk para pecinta fotografi. Yuk, mari simak siapa tahu ada aplikasi favorit kami di sini.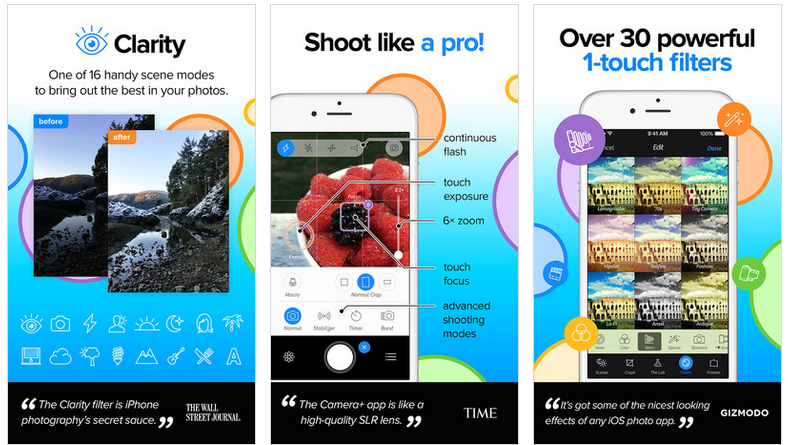 Salah satu aplikasi foto favorit saya. Selain berguna untuk mengambil dan mengedit foto, Camera+ juga dapat menampilkan data EXIF dari foto yang akan di-edit, mulai dari resolusi, jenis gambar hingga ukurannya.
Memiliki banyak pilihan scenes yang dapat disesuaikan dengan waktu pengambilan gambar, pengaturan yang lengkap serta beragam filter tak ketinggalan memiliki fitur sinkronisasi melalui iCloud membuat Camera+ pilihan tepat bagi yang memiliki beragam perangkat serta menginginkan akses kapanpun dan di manapun untuk meng-edit foto.
Download - App Store - Rp. 35 Ribu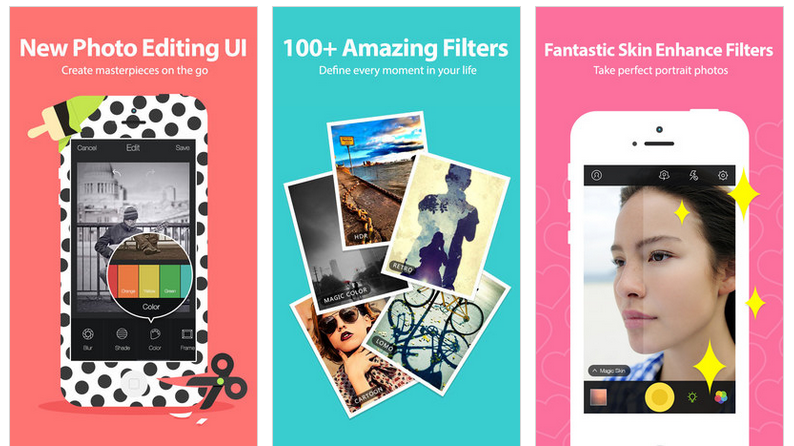 Siapa yang tak kenal dengan aplikasi yang satu ini, tak hanya sekedar menambahkan filter untuk mengubah sebuah tone warna dari sebuah foto namun Camera360 juga dapat secara otomatis menyesuaikan pengaturan yang pas ketika pengguna ingin mengambil gambar.
Jangan lupakan juga adanya magic skin filter yang mampu membuat kulit seseorang dalam sebuah foto menjadi lebih mulus.
Download - App Store - Gratis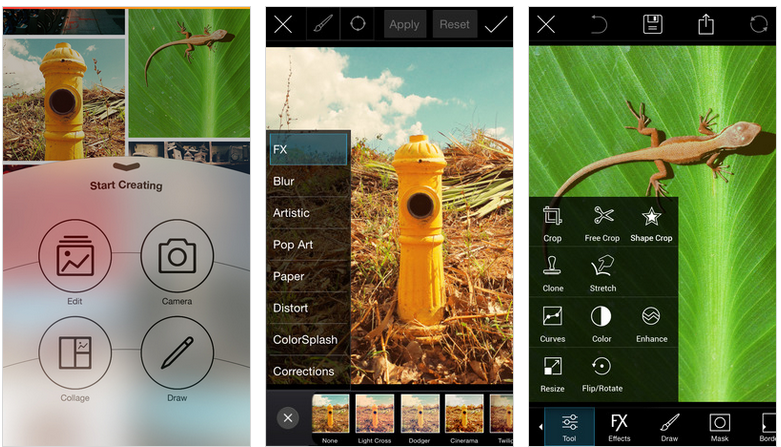 Jika menambahkan filter saja dirasa kurang maka aplikasi yang satu ini dapat menambahkan garis, gambar ataupun coretan-coretan serta bingkai ke dalam sebuah foto. PicsArt juga menyediakan fitur jejaring sosial di dalam aplikasinya sebagai sarana bertukar foto antar pengguna.
Download - App Store - Gratis
Fisheye - Fisheye Camera with Old Film, Cool Lens and Color Ringflash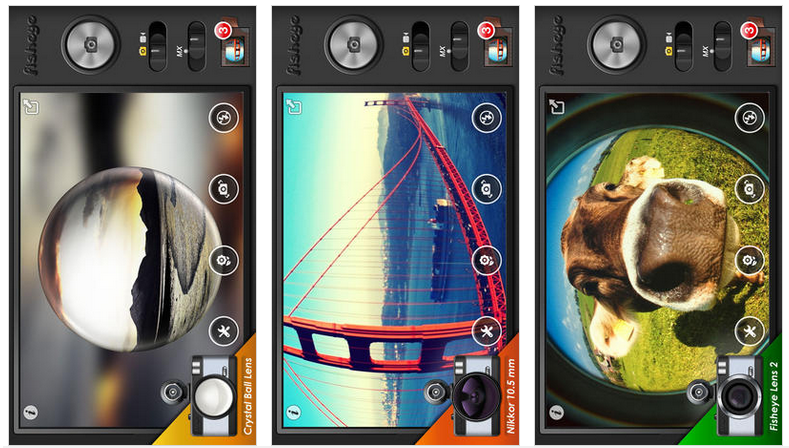 Sesuai namanya, aplikasi foro yang satu ini dapat digunakan untuk menambahkan efek fisheye ke dalam sebuah foto.
Dengan live view seperti menggunakan 170 derajat lensa wide-angle fisheye, serta kemampuan menambahkan berbagai jenis film untuk efek yang lebih menarik, aplikasi ini layak dijadikan pilihan bagi yang tak mau menambahkan aksesoris lensa pada perangkat iOS-nya.
Download - App Store - Gratis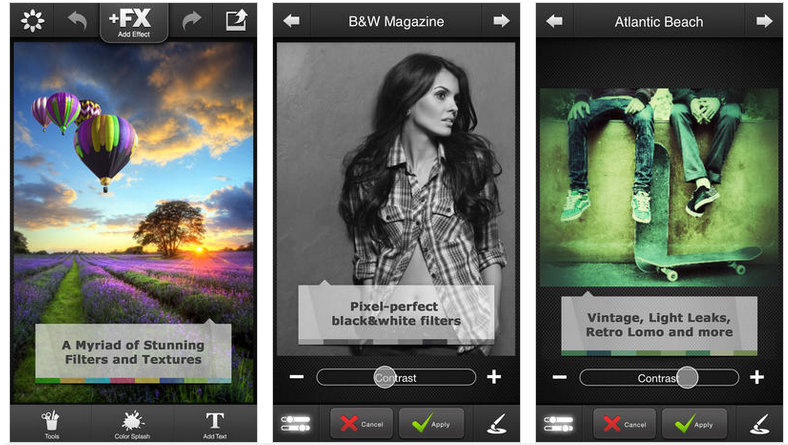 Aplikasi yang satu ini juga merupakan salah satu aplikasi favorit saya. Dengan ragam filter yang tak bisa terbilang sedikit, pengguna bisa menambahkan efek yang disukai pada foto yang di-edit.
Disertai pengaturan gamma, saturasi, eksposur dan kemampuan menambahkan watermark ke dalam foto sebelum dibagikan ke dalam media sosial seperti Facebook, Twitter, Instagram, rasanya cukup menjadi alasan aplikasi ini ada dalam perangkat iOS Anda.
Download - App Store - Rp. 35 Ribu
Itu dia 5 aplikasi pilihan untuk para pecinta fotohragi seri pertama. Masih ada banyak lagi aplikasi serupa yang akan kita bahas selanjutnya, jadi sering-sering berkunjung ke artikel aplikasi iOS pilihan ya. Sampai jumpa!
Gambar header: Photo via Shutterstock.