Catatan Editorial: Artikel ini adalah bagian pertama dari artikel Guest Post yang ditulis oleh Sigit Purnomo, Dosen Program Studi Teknik Informatika Universitas Atma Jaya Yogyakarta (UAJY), tentang pengalamannya mendapatkan fellowship di Baylor University, Texas – Amerika Serikat.
Tulisan saya di DS sebelumnya menyatakan bahwa antusiasme, idealisme dan kultur adalah tiga hal yang menurut saya sekarang sangat penting bagi universitas di Indonesia untuk picu inovasi. Tulisan ini akan mencoba memberikan contoh nyata dari apa yang dilakukan oleh Baylor University dalam memicu inovasi yang muaranya adalah untuk membangun entrepreneurship/technopreneurship culture di universitas. Saya akan membagi tulisan ini menjadi 3 bagian yaitu Antusiasme, Idealisme, dan Kultur. Harapan saya, tulisan ini akan lebih memperjelas bagaimana universitas di Indonesia kelak dapat melakukan hal yang sama atau bahkan lebih baik untuk memicu inovasi di lingkungan kampus.
Spring semester ini saya sangat beruntung mendapatkan kesempatan dari United Board for Christian Higher Education in Asia untuk mengikuti program fellowship di Baylor University, Waco, TX, USA . Tujuan utama program ini sebenarnya adalah untuk belajar tentang leadership dari universitas yang berbasis di United States of America. Hasil pembelajaran yang diperoleh diharapkan nantinya dapat digunakan untuk pengembangan kampus saya nantinya. Namun pada kesempatan ini, saya juga mencoba menyisipkan tujuan lain yaitu untuk mempelajari bagaimana entrepreneurship atau technopreneurship culture di Baylor University yang notabene jauh dari Silicon Valley. MESTAKUNG ("semesta mendukung"), itulah yang saya alami karena Baylor University ternyata mempunyai program-program yang berkaitan dengan tujuan saya tersebut.
Antusiasme di Baylor Innovation Challenges
Saya merasakan bagaimana antusiasme mahasiswa maupun dosen di sini untuk membangun kultur kreatif dan inovatif melaui sebuah program yang di namakan Baylor Innovation Challenges (iNova). Program ini diselenggarakan oleh salah seorang profesor di School of Engineering and Computer Science Baylor University dan masih berupa pilot projek. Tujuan program Baylor Innovation Challenges saat ini hanya untuk melatih kreativitas dan inovasi mahasiswa dalam menyelesaikan berbagai permasalahan yang ada dan belum sampai terlalu jauh untuk membantu mahasiswa membangun sebuah startup.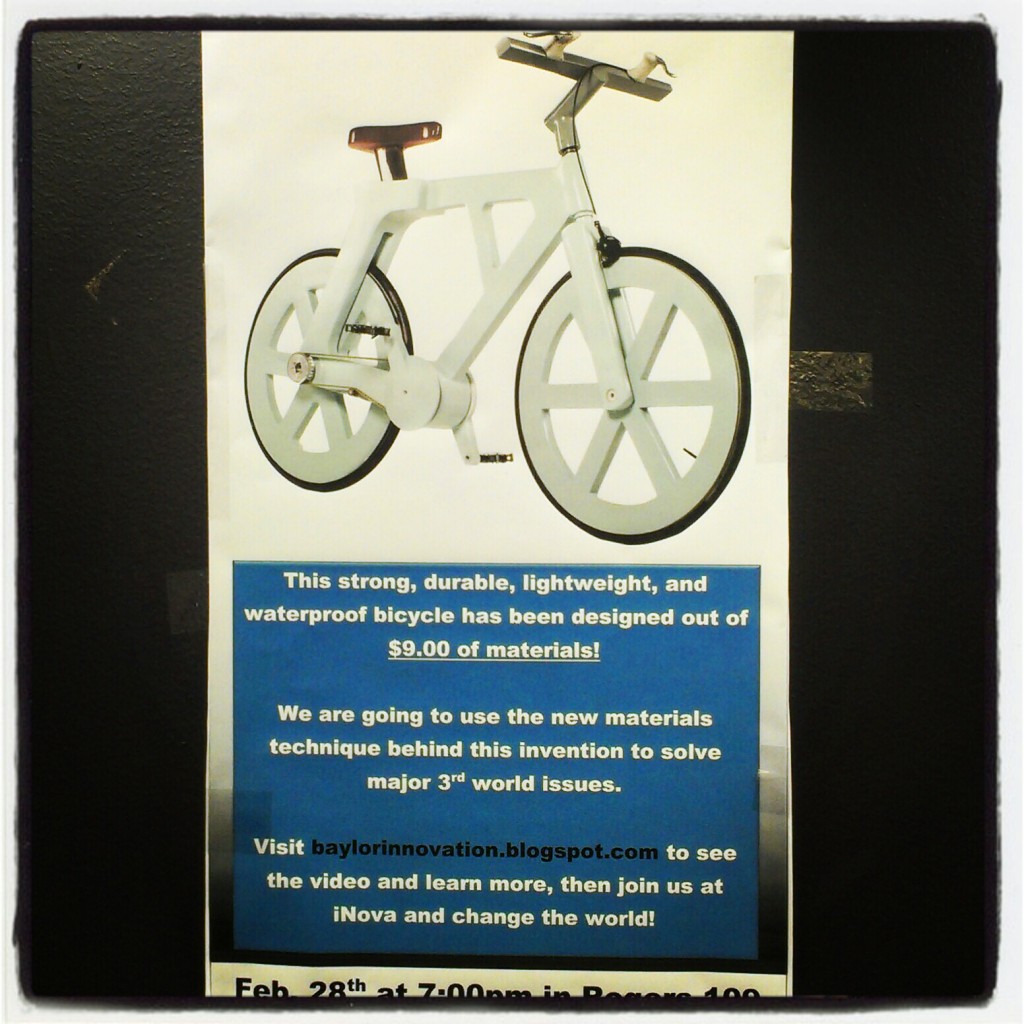 Di Baylor Innovation Challenges, setiap minggunya mahasiswa selama 1 jam akan berkumpul untuk berlatih menyelesaikan tantangan yang diberikan secara berkelompok melalui berbagai teknik seperti brainstorming, painstorming, ATM (Amati, Tiru, dan Modifikasi) dan yang lainnya. Setelah proses tersebut, mahasiswa diminta untuk membuat prototype memanfaatkan alat dan bahan yang telah disediakan. Di akhir acara, mahasiswa diminta untuk mempresentasikan prototype mereka dan kemudian dilakukan proses penjurian melalui voting untuk menentukan prototype yang terbaik. O, iya, tantangan yang diberikan berbeda setiap minggunya dan setiap minggunya akan dipilih satu pemenang yang akan mendapatkan hadiah berupa permen atau cookies.Yup, sesederhana itu, permen dan cookies, tetapi program ini juga menawarkan hadiah $150 untuk tantangan yang besar dan membutuhkan waktu satu minggu atau lebih untuk menyelesaikannya.
Selama satu bulan saya menghadiri pertemuan ini, antusiasme mahasiswa maupun dosen sangat terlihat. Mahasiswa sangat antusias mengikuti setiap prosesnya, baik ketika diberikan waktu untuk brainstorming mengenai apa solusi mereka terhadap tantangan yang diberikan maupun pada saat membuat prototype solusi dengan alat dan bahan yang telah disiapkan oleh profesor yang menjadi mentor dan asistennya. Semua tahapan mulai dari brainstorming sampai presentasi protoype diberi konstrain waktu yang singkat sehingga mereka dituntut untuk berpikir dan bekerja dengan cepat serta memanfaatkan resources yang ada dengan seoptimal mungkin. Pada saat proses penjurian hasil prototype, mahasiswa juga sangat antusias untuk saling memberikan suara maupun masukan yang membangun bagi prototype yang dibuat oleh kelompok lainnya.
Sebagai tambahan informasi, contoh tantangan yang diberikan misalnya adalah bagaimana mereka bisa men-deliver buah pisang dari lantai 2 ke lantai 1 dengan cepat dan tanpa membuat pisang "bonyok" dengan memanfaatkan bahan-bahan seperti gelas atau piring dari styrofoam, kertas, selotip, ember kecil, gantungan baju, penjepit kertas, pipet/sedotan, kaleng, dan bahan-bahan sederhana lainnya. Tantangan lainnya adalah bagaimana mereka membuat sebuah mesin atau alat dengan memanfaatkan cardboard (kardus), lem, dll. Tantangan ini terinspirasi dari berhasilnya seseorang membuat sepeda dari cardboard yang hanya menghabiskan biaya $9 saja (lihat photo).
Atmosfir Kehidupan Kampus 24 Jam
Antusiasme lainnya saya lihat dari atmosfir kehidupan kampus yang 24 jam. Cukup banyak mahasiswa yang masih beraktivitas di kampus pada malam hari, baik itu di laboratorium maupun ruang diskusi atau ruang belajar di perpustakaan yang memang terbuka selama 24 jam. Sejauh pengamatan saya selama ini, mereka yang di laboratorium atau ruang diskusi sampai malam (note: selain yg mengerjakan skripsi/tesis) biasanya berdiskusi dan mengerjakan suatu projek secara bersama-sama. Hal ini terlihat dari berbagai coretan yang ada di whiteboard yang menunjukkan bagaimana mereka sedang melakukan brainstorming atau menuliskan progress projek mereka. Bagi saya, kondisi ini tentu saja akan sangat membantu untuk memicu inovasi karena mahasiswa akan semakin banyak mengumpulkan jam terbangnya sehingga dapat mencapai 10.000 jam terbang.
Kesimpulan
Untuk membangkitkan antusiasme segenap civitas akademika di universitas dalam berinovasi menurut saya harus ada program yang jelas dan tidak perlu muluk-muluk terlebih dahulu seperti Baylor Innovation Challenges. Selain itu juga harus didukung dengan fasilitas yang mendukung, sebagai contoh di Baylor University kampus dapat digunakan selama 24 jam karena setiap staff maupun mahasiswa memiliki sebuah ID card yang dapat digunakan untuk keluar masuk ke ruangan-ruangan tersebut untuk sekedar berdiskusi maupun bekerja so tidak perlu ada satpam di setiap gedung.
Mahasiswa juga akan bertanggung jawab karena setiap aktivitas keluar-masuk ruangan akan ter-log sehingga jika ada sesuatu maka akan jelas siapa yang harus bertanggung jawab. O, iya, contoh fasilitas lain yang mendukung adalah adanya free food and drink (biasanya pizza dan softdrink) yang diberikan kepada mahasiswa peserta Baylor Innovation Challenges setiap minggunya. Ternyata sama dengan Indonesia, dengan memberikan makanan gratis, maka akan banyak yang datang.
Artikel guest post ini ditulis oleh Sigit Purnomo, Dosen Program Studi Teknik Informatika Universitas Atma Jaya Yogyakarta (UAJY).  Sigit juga merupakan co-founder dari PersonaFlag (jejaring sosial berbasis lokasi). Anda bisa mengikuti @sigitpurnomo di Twitter atau membaca blognya di sigitpurnomo.com.
DailySocial.id adalah portal berita startup dan inovasi teknologi. Kamu bisa menjadi member komunitas startup dan inovasi DailySocial.id, mengunduh laporan riset dan statistik seputar teknologi secara cuma-cuma, dan mengikuti berita startup Indonesia dan gadget terbaru.