Bagirata as Crowdfunding-based Solidarity Platform for Employees
Bagirata serves as a non-profit platform to facilitate employees impacted by Covid-19
Bintoro Agung - 11 May 2020
The current pandemic situation has shown new sides of the country's economy. Business shut down, employees laid off, and informal sector workers struggled to survive. Bagirata, an initiative as a technology platform emerged with a mission to mitigate the impact of Covid-19 on workers in this pandemic season.
On its official website, Bagirata claims to be a peer-to-peer redistribution of wealth. The Bagirata Platform facilitates the collection of funds from workers who are still earning to those who are no longer income due to Covid-19.
However, Bagirata focused its support on workers in specific sectors, such as the service sector, tourism, hospitality, creative industries, arts & culture, and workers in the gig economy. These are the main criteria for those who want to use Bagirata facilities.
"In fact, I myself am a hospitality worker who was forced to take unpaid leave because of this pandemic, while some of our friends can still earn a living while working from home. Then, why don't we try to bridge this situation to the wider community. We started from this concern and what is happening around us," Ivy Vania, one of the Bagirata initiators told DailySocial.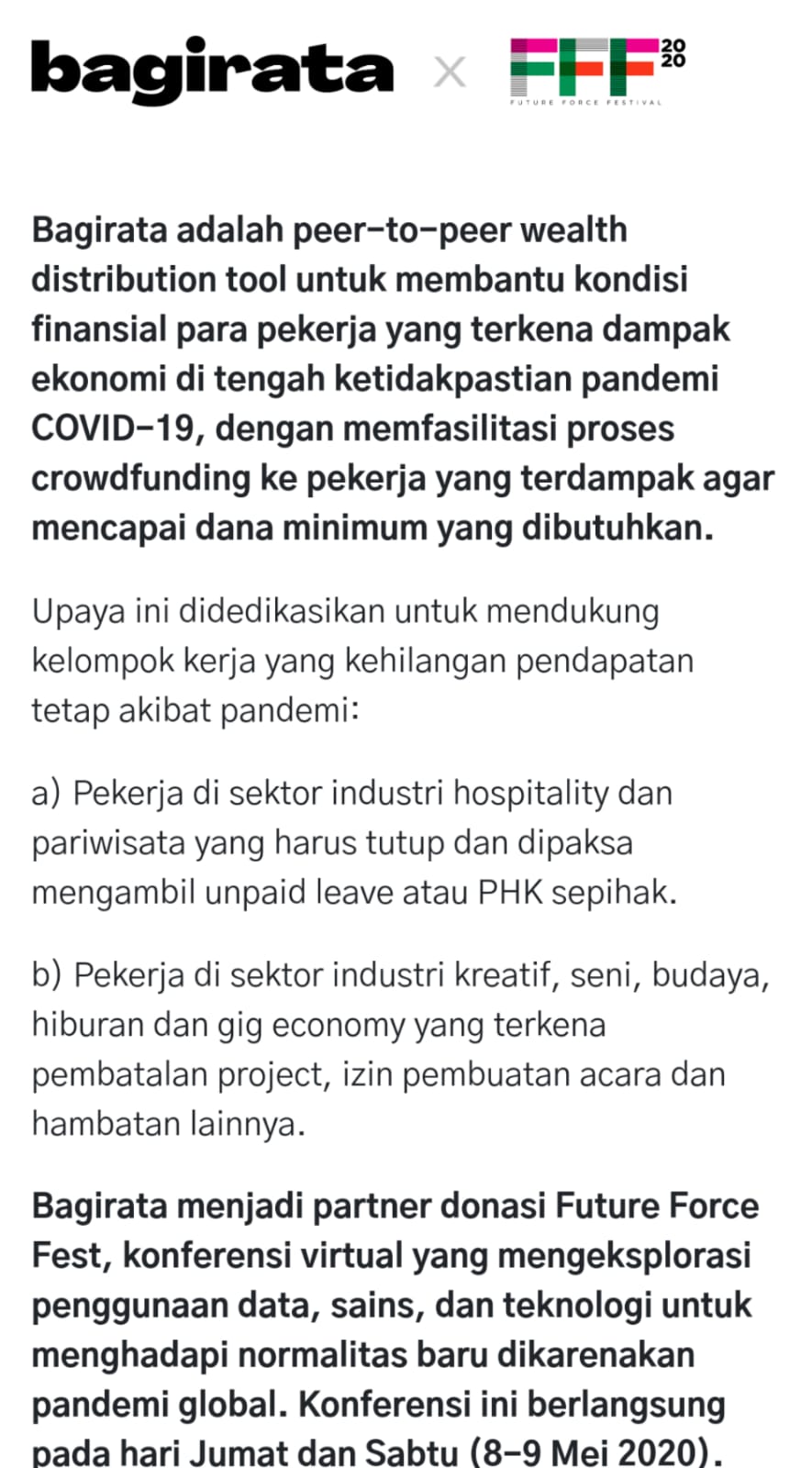 Bagirata works somehow resembles another crowdfunding platform, such as Kitabisa. The difference is, this initiative is purely acting as a means of mutual support between workers. The way this platform works is simple. Bagirata, which is optimized for mobile web display, provides two options, participating as a fund donor or recipient. When you choose as the first, Bagirata offered ten potential fund recipients. After choosing, users can directly send their donations through Gopay, DANA, and Jenius, therefore, the money will not flow through this platform. Bagirata also does not limit the nominal submitted by the recipient or donor.
"The greater the minimum funds raised, the longer the time needed. Unless there is a certain level of compatibility between the fund donor and the recipient making it possible to send a larger amount of funds," Ivy added.
On Monday (4/5), there were more than 1500 people applying as fund recipients, 950 of whom passed verification, and 95 people successfully met their needs through this platform. Regarding the eligibility of prospective recipients, Bagirata applied three layers of verification. First, the data and information, synchronized with Bagirata, and eligibility evaluation using a scoring system. These three steps come with a 'Report' button for those who want to do the eligibility test for the recipient.
During this pandemic, economic inequality was increasingly rising. Without a steady income, workers who qualify in Bagirata are in a very vulnerable position. The Ministry of Manpower said there were more than 2 million experienced layoffs (PHK) due to Covid-19. The Indonesian Chamber of Commerce (Kadin) even estimates that the number of people laid off during the pandemic has reached 15 million. The number was figured as we include those workers in the MSME sector.
The government as the highest authority is considered not strong enough to overcome this alone. The pre-employment card program for example. Previously, the program was aimed at providing skills to prospective young workers but the plague forced the government to turn it into a semi-social assistance program. The program was deemed improper because the public needed more cash to make a living.
Solidarity is a keyword as Ivy, Lody Andrian, Rheza Boge, and Elham Arrazag used when creating this platform. The principle of helping others, she said, is more common abroad because there are trade unions almost in every industry. "However, in Indonesia, not all workers have a union, and usually the union is more focused on advocacy. Therefore, we want all employees registered in Bagirata can help each other even though it is cross-industry," she said.
To date, the number of fund donors and recipients in Bagirata continues to grow. In order to reach more employees, Bagirata is now developing an organization-to-organization system. This is exemplified by their collaboration with the Media Workers and Creative Industries Union (Sindikasi). Later, Bagirata is to create sub-domains for registered organizations, therefore, they can replicate the Bagirata system as a temporary safety net for their members.
"However, we've also been in contact with several other organizations, such as the Indonesian Art Coalition and M Bloc, which indeed have previously operated and have their own databases," Ivy said.
–
Original article is in Indonesian, translated by Kristin Siagian