Bermain Smartphone Sambil Menikmati KFC? Bisa Berkat 'Tatakan Pintar' Ini
Yoga Wisesa - 22 May 2015
Suka tidak suka, salah satu 'musuh besar' perangkat berlayar sentuh berada di tangan kita sendiri. Tanpa tambahan lapisan pelindung dan jika tidak dibersihkan teratur, display glossy di smartphone akan menjadi sarangnya sidik jari. Lalu ketika Anda sedang sibuk menikmati makanan, sudah jelas sangat tidak dianjurkan untuk menggunakan device tersebut.
Ada sebuah solusi sangat cerdas dari franchise restoran raksasa asal Kentucky, KFC. Sewaktu sedang berkonsentrasi pada ayam goreng berbumbu krispi di atas piring, lalu muncul notifikasi di app Facebook, Anda dapat langsung melihat atau melontarkan komentar tanpa mengorbankan kebersihan smartphone. KFC memperkenalkan tatakan pintar sekaligus keyboard bernama Tray Typer.
KFC Tray Typer terlihat seperti nampan fleksibel biasa. Ukurannya sangat tipis, hanya 4 milimeter, dan elastis sehingga bisa digulung. Ia dihadirkan sebagai pengganti tatakan kertas, mempunyai rangkaian tombol ala keyboard QWERTY di sisi atas (termasuk tombol power). Tentu saja tombol-tombol tersebut bukanlah sekedar hiasan, ia berfungsi layaknya keyboard sungguhan. Tray Typer dapat disambungkan ke perangkat bergerak Anda via Bluetooth.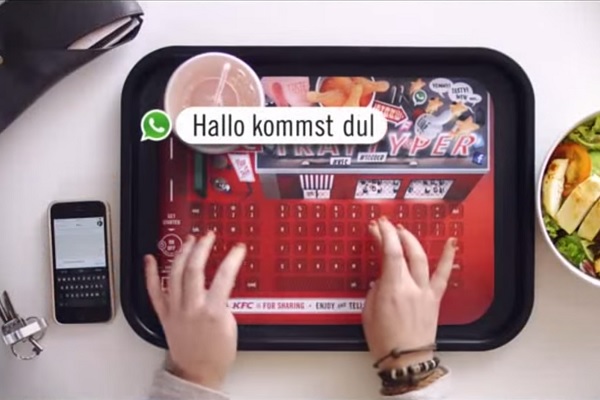 Alhasil, smartphone dan tablet kesayangan tetap terjaga dari minyak serta lemak. Nampan pintar KFC ini juga tahan minyak dan air. Setelah dipakai, pramusaji tinggal mengisi ulang baterainya melalui port USB dan menyeka Tray Typer supaya bersih kembali. Metode penyuguhan itu memastikan device bisa digunakan berkali-kali, meski faktanya, Tray Typer terbukti sangat populer. Dalam minggu pertama pengenalannya, tatakan tersebut habis karena dibawa pulang konsumen.
Info menarik: Desain Melingkar BeeRaider Dijanjikan Lebih Efisien Dari Keyboard Biasa
Tray Typer diciptakan sebagai bagian dari kampanye pemasaran rantai fast food terbesar kedua dunia itu di Jerman. Demi menjalankannya, KFC bekerja sama dengan agen periklanan Serviceplan. Mereka berencana untuk menyediakan nampan ber-keyboard KFC ke acara pembukaan beberapa restoran di sana. Tray Typer mungkin terdengar biasa saja, tapi penerapan teknologinya sungguh mengagumkan.
Berbicara soal keyboard fleksibel, para peneliti telah mulai mengembangkannya bertahun-tahun silam. Sejauh ini, rekor papan ketik elastis paling tipis dipegang oleh perusahaan Cambridge Silicon Radio dengan ketebalan cuma setengah milimeter - mengombinasi teknologi wireless rendah daya dan metode mutakhir dalam pencetakan sirkuit elektronik.
Sayangnya, belum ada kabar dari KFC untuk membawa Tray Typer ke luar Jerman. Di negara itu, Tray Typer tersaji gratis. Tapi saya yakin jika KFC menjualnya dengan harga masuk akal di Indonesia, hybrid tatakan-keyboard tersebut akan sangat laris.
Via Daily Mail & The Verge.
Are you sure to continue this transaction?
processing your transaction....