Bethesda Tidak Bergurau, Game Skyrim Hadir di Toilet Pintar Seharga $ 6.000
Toilet pintar tersebut menawarkan cara paling mahal buat menikmati The Elder Scrolls V: Skyrim.
Dirilis perdana di tahun 2011, upaya Bethesda Softworks untuk mengadirkan permainan The Elder Scrolls V: Skyrim di seluruh platform membuatnya jadi objek gurauan gamer. Setelah tersedia di PC, Xbox 360 dan PS3, publisher berambisi buat membawanya ke platform game current-gen. Inkarnasi terakhir dari RPG open world fenomenal itu adalah edisi VR dan Switch.
Bethesda tentu saja menyadari hal tersebut. Sebagai respons candaan serta meme yang beredar, mereka mengumumkan Skyrim: Very Special Edition di E3 2018. Versi ini dipresentasikan dalam video yang dibintangi komedian Keegan Michael-Key, di mana Skyrim bisa diakses Amazon Echo. Selanjutnya, sang narator mengungkap 'rencana' Betheda untuk melepasnya pula di Etch A Sketch, pager Motorola, sampai kulkas pintar Samsung.
Banyak orang mengira ini hanyalah cara publisher mengapresiasi guruan fans, hingga mereka sadar Bethesda ternyata betul-betul menggarapnya. Betul sekali, Skyrim bisa Anda mainkan dengan bantuan Amazon Alexa. Tapi berbeda dari versi PC/console-nya, 'Very Special Edition' disuguhkan seperti permainan petualangan berbasis teks, namun disuguhkan dalam bentuk audio - seperti sesi menikmati game tabletop berbekal AI.
Anda bisa segera mencobanya jika kebetulan mempunyai Echo atau Echo Dot. Bahkan berdasarkan laporan Polygon, Anda tak memerlukan speaker pintar Amazon itu, cukup perlu mengunduh aplikasi Amazon di iDevice atau menginstal Alexa di perangkat Android. Sesudah itu silakan buka app, tap icon Alexa, kemudian bilang: "Alexa, open Skyrim."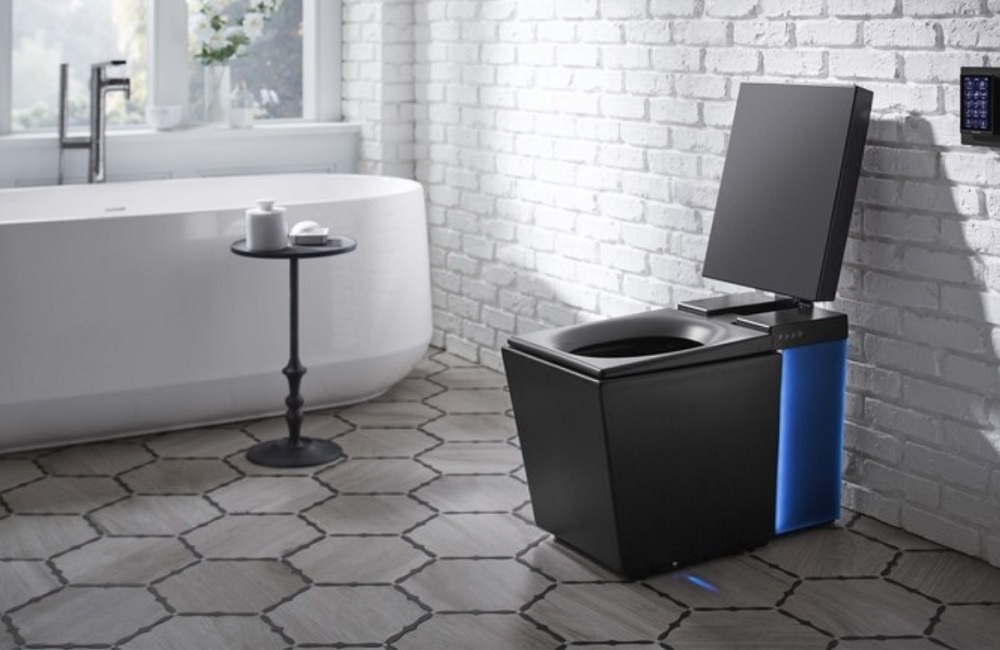 Dan kebetulan, seorang pengguna Reddit menemukan bahwa unit toilet pintar baru buatan Kohler ternyata kompatibel dengan AI Alexa. Toilet high-end bernama Numi itu bisa mendengar perintah suara Anda dan melakukan sejumlah hal, seperti mengangkat dudukan toilet hingga memutar musik. Dan dengan adanya Skyrim di sana, Anda bisa bertualang secara imajinatif sembari mengosongkan usus besar.
Dibanderol seharga US$ 6.000, Kohler Numi merupakan perangkat paling mahal yang bisa Anda beli untuk memainkan Skyrim. Dengannya, Anda tidak perlu bingung jika lupa membawa smartphone ke toilet: Anda bisa berburu naga, bertarung melawan raskasa, atau menjelajahi reruntuhan Dwemer.
Saya belum mengetahui seberapa besar isi konten Skyrim di Alexa, namun kapabilitas ini mengindikasikan bahwa game secara teori dapat berjalan di perangkat apapun yang mempunyai sirkuit elektronik. Mungkin Skyrim di smart refrigerator Samsung bukan sekadar gurauan. Dan coba Anda bayangkan rasanya sensasi bermain Skyrim di oven pintar...
Via GamesRadar.
Are you sure to continue this transaction?
processing your transaction....