Betulkah Developer Pencipta The Elder Scrolls Sedang Garap Permaian Game of Thrones?
Informasi diperoleh dari page yang belum jadi di situs Target.
Yoga Wisesa - 28 August 2017
Hari ini merupakan momen penayangan episode terakhir season tujuh serial Game of Thrones. Bagi saya, kontennya cukup memuaskan, tapi tentu saja satu fakta pahit tak bisa dihindari: season delapan baru akan hadir di akhir 2018 atau awal 2019. Tapi ada satu berita gembira jika Anda masih ingin mendalami politik dan intrik yang mewarnai Westeros.
Ada beberapa alternatif untuk bertualang secara interaktif di sana. Hingga kini, ada dua permainan video yang diangkat dari kisah A Song of Ice and Fire, yaitu Game of Thrones: The Role-Playing Game (2012) dan Game of Thrones: A Telltale Games Series (2014). Sayang sekali, keduanya mendapatkan kritik cukup pedas dari pemain terkait buruknya gameplay hingga jalan cerita yang sama sekali tidak memuaskan.
Namun belum tentu seluruh upaya mengangkat Game of Thrones ke game berakhir mengecewakan. Usaha adaptasi ketiga kabarnya sedang dilakukan, tapi kali ini digarap oleh nama yang sangat berpengalaman di bidangnya. Berdasarkan laporan dari user forum NeoGAF, permainan Game of Thrones selanjutnya akan dikembangkan oleh tim pencipta seri The Elder Scrolls dan pemilik franchise Fallout, Bethesda.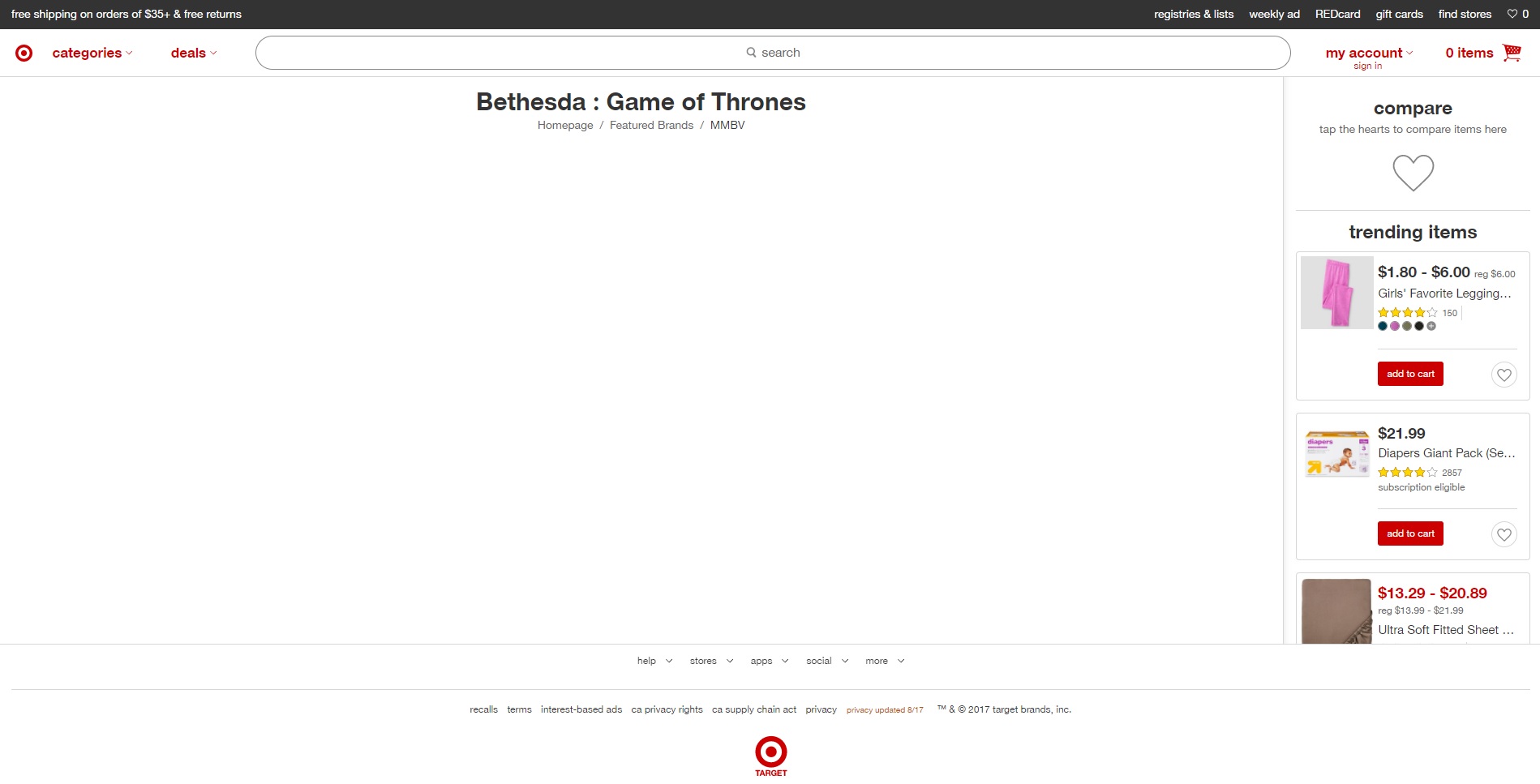 Informasi diperoleh dari page yang belum jadi di situs Target. Belum ada info ataupun gambar di sana, dan belum diketahui juga apakah memang betul proses pengembangannya ditangani oleh Bethesda Game Studios atau mereka hanya berperan jadi publisher saja (Bethesda Softworks). Laman tersebut cuma menyebutkan judul (sementara) 'Bethesda: Game of Thrones'.
Bethesda memang telah diketahui sedang mengerjakan setidaknya lima proyek baru. Di awal tahun ini, game director Todd Howard sempat berkomentar bahwa dua di antaranya merupakan proyek besar. Memang sudah saatnya Bethesda menyiapkan The Elder Scrolls VI, tapi kita juga tidak akan menolak kehadiran permainan Game of Thrones dari Bethesda
Developer sama sekali belum mengomentari rumor ini, tapi bayangkan saja seandainya ternyata info tersebut benar: sebuah permainan role-playing single-player open-world berskala masif yang menghidangkan gameplay berdurasi ratusan jam ala Skyrim. Tapi tentu saja ada PR yang harus Bethesda benahi. Narasi dan karakter bukanlah bagian terkuat di permainan mereka; sedangkan dua hal itu merupakan elemen paling menonjol di Game of Thrones.
Tapi sebelum Anda terlalu bergembira, ingat bahwa kemunculan 'Bethesda: Game of Thrones' di situs Target boleh jadi hanya merupakan kesalahan tak disengaja. Buat sekarang, kita hanya bisa memohon pada Lord of Light agar kabar ini benar adanya...
Via Gamespot.