Blocknom Crypto Asset "Earning" Platform Snags 7 Billion Seed Funding
It offers stablecoin-based crypto asset "earnings" from USDT, USDC, and XIDR without a "lockup period"
Crypto asset earning platform Blocknom announced a seed funding of $500 thousand (over 7 billion Rupiah) from three investors, including YCombinator, Number Capital, and Magic Fund. The last two names is fronted by Hendra Kwik (Fazz) and he is appointed as an advisor at Blocknom along with Tianwei Liu (Fazz) and Thomas Chen (Magic Fund).
Blocknom is currently participating in the Y Combinator's Winter 2022 batch along with several startups. The startup was initiated in January 2022 by Gojek and Shopee's former employee, Fransiskus Raymond and Ritase's former engineer, Ghuniyu Fattah Rozaq.
In terms of value proposition, Blocknom offers yields deposit on available stablecoin-based crypto assets, includng USDT (Tether), USDC (Circle), and XIDR (StraitsX). The product does not have a lockup period, therefore, investors can withdraw their funds at any time. Blocknom offers earnings of up to 13% per year and is claimed to be safe from the price volatility.
"We started Blocknom to provide easy crypto investing for everyone. Based on our research, 90% of people gain negative results from trading crypto. However, they find it better to make long term crypto investments. We have not been able to find a suitable product in the market. Therefore, we decided to build Blocknom for the good of everyone," Blocknom's Co-founder and CEO, Fransiskus Raymond said in an official statement, Friday (4/3).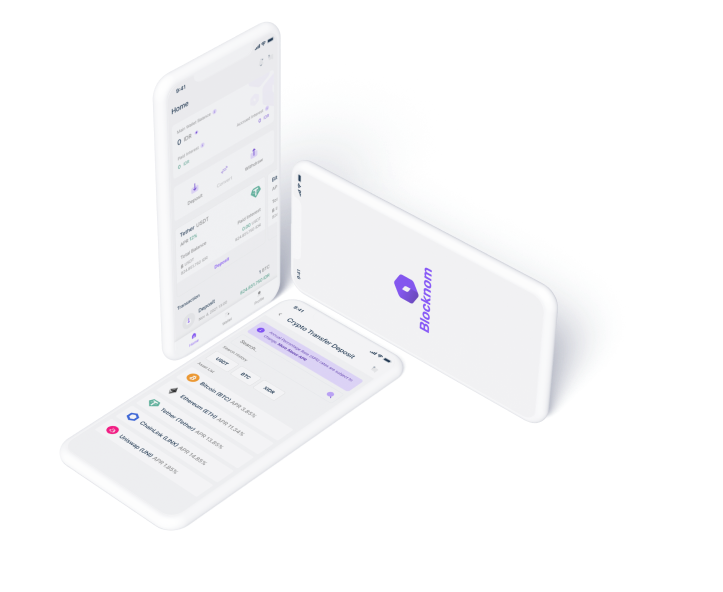 Blocknom
Based on the company's blog, Blocknom is the first gateway for investors to enter the DeFi (Decentralized Finance) era. This platform operates on the web2 internet base and serves as a bridge for investors to the web3 DeFi industry. Blocknom implements transparency in the fund management process and has a proof of community system, with a commitment to always involve the community in the DeFi selection process to manage investor funds and has an unlimited incentives program for the community.
In the earning process, investors make earning deposits on the Blocknom website or application and they will start getting  daily rewards.
Behind the scenes, investors' funds will be automatically input into various staking and earning platforms that have been pre-selected by the Blocknom community such as, A.A.V.E, BALANCER, CELCIUS NETWORKS, CURVE, and so on. The Blocknom algorithm will automatically carry out the process of selecting and distributing funds to the DeFi platform with the largest yield.
The competitive interest will be given as the lending institution relies on blockchain technology, with collateral lending as the core business. The collateral will be in the form of digital assets such as Bitcoin, Ethereum, etc. This allows borrowers to pay a premium interest, as they believe the value of the asset will be much higher than the interest they are paying.
Blocknom trusts Fireblock as a custodial company to store all Blocknom deposit funds. For additional security, they implement the highest level of wallet security (bank standards) and full encryption (2 factor verification). In terms of regulatory, Blocknom operates throughout Southeast Asia using the license partner method from StraitsX, licensed by MAS. Also, they currently submitting for a permit to operate in Indonesia to CoFTRA as the relevant authority.
Fransiskus said, after earning stablecoins, the company will continue to innovate to realize the mission of crypto investment for everyone journey through Blocknom.
"In the future, there will be more features designed to help people feel the benefits of crypto, not only as an investment, but also part of their daily life," he said.
–Original article is in Indonesian, translated by Kristin Siagian
Are you sure to continue this transaction?
processing your transaction....