Call of Duty dan FIFA Menjadi Ujung Tombak Perkembangan eSport di Console
Peningkatan industri eSport console bukan hanya ditakar dari total hadiah turnamen, tapi juga dari jumlah pemirsa pertandingan.
Yoga Wisesa - 22 May 2018
Dipopulerkan di PC, eSport kini bisa Anda temukan hampir di seluruh platform hiburan. Medium terbaru penyajiannya adalah perangkat bergerak berkat meroketnya permainan MOBA dan battle royale. Namun berbeda dari PC dan mobile, pengembangan olahraga elektronik di console betul-betul bergantung dari besarnya komitmen para publisher dan pemilik platform.
Skala eSport di console memang lebih kecil dari PC, namun belakangan ini ia menunjukkan pertumbuhan yang menggembirakan. Tim analis Newzoo melaporkan bahwa ada dua judul yang berjasa mengangkat industri gaming kompetitif console, terutama di empat bulan pertama tahun 2018. Mereka ialah FIFA dan Call of Duty. Peningkatan bukan hanya terjadi pada total hadiah turnamen, tapi juga pada jumlah pemirsa.
Untuk memahami tingginya kenaikan minat khalayak terhadap eSport console, mari kita lihat pencapaian FIFA 18. Di bulan April 2018, permainan sepak bola punya EA tersebut berhasil naik 20 peringkat dan sukses mengamankan tempat di urutan 10 game eSport yang paling banyak ditonton di Twitch. Di periode yang sama, total hadiah turnamen permainan di console mencapai US$ 2,5 juta - dua kali lipat dibanding kuartal pertama 2017.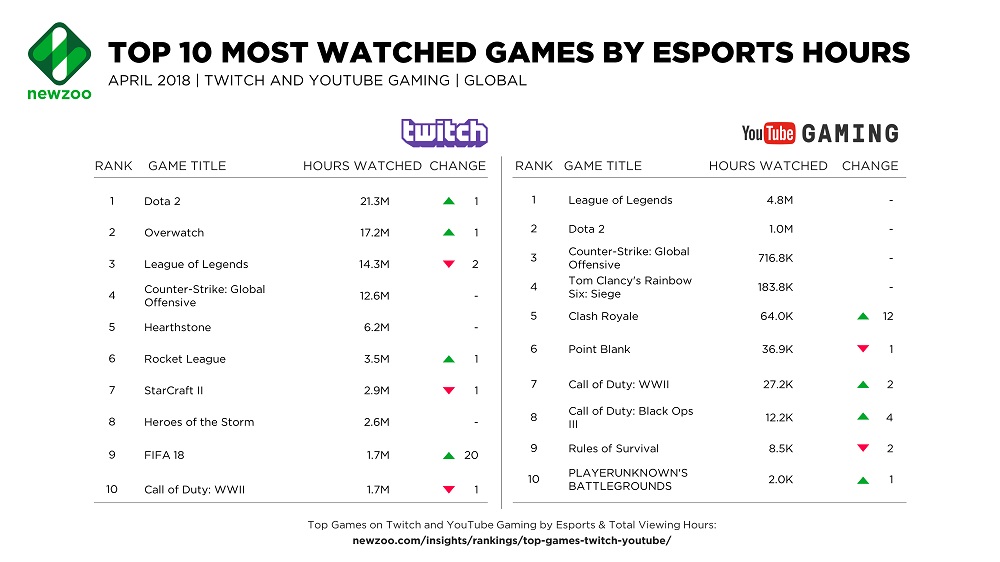 Sejak Januari hingga April 2018, para user Twitch menghabiskan waktu 14,1 juta jam buat menyaksikan acara-acara kompetisi game 'besar' console (yakni turnamen dengan hadiah US$ 5.000 ke atas). Angka tersebut menandai pertumbuhan sebesar 95,5 persen dari momen yang sama di tahun lalu. Hal yang paling menarik dari eskalasi ini adalah, tidak ada kenaikan jumlah turnamen secara signifikan: 46 di 2018 dan 43 di 2017.
Beberapa turnamen yang memberikan kontribusi besar bagi perkembangan eSport console meliputi dua kejuaraan FIFA 18 Ultimate Team Champions Cups, Call of Duty World League, serta Halo World Championship. Ditakar dari banyaknya penonton, Call of Duty memang paling populer, dengan total durasi di 5,8 juta jam. Lalu di urutan kedua ada FIFA 10 di 3,9 juta jam. Jika semuanya diakumulasi, eSport console menyumbang 4,5 persen penonton di Twitch dan YouTube Gaming.
Di sana, para publisher game raksasa-lah yang umumnya jadi penyelenggara turnamen eSport, contohnya Activision, Electronic Arts, Capcom, serta Microsoft. Di luar itu ada organisasi besar seperti MLG dan Evo.
Newzoo juga menyingkap tiga genre permainan favorit berdasarkan jumlah penonton. Pertama adalah fighting (41 persen), kedua shooter (38 persen) dan ketiga ialah olahraga (21 persen). Fighting berhasil merangkul pemirsa paling tinggi karena seperti yang bisa Anda lihat pada tabel di atas, ada banyak judul masuk ke daftar 20 besar game eSport, contohnya Street Fighter V, Super Smash Bros. Melee, Dragon Ball FighterZ dan Tekken 7.