6 Cara Dalam Memasang Iklan di WhatsApp Business
Pelajari cara menggunakan WhatsApp Business untuk membuat iklan dan menghubungkan pelanggan ke bisnis Anda.
Untuk bisnis apapun, periklanan adalah bagian penting dari strategi pemasarannya. Terdapat banyak aplikasi media sosial yang dapat memasang iklan, salah satunya WhatsApp Business. 
Beriklan di WhatsApp Business menjadi pilihan yang semakin populer bagi pemasar yang ingin langsung menargetkan audiens mereka. Platform ini memungkinkan pemilik bisnis dapat terhubung dan berbicara langsung dengan pelanggan.
Tetapi, yang perlu diketahui mengenai beriklan di aplikasi ini adalah Anda tidak benar-benar beriklan di dalam WhatsApp Business secara langsung.
WhatsApp ads atau Click-to-WhatsApp ads adalah salah satu iklan yang Anda jalankan melalui Facebook atau Instagram ads, dimana pengguna yang berinteraksi dengan iklan tersebut akan diarahkan langsung (atau call-to-action) ke akun WhatsApp Business Anda untuk mengobrol mengenai produk atau jasa yang dijual. 
3 Alasan Mengapa WhatsApp Berguna Sebagai Alat Promosi
Terdapat berbagai macam keuntungan yang bisa Anda dapatkan, antara lain :
Menciptakan Cross-Promotional Yang Berpotensi Bagi Bisnis
Hadirnya Facebook's click-to-WhatsApp akan menggabungkan audiens Facebook dan Instagram dengan WhatsApp. Artinya, akan lebih banyak target audiens yang bisa Anda tuju.
Meningkatkan Conversion Rates
Menjalankan iklan Facebook dapat membantu membangun koneksi yang lebih kuat dan menaikkan tingkat konversi untuk perusahaan kecil yang tidak memiliki social media branding yang kuat. Meski begitu, hal ini tetap tergantung dengan tujuan iklan Facebook yang Anda pilih di tahap penyiapan.
Mempromosikan Produk Dengan Harga Yang Murah dan Simpel
Terdapat beberapa fitur di WhatsApp Business yang bisa Anda gunakan untuk mempromosikan produk Anda. Misalnya, membuat katalog, lalu melampirkan kode QR ke katalog tersebut, dan Anda bisa share ke pelanggan. Terakhirnya, tentunya fitur WhatsApp ads yang bisa Anda manfaatkan.
Cara Memasang Iklan di WhatsApp Business
Tentunya, sebelum itu Anda harus membuat akun di WhatsApp Business dan Halaman Facebook terlebih dahulu. Kemudian, Anda harus menghubungkan kedua akun tersebut.
Hubungkan Akun WhatsApp Business Anda dengan Halaman Facebook Anda.
Buka Meta Business Suite dan klik Halaman Facebook Bisnis Anda. Pilih Settings, lalu klik Business Settings. Di kolom kiri, pilih Linked Accounts, klik WhatsApp.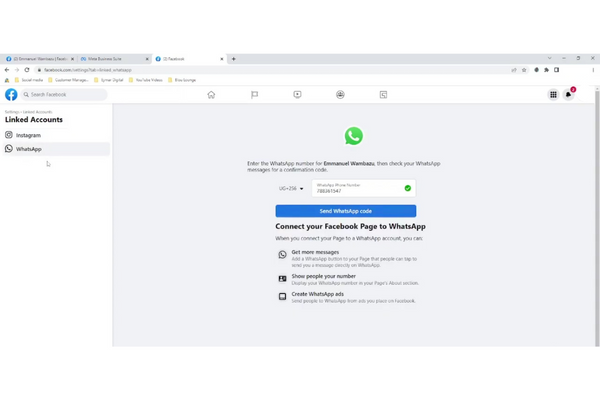 Lalu, pilih kode negara dan masukkan nomor telepon WhatsApp Business Anda. Klik Send WhatsApp Code, masukkan kode konfirmasi, dan klik Confirm. Sekarang Anda sudah menghubungkan Halaman Facebook ke WhatsApp Anda.
6 Cara Membuat Iklan via WhatsApp Business
Buka WhatsApp Business, tap Settings, dan klik Business Tools.
Pilih Advertise on Facebook.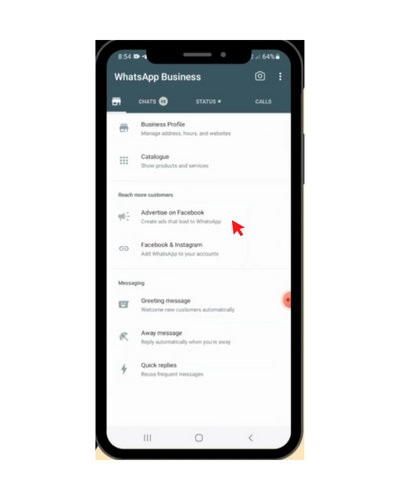 Buatlah iklan Facebook baru. Pilih gambar atau video dari HP Anda atau ambil salah satu katalog yang sudah Anda buat. Lalu, tulis-lah copy yang bagus untuk mempromosikan produk Anda. Klik Next.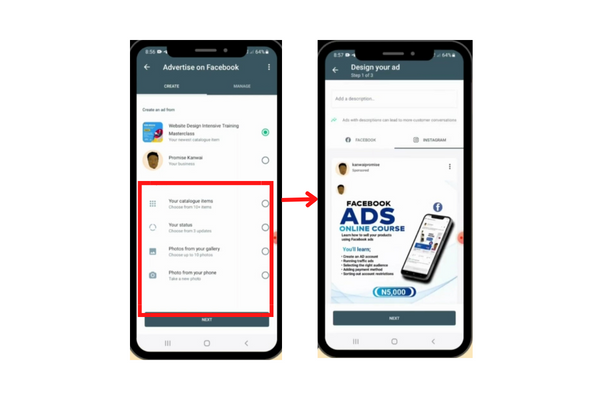 Silahkan edit Budget & Duration serta Audience Anda. Pada Audience, pilih Default, lalu Anda bisa mengedit lokasi, umur, dan jenis kelamin audiens Anda. Klik Next.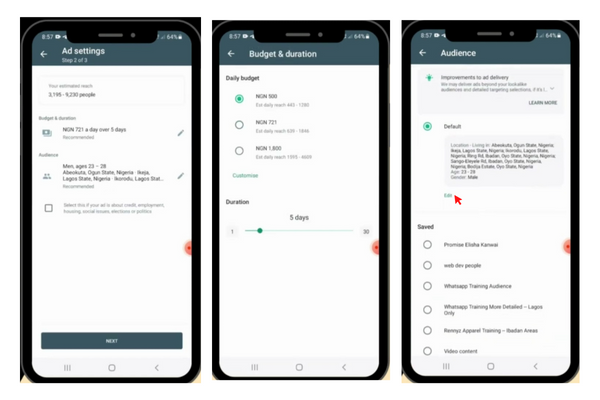 Setelah itu, di layar HP Anda akan muncul Review and Create. Anda harus menyiapkan saldo rekening sesuai budget yang sudah ditentukan sebelumnya. Klik Next.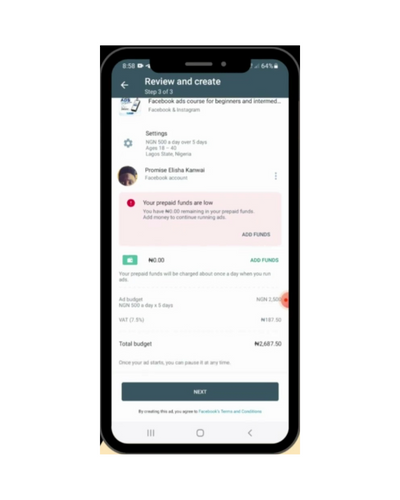 Klik Promote Now. Lalu, iklan tersebut akan ditinjau terlebih dahulu sebelum diterbitkan.
Sekarang, Anda tinggal mencoba mempraktikkannya untuk mempromosikan bisnis Anda. Jangan lupa cara ini ya!
Credit Photo by Promise Kanwai
Are you sure to continue this transaction?
processing your transaction....