5 Step-By-Step Membuat Akun Sleekflow
Simak panduan membuat akun Sleekflow serta mengubah sandi akunnya di sini.
Apakah Anda tertarik menggunakan platform Sleekflow agar penjualan bisnis Anda di social commerce meningkat? Kalau begitu Anda berada di tempat yang tepat. Sebab, kali ini DailySocial akan menyampaikan dengan detail cara membuat akun Sleekflow.
Yuk, scroll ke bawah untuk mencari tahu cara membuat akunnya.
Cara Membuat Akun Sleekflow
Ikuti 5 langkah berikut ini untuk membuat akun Sleekflow bisnis Anda! 
Langkah 1 : Buka tautan ini https://sleekflow.io/id-id, lalu klik Start for Free.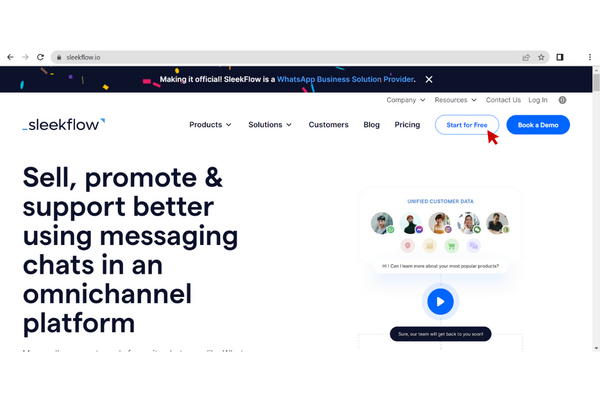 Apabila rekan tim Anda sudah membuat akun bisnis, silahkan meminta rekan Anda untuk mengundang Anda ke akun tersebut. Selain itu, Anda juga tidak bisa membuat akun baru dengan email yang sama.
Langkah 2 : Masukkan alamat email dan password Anda.  Klik Sign Up.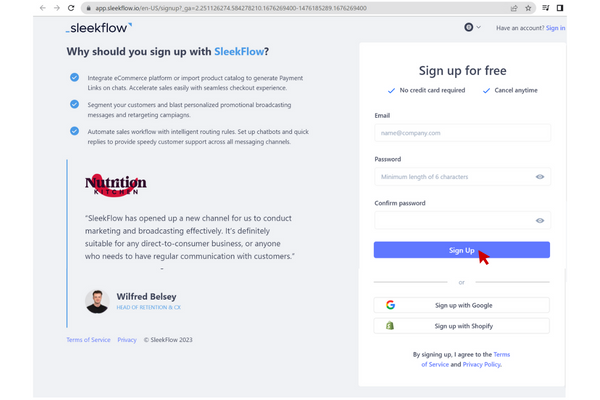 Selain itu, Anda juga bisa mendaftar dengan akun Google atau Shopify Anda.
Langkah 3 : Berikan informasi latar belakang bisnis Anda. Klik Next.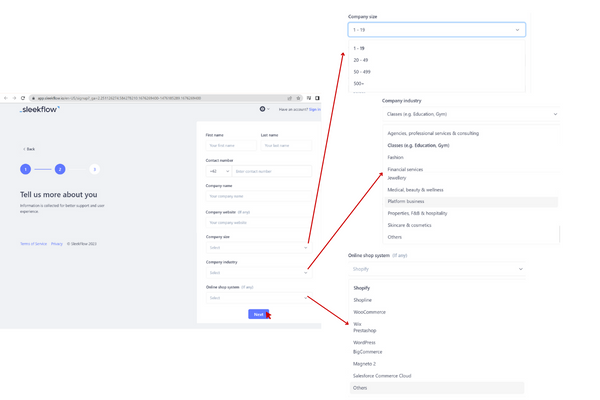 Company size adalah berapa jumlah karyawan yang ada di bisnis Anda. Apakah berjumlah 1-19, 20-49, 50-499, atau lebih dari 500 karyawan?
Company industry adalah jenis sektor bidang usaha Anda. Apakah tentang agency dan layanan jasa, fashion, properties, atau skincare & cosmetics? Jika tidak ada di opsi tersebut, Anda bisa memilih others.
Jika bisnis Anda memiliki toko online, silahkan isi bagian Online shop system. Adapun toko online yang tersedia adalah Shopify, Shopline, WooCommerce, Wix, WordPress, BigCommerce, dan sebagainya. Jika toko online yang Anda gunakan tidak ada di opsi tersebut, silahkan pilih others. 
Langkah 4 : Pilih satu atau lebih media sosial yang bisnis Anda gunakan. Jika belum menggunakanya, klik I don't have any channel yet. Lalu, klik Next.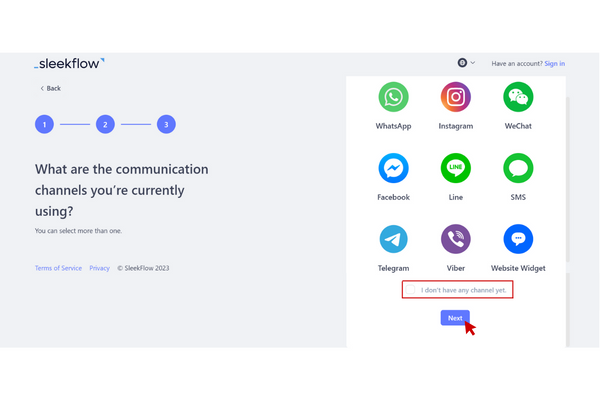 Langkah 5 : Sekarang Anda bisa memulai mengoperasikannya dengan mengklik Get started.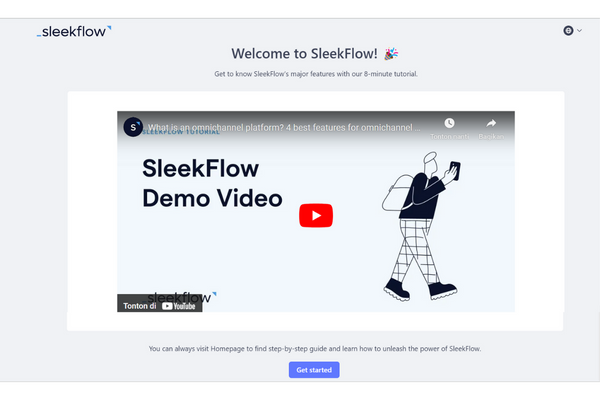 Cara Merubah Password Sleekflow
Siapa yang suka lupa password akunnya? Bayangkan bila Anda melupakan password Sleekflow bisnis Anda. Mengerikan bukan?
Untuk mengatasi permasalahan tersebut, silahkan lihat petunjuk untuk mereset password Sleekflow Anda berikut ini : 
Langkah 1 : Pada halaman Login, klik Forgot password.
Langkah 2 : Masukkan email yang terkait dengan akun Sleekflow bisnis Anda.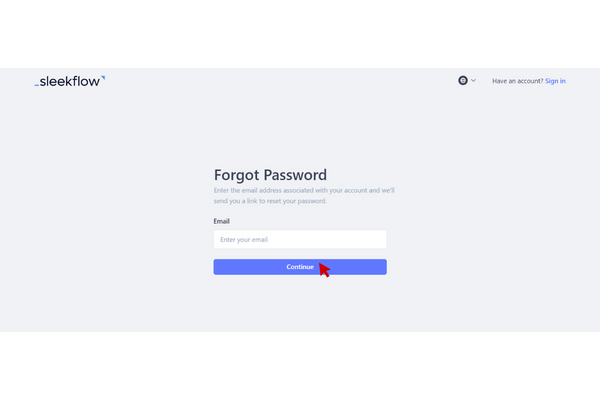 Langkah 3 : Setelah muncul laman ini, silahkan buka email Anda.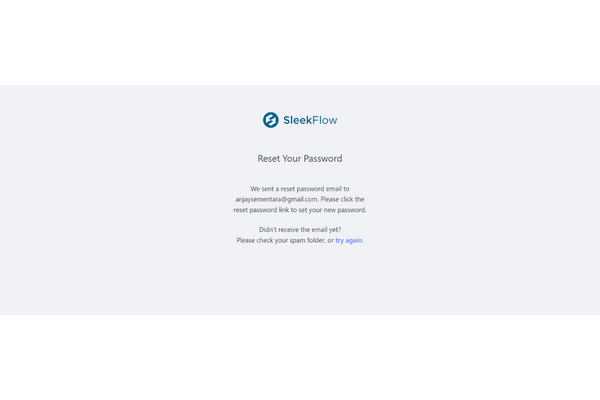 Langkah 4 : Buka email Anda. 
Silahkan cek di bagian Kotak Masuk atau Spam. Jika Anda menemukannya, buka email dari Sleekflow, lalu klik Change my password.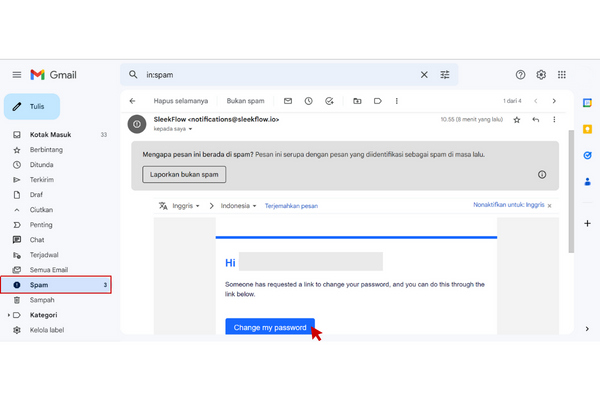 Jika Anda tidak berhasil menemukan emailnya, silahkan kembali ke laman sebelumnya, lalu klik try again.
Langkah 5 : Silahkan mengubah password Anda, lalu klik Continue.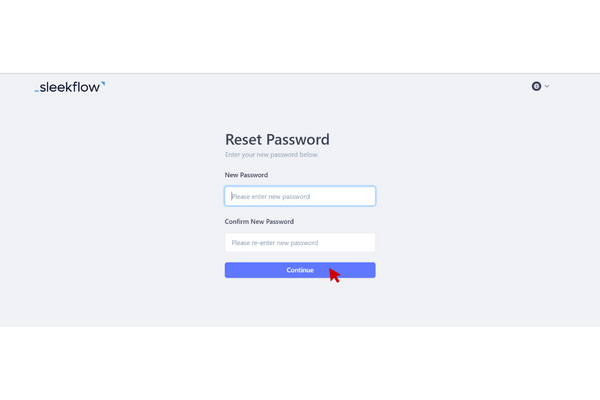 Langkah 6 : Sekarang Anda bisa masuk ke akun Sleekflow lagi.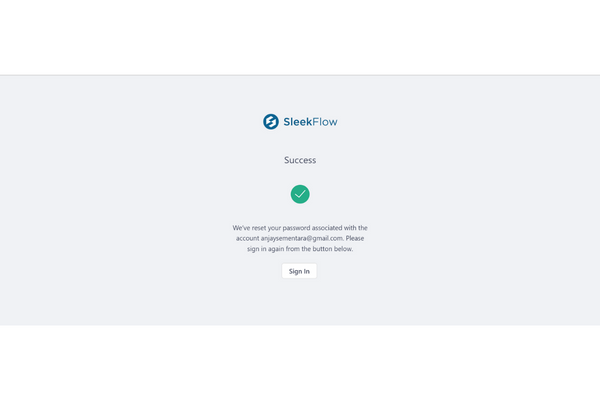 Itulah cara membuat akun Sleekflow beserta cara merubah password-nya. Semoga artikel ini membantu Anda. Selamat mencoba.
Are you sure to continue this transaction?
processing your transaction....