Solusi Tepat untuk Mengembalikan Akses TikTok Live yang Terblokir
Tips untuk Mengembalikan Fitur TikTok Live yang Teblokir
TikTok Live adalah fitur siaran langsung video yang memungkinkan Anda berkomunikasi secara real-time dengan pengikut Anda. Dalam mendukung bisnis di TikTok Shop, Anda dapat memanfaatkannya untuk mempromosikan produk, mengadakan kuis, serta berbagi informasi yang relevan dengan pelanggan.
Ini adalah peluang bagus untuk memperkenalkan dan mempromosikan produk, meningkatkan keterlibatan pelanggan, dan membangun hubungan yang lebih erat dengan pelanggan Anda.
Selain itu, TikTok Live juga memberikan Anda kesempatan untuk interaksi langsung dengan pelanggan Anda, menjawab pertanyaan mereka, memberikan saran, atau sekadar berbicara secara informal. Semua ini dapat membantu memperkuat merek Anda dan meningkatkan penjualan produk atau layanan yang Anda tawarkan.
Namun, TikTok memiliki kebijakan ketat terkait konten yang diperbolehkan selama siaran langsung. Pastikan Anda memahami aturan ini dan tidak melanggar kebijakan TikTok dengan konten Anda. Pelanggaran bisa berakibat pada blokir sementara atau bahkan permanen dari TikTok Live.
Alasan TikTok Live Anda Terblokir
TikTok Live bisa terblokir karena beberapa alasan. Pertama, pelanggaran kebijakan TikTok, seperti konten yang melanggar hak cipta atau berbahaya, dapat menyebabkan pemblokiran. Pelanggaran berulang terhadap pedoman konten atau aturan komunitas TikTok juga dapat memicu pemblokiran.
Jika Anda mengalami masalah seperti ini, jangan khawatir. Anda memiliki opsi untuk mengajukan banding. Dengan memahami alasan dibalik pemblokiran, Anda dapat mengambil tindakan yang sesuai untuk mengatasi pemblokiran TikTok Live Anda.
Cara Mengembalikan Live TikTok yang terblokir
Pemblokiran dapat disebabkan oleh berbagai alasan, termasuk masalah teknis atau pelanggaran kebijakan TikTok. Jika Anda yakin bahwa blokir tersebut tidak adil, mengajukan banding bisa menjadi solusi.
Buka aplikasi TikTok dan masuk ke akun Anda.
Pilih menu Profile.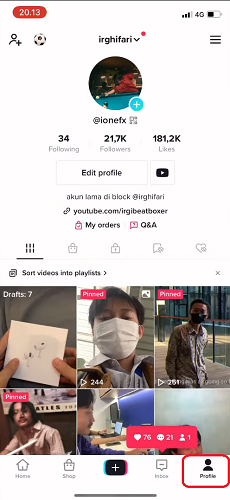 Credit picture by Irghifari YouTube Channel
Klik ikon tiga garis yang berada di sebelah kanan atas layar, lalu pilih opsi Settings and Privacy.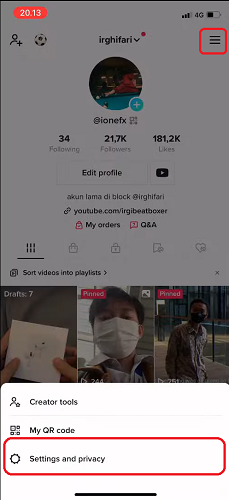 Credit picture by Irghifari YouTube Channel
Pilih menu Report a Problem.
Credit picture by Irghifari YouTube Channel
Klik Submit a Report untuk mengajukan banding.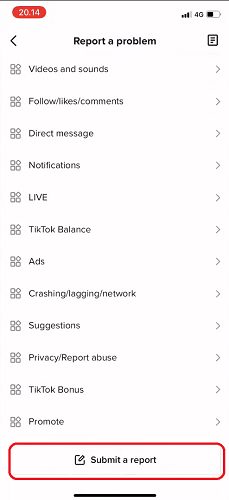 Credit picture by Irghifari YouTube Channel
Tuliskan pesan yang menjelaskan masalah TikTok Live Anda yang terblokir dan mengapa Anda merasa blokir tersebut tidak adil. Sertakan bukti yang relevan jika diperlukan. Bukti dapat disertakan dalam bentuk foto maupun video.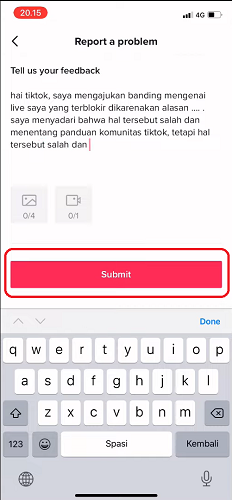 Credit picture by Irghifari YouTube Channel
Klik Submit untuk mengirim banding Anda.
Penting untuk selalu mematuhi kebijakan TikTok dan menjaga konten Anda agar sesuai dengan pedoman yang berlaku. Dengan begitu, Anda dapat melanjutkan untuk memanfaatkan TikTok Live sebagai alat yang efektif untuk berinteraksi dengan pelanggan Anda dan mendukung bisnis Anda di platform ini.
Are you sure to continue this transaction?
processing your transaction....