PC
Cara Mengunci File Excel Agar Tidak Bisa Dibuka
Privasi dan keamanan terjaga, jadi lebih tenang
Fitur proteksi rasanya hampir selalu ada di setiap platform ataupun piranti lunak yang melibatkan data ataupun informasi, tak terkecuali di Microsoft Excel. Sebagai software pengolah data yang digunakan oleh banyak korporasi, kehadiran fitur proteksi tentu akan memberikan rasa aman pada penggunanya.
Di Excel sendiri ada beberapa metode proteksi yang bisa dipakai, dua di antaranya akan kita bahas di tutorial ini.
Yang pertama, proteksi menggunakan password, di mana seluruh dokumen tidak bisa diakses tanpa password dan yang kedua proteksi password untuk mencegah modifikasi dengan fungsi tertentu. Maksudnya, dokumen bisa dibuka tapi fungsi tertentu dilindungi oleh password.
Mempoteksi Excel dengan Password
Kita akan coba metode pertama, memproteksi Excel dengan password sehingga tidak bisa dibuka sama sekali.
Buka dokumen Excel yang ingin diproteksi, kemudian klik File - Info - Protect Workbook - Encrypt with Password.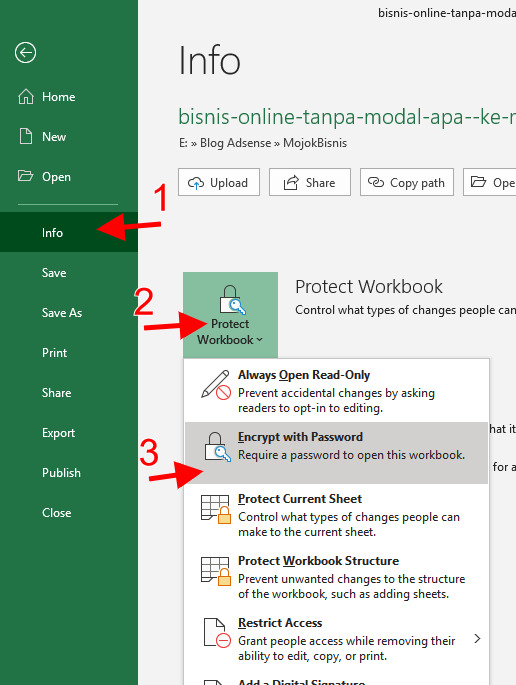 Akan muncul jendela popup kecil di mana Anda diminta untuk memasukkan password sebanyak dua kali. Klik OK jika sudah.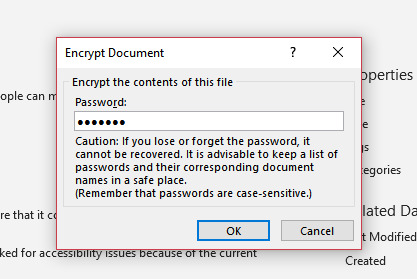 Selesai, sekarang dokumen sudah otomatis terlindungi oleh password. Siapapun yang tidak memiliki password dipastikan tidak akan bisa membuka dokumen tersebut.
Memproteksi Sheet dan Fungsi-fungsi Excel
Opsi kedua, Anda bisa membiarkan orang untuk membuka dokumen tetapi mencegah beberapa fungsi sesuai kebutuhan Anda.
Caranya, klik File - Info - Protect Workbook - Protect Current Sheet.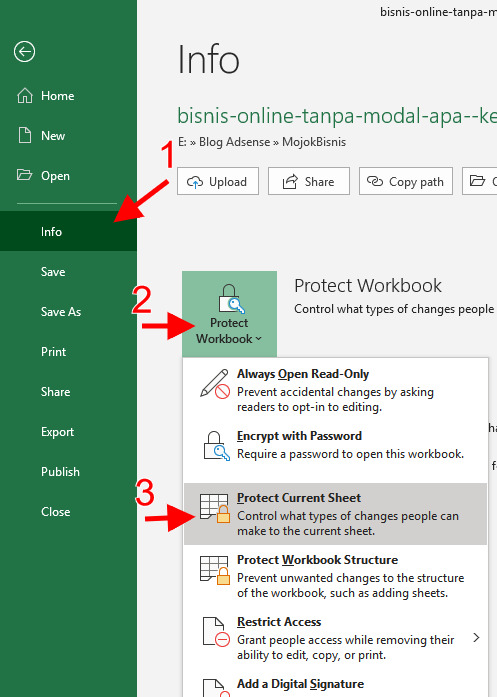 Tentukan dulu password-nya, kemudian beri tanda centang pada fungsi yang ingin dibatasi. Boleh beberapa atau bahkan semua fungsi, terserah Anda. Jika sudah, klik OK untuk menyimpan perubahan.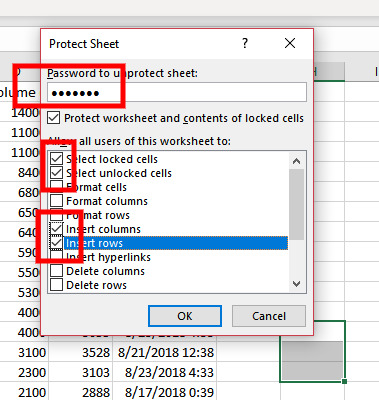 Kedua metode perlindungan atas dapat dipakai secara efektif untuk mencegah hal-hal yang tidak diinginkan terhadap data Anda. Pilih dan pergunakan dengan bijak. Yang tak kalah penting, jangan sampai lupa dengan password yang dipakai.
Are you sure to continue this transaction?
processing your transaction....