Langkah Mudah Cara Menyambungkan Cashlez Reader ke Smartphone dengan Bluetooth
Bagi Anda yang telah memutuskan untuk menggunakan Cashlez sebagai aplikasi kasir online dan telah membeli Cashlez reader, berikut cara menyambungkan Cashlez reader ke smartphone dengan Bluetooth.
Cashlez sendiri adalah aplikasi kasir online yang diperuntukkan bagi pelaku usaha mikro dan kecil dan memiliki produk unggulan berupa CashlezOne dan Cashlez Reader.
CashlezOne adalah produk dimana seluruh fitur mulai dari card reader, printer, dan aplikasi menyatu dalam satu gadget tanpa harus membutuhkan smartphone lain.
Sedangkan Cashlez reader adalah perangkat terpisah yang memiliki fungsi sebagai pembaca kartu yang dapat Anda sambungkan ke perangkat smartphone Anda.
Seperti yang telah disinggung di awal, kali ini Kami akan membahas bagaimana cara menyambung Cashlez reader ke smartphone Anda dengan koneksi Bluetooth.
Langkah Mudah Cara Menyambungkan Cashlez Reader ke Smartphone dengan Bluetooth di Android
Berikut langkah-langkah cara menyambungkan Cashlez Reader ke Smartphone dengan Bluetooth.
Namun sebelum itu, pastikan Anda sudah memilih dan membeli Cashlez reader yang spesifikasi dan harganya bisa Anda lihat di sini.
Pertama, nyalakan Cashlez reader terlebih dahulu dengan menekan tombol power hingga menyala dan buka aplikasi Cashlez yang sudah terinstall, kemudian login sesuai dengan username dan PIN yang sudah Anda buat.
Kedua, aktifkan Bluetooth di pengaturan atau setting perangkat Android Anda. Jika perangkat Android Anda belum tersambung dengan Cashlez reader, maka klik Pair new devicepada perangkat Android.
Sebagai catatan, nama perangkat Bluetooth Cashlez reader Anda adalah berupa serial number yang terdiri dari huruf dan angka. Jika sudah terbaca oleh Bluetooth klik untuk pairing.
Ketika sudah pairing, layar pada perangkat Cashlez reader Anda akan menyala, Pada saat itu klik tombol ok (tombol warna hijau di pojok kanan bawah).
Ketiga, buka pengaturan/setting dengan cara klik logo garis tiga di pojok kiri atas, kemudian klik setting/pengaturan, dan klik Card reader.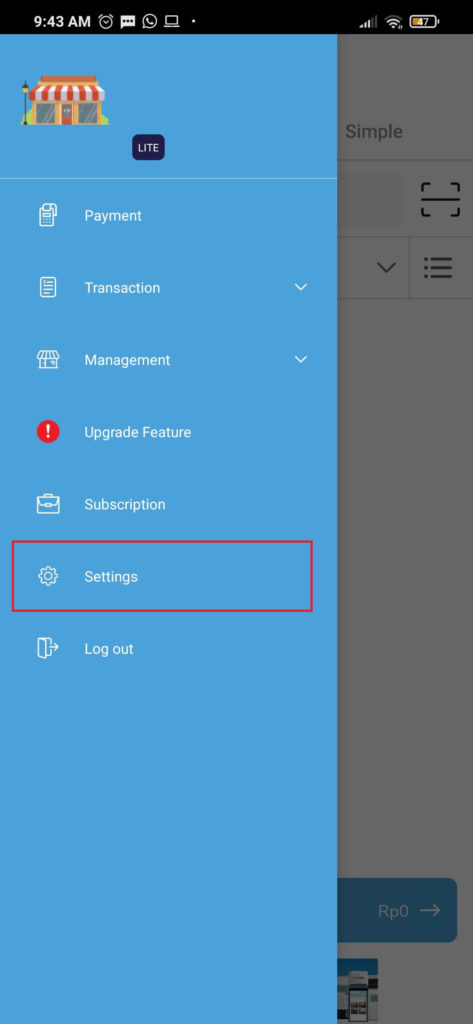 Setelah diklik akan muncul notifikasi reader connected. Kemudian klik select. Setelah itu, akan muncul pop up confirmation yang bertuliskan You will be connected with card reader. Klik Yes.
Setelah itu, perangkat Android Anda akan meminta kembali proses pairing. Klik pair, kemudian klik tombol hijau pada Cashlez reader.
Terakhir, Anda sudah bisa menggunakan Cashlez reader sebagai perangkat kasir yang bisa Anda akses melalui aplikasi Cashlez.
Bagaimana dengan perangkat iOS dan perangkat Cashlez printer?
Untuk perangkat iOS, langkah yang digunakan kurang-lebih sama. Langkah yang berbeda mungkin ketika proses pairing di menu setting iOS Anda.
Sedangkan untuk menyambungkan perangkat Cashlez printer melalui Bluetooth sama langkahnya dengan penyambungan Cashlez reader. Bedanya, pada menu setting, Anda pilih Printer.
Itulah langkah mudah cara menyambungkan Cashlez reader ke perangkat smartphone Anda. Temukan artikel lainnya tentang tips UMKM, digital marketing, dan keuangan lainnya hanya di DailySocial.
Cek video lengkapnya cara koneksi bluetooth smartphone ke Cashlez Reader di sini
https://www.youtube.com/watch?v=sOx_Pf94-Fw
Are you sure to continue this transaction?
processing your transaction....