[Panduan Pemula] Cara Mudah Backup Blog WordPress Secara Manual dan Otomatis
Karena mengandalkan hosting saja tidak cukup
Membuat backup blog WordPress berbasis self-hosted bisa dilakukan dengan berbagai cara, salah satu yang paling banyak dilakukan adalah melalui Cpanel atau panel server di layanan hosting. Tetapi cara ini tergolong sulit dan membutuhkan waktu.
Ada satu cara lain yang bisa dicoba jika Anda merasakan kesulitan dalam membuat backup melalui Cpanel atau panel hosting. Yaitu dengan menggunakan bantuan plugin pihak ketiga yang tersedia gratis di WordPress.org.
Login ke dashboard blog WordPress Anda, kemudian klik Add New/Tambah Baru di menu Plugin dan temukan plugin UpdraftPlus kemudian install dan aktifkan.

Begitu plugin aktif, selanjutnya akan tampil popup seperti ini. Anda klik saja tombol Press here to start!.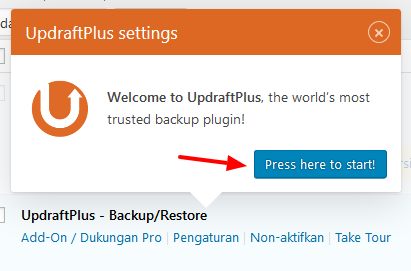 Sekarang kita coba dulu membackup blog WordPress secara manual, caranya klik saja tombol Cadangkan Sekarang.

Saat muncul jendela popup seperti ini, beri tanda centang pada salah satu atau kedua jenis berkas, yaitu database dan files. Terakhir klik tombol Cadangkan Sekarang.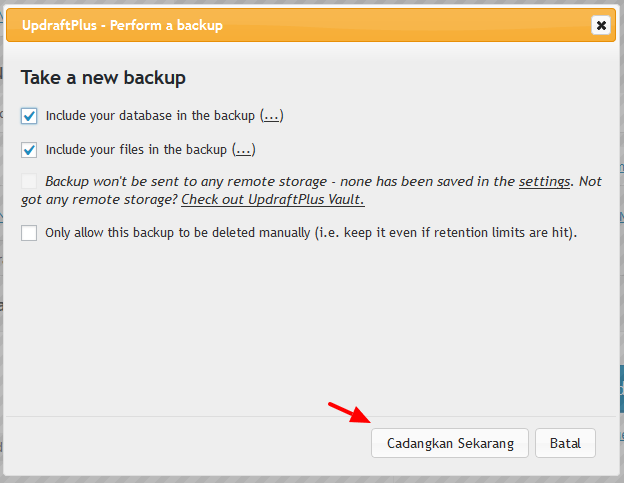 Tahapan selanjutnya adalah menunggu. Proses backup ini akan berjalan dengan sendirinya meskipun peramban ditutup, jadi tidak perlu khawatir jika Anda harus mengerjakan hal lainnya.
Selanjutnya, kita akan coba menggunakan fitur backup otomatisnya.
Masih di menu UpdraftPlus, klik menu tab Pengaturan. Selanjutnya pilih kapan backup otomatis akan berjalan, maksimal satu bulan sekali.
Untuk sementara, addon penyimpanan cloud tidak usah kita pakai. Kita pakai server sendiri saja.
Anda juga bisa secara fleksibel menentukan sendiri jenis files yang akan dibackup oleh plugin. Opsinya tersedia di menu ini juga.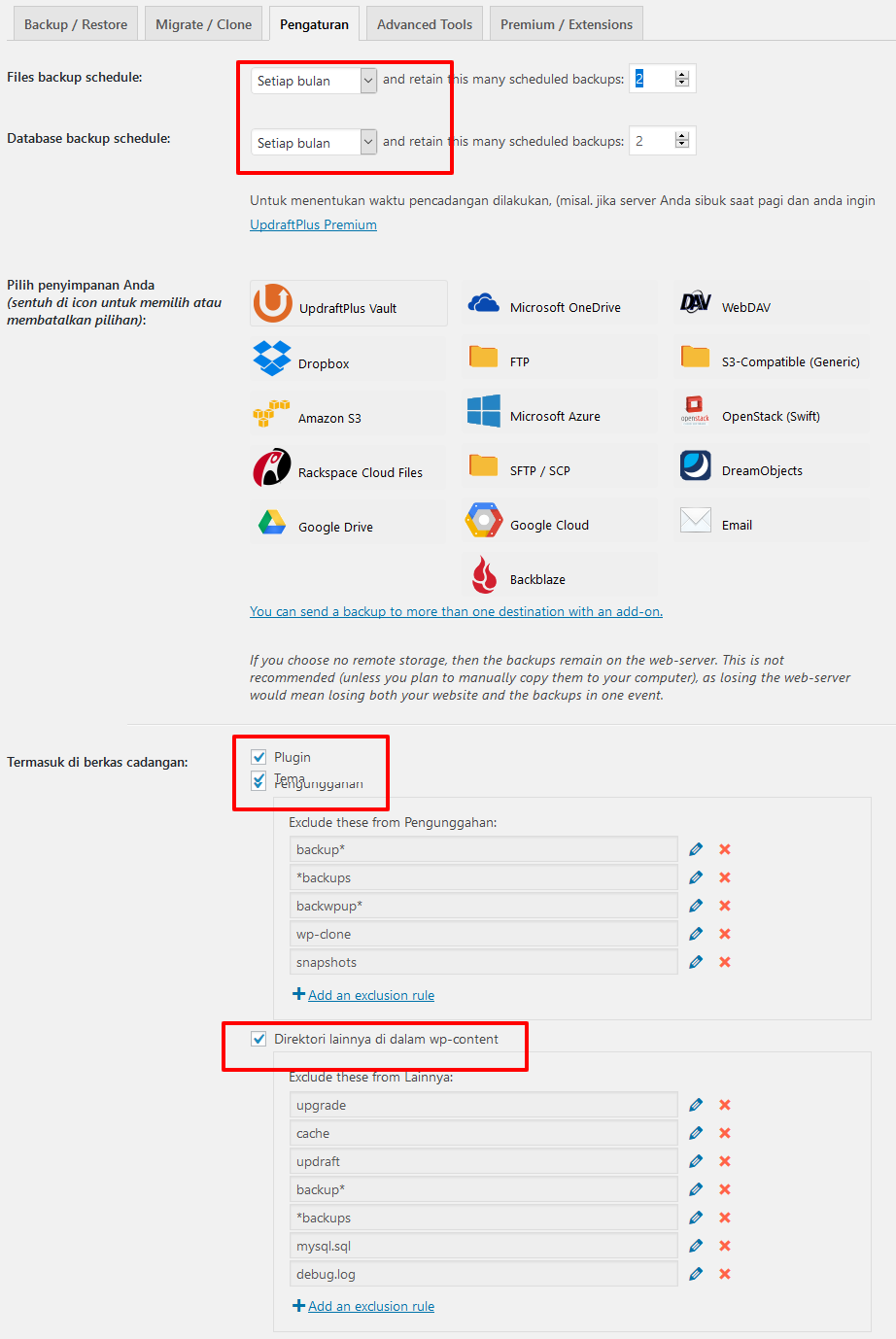 Jangan lupa juga untuk mencentang opsi Email supaya Anda dapat memantau perkembangan backup yang dijalankan oleh sistem.
Kemudian untuk direktori pencadangan ini untuk memudahkan Anda menemukan berkas backup di file explorer Cpanel. Anda bisa juga menggunakan nama folder lain yang lebih mudah diingat. Jika sudah, klik tombol Simpan Perubahan.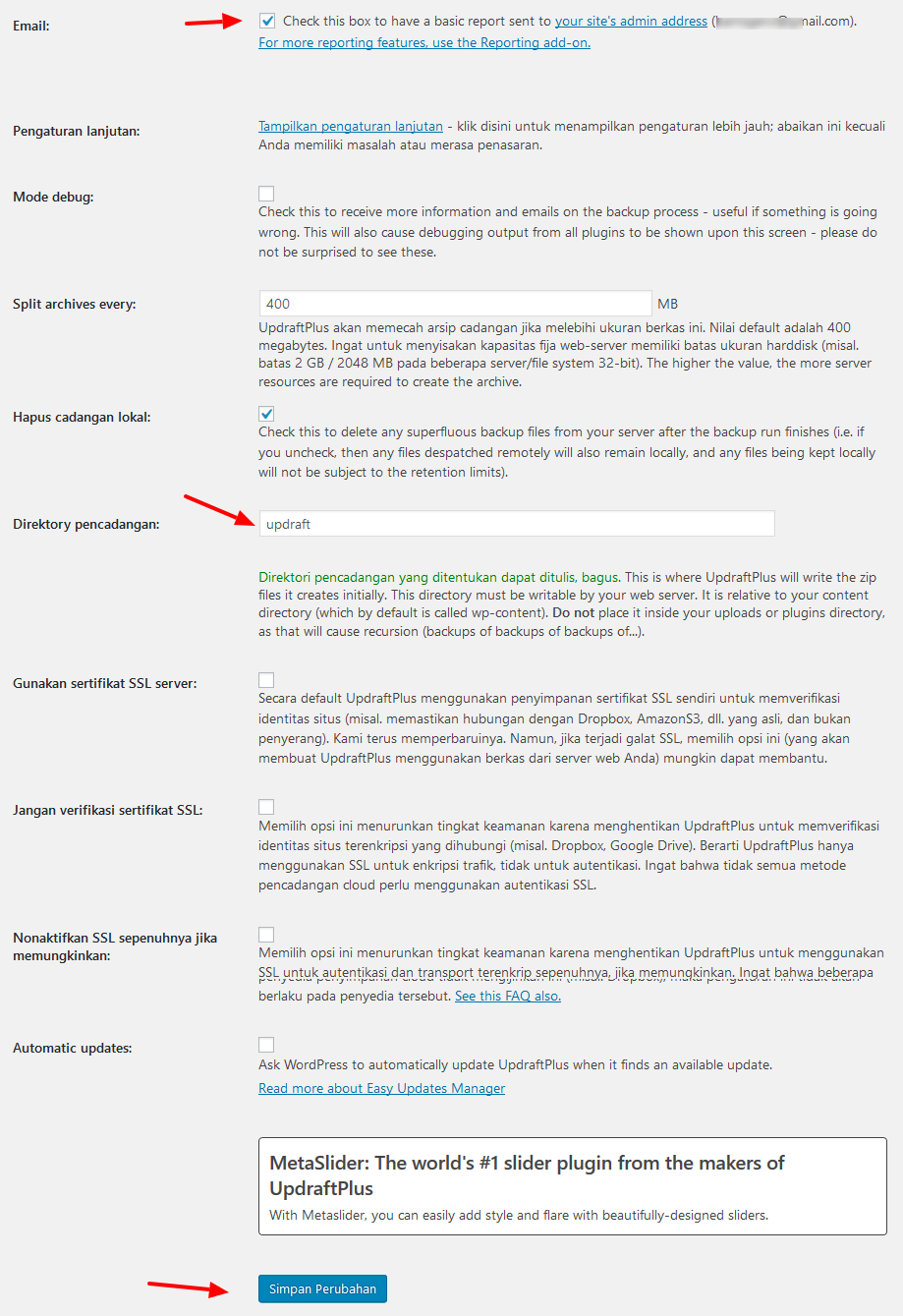 Backup otomatis ini akan tersimpan dan bekerja sesuai jadwal. Untuk saat ini belum ada yang bisa dilihat karena belum ada yang di-backup. Nantinya, Anda akan mendapati daftar backup yang sudah dibuat baik melalui menu UpdraftPlus, email ataupun file explorer di Cpanel.
Semoga bermanfaat, selamat mencoba!
Are you sure to continue this transaction?
processing your transaction....