Catapa Implements Artificial Intelligence, Offering "Human Resources Intelligent System"
A startup under GDP Venture
Randi Eka - 21 June 2019
In its development, artificial intelligence (AI) implementation is getting broader and specific, for business in particular. One of the examples is Catapa, by presenting a smart system to support human resource division at the office.
A graduate from GDP Venture incubation has developed a Human Resources Intelligent System that serves various employee requirements, such as data management, payroll, taxes, and insurance.
In addition to the employee dashboard, Catapa's Founder & CEO, Stefanie Suanita said, what distinct its platform with others in general is, they've applied Artificial Intelligence. One of those is represented in the form of virtual assistant named "Claudia", with interactive design to help employees submitting leave, overtime work, and others.
The chatbot can be integrated to Facebook Messenger, LINE, Slack, or Telegram for business.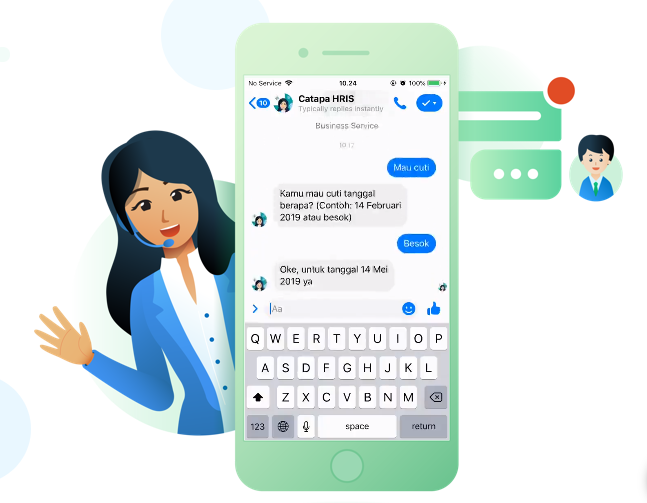 As the usual SaaS (Software as a Service), Catapa subscription model is quite flexible, accumulated based on usage. In its implementation, the system will automatically count the payment/deduction for BPJS Kesehatan (Health) and Ketenagakerjaan (Employee), including PPh 21 accumulation for employee taxes. Catapa platform has also fully integrated with Klik BCA Bisnis.
Currently, there are some modules ready to be attached to the system. Starts from Recruitment for new employees, Time Management to manage absence and leaves. Also, Talent Management module to monitoring some actions related to the staff competency, and Reimbursement for any kinds of business-related submission or reimbursement.
Catapa was founded on April 21st, 2017. Stefanie said, they've handled thousands of payslips every month from various business users. In order to improve features, integration with "sister company" and other supporting platform is being developed to facilitate users in the near future.
The other highlight of Catapa is about data security and privacy. In the release, they guarantee the secure Personally Identifiable Information (PII) by adding the basic data encryption (communication apps), server (communication client), Network Demilitarized Zone (DMZ) implementation, and avoid data loss (disaster recovery).
Aside from Catapa, there are some startups providing digital services for employee-related needs. There are GreatDay HR, Talenta, Gadjian, Mekari, Jojonomic, and others.
–Original article is in Indonesian, translated by Kristin Siagian
Are you sure to continue this transaction?
processing your transaction....