Celebrating 2nd Anniversary, Shopee Claims Annualized GMV in Seven Countries Has Reached $5 Billion
Mobile app in Indonesia has gained 25 million downloads, Shopee proceeds new office on first quarter of 2018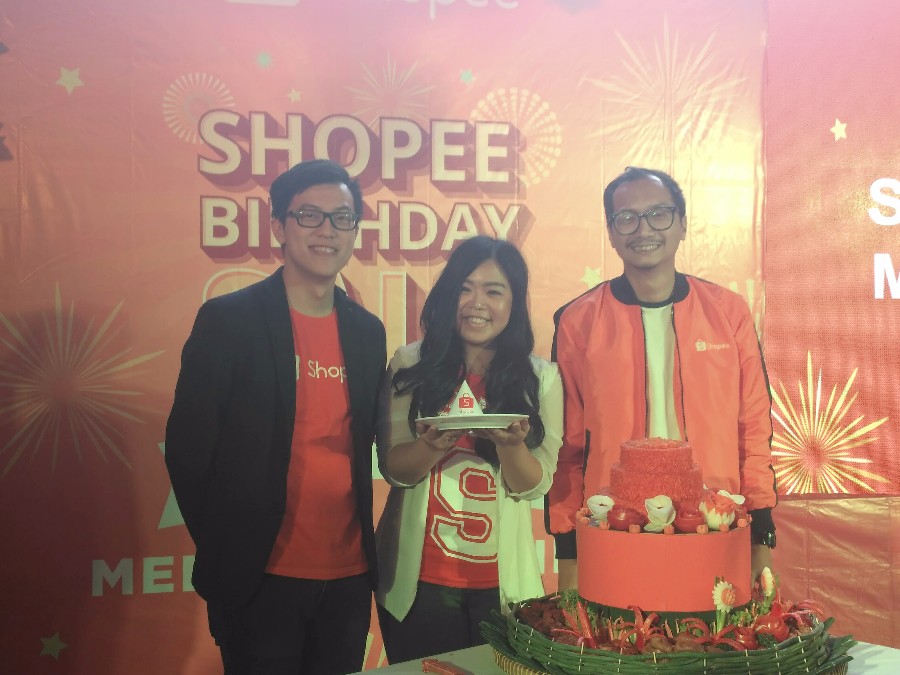 Head of Marketing Shopee Indonesia Handika Jahja, Shopee Indonesia's Head of Marketing with team / DailySocial
Celebrating its 2nd anniversary, Shopee claims to have significant development in 7 markets (Singapore, Malaysia, Taiwan, Thailand, Vietnam, Phillipine and Indonesia), with annualized Gross Merchandise Value (GMV) over $5 billion and 80 million downloads in the areas.
In Indonesia, Shopee which mostly focus on C2C sector, claims to have more than 100 million active listings, over 1 million sellers and brands with 25 million downloads. This number has increased 350% from last year.
Shopee's determination in Indonesia also showed in various sellers recruitment and community training all across Indonesia. They regularly held Kampus Shopee in 13 cities and reached more than 10 thousands participants.
"We are working to help enterprisers in improving their sales and learn from us in developing online business," Handika Jahja, Shopee's Head of Marketing, said to media (11/29).
Furthermore, to accommodate more employees in the first quarter of 2018, Shopee plans on moving their office to unspecified location.
Prepare new plan and feature post-IPO
As an e-commerce under Sea Limited (previously known as Garena), after the last Initial Public Offering (IPO) on New York Stock Exchange, Sea Limited will pour in fresh funding for Shopee. Regarding this plan, Handika said the team is proceeding features and promotions to be launched in Indonesia.
"According to the plan, Shopee will announce the latest plans and features by the end of 2017 directly from Shopee's CEO Chris Feng," Jahja said.
"Free Shipping" still apply
Since launched in Indonesia last 2015, most customers are coming from Jakarta and mostly women. A reason behind the increasing number of 50 million Shopee's customers in last October is free shipping feature.
Whether any other strategies beside free shipping, Jahja said the feature will keep going due to observation of old and new customer's interest.
"One of the reasons behind new customers and the loyal ones is free shipping and Shopee will continuously using this feature to invite customers," Jahja concluded.
–
Original article is in Indonesian, translated by Kristin Siagian
Application Information Will Show Up Here
DailySocial.id adalah portal berita startup dan inovasi teknologi. Kamu bisa menjadi member komunitas startup dan inovasi DailySocial.id, mengunduh laporan riset dan statistik seputar teknologi secara cuma-cuma, dan mengikuti berita startup Indonesia dan gadget terbaru.