Cuma Butuh 40 Menit Bagi Game Yooka-Laylee Untuk Raih Target Kickstarter
Yoga Wisesa - 4 May 2015
Jika pernah menikmati Banjo-Kazooie, saya berani jamin Anda memiliki masa kecil (atau masa muda) yang menyenangkan. Dibuat oleh studio di belakang Donkey Kong Country 2 asal Inggris, Rare, game itu meraih banyak pujian dan sukses secara komersil. Namun 15 tahun setelah sekuelnya dilepas, kabar mengenai kelanjutan seri tersebut tidak pernah terdengar lagi.
Mengkuti penjualan Kinect Sports Rival yang mengecewakan, beberapa talenta kunci keluar dari Rare, sembari membentuk studio baru bernama Playtonic Games. Buat sekarang, misi mereka cukup sederhana: menggarap penerus sejati Banjo-Kazooie, minus judul dan para karakternya. Akhirnya mereka luncurkanlah kampanye Yooka-Laylee di Kickstarter. Hebatnya, cuma butuh waktu 40 menit bagi developer untuk mencapai target pendanaan di situs crowdfunding itu.
Seperti Banjo-Kazooie, Yooka-Laylee fokus pada dua tokoh utama, Yooka dan Laylee. Yooka adalah 'bunglon tak bercelana', sedangkan Laylee ialah 'kelelawar berhidung besar penggemar lelucon'. Pemain ditantang memanfaatkan kombinasi kemampuan dua karakter dalam eksplorasi di dunia permainan. Tempat virtual tersebut disajikan sangat luas dan bervariasi. Developer menjanjikan lebih dari lima dunia berbeda.
Info menarik: Simak Daftar Finalis Game Terbaik Sepanjang Masa Versi Museum The Strong
Steve Mayles kembali berperan sebagai desainer para tokoh utama. Playtonic Games yakin Yooka dan Laylee berhasil membawa visi dan semangat para jagoan terdahulu. Mereka bertualang demi mencari Pagies, item emas untuk membuka area lain. Tiap wilayah ini dijaga oleh musuh spesifik dan bos berukuran raksasa. Buat mengobati rasa rindu pada Banjo dan Kazooie, jagoan baru kita juga diisi suaranya oleh Chris Sutherland.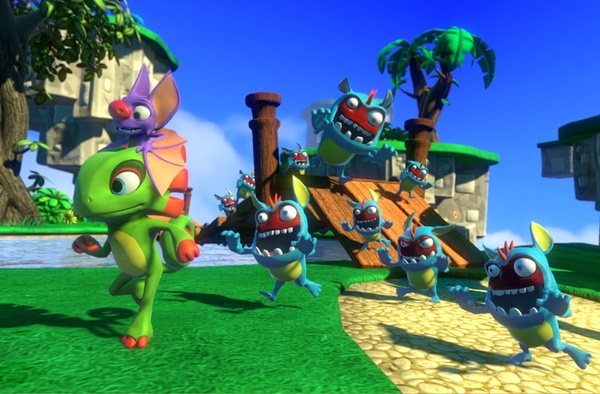 Banyak sekali elemen nostalgia Playtonic benamkan di dalam game. Studio baru ini terang-terangan bilang bahwa mereka mencari cara menterjemahkan gameplay di Nintendo 64 (tempat Banjo-Kazooie dirilis) ke platform modern. Dan suka tidak suka, nostalgia kembali menjadi senjata pamungkas Yooka-Laylee - langkah mereka tersebut bisa disamakan dengan Pillars of Eternity hingga Star Citizen.
"Kickstarter sangat penting karena ia memungkinkan kami memperluas game dari visi awal, dan menambahkan detail dan fitur ke dalamnya. Dan Anda dapat melihat itu semua dari [daftar] target stretch," tutur Project Director and Gameplay Programmer Chris Sutherland. "Kemudian situs tersebut memastikan permainan tersedia di lebih banyak platform."
Sebagai sasaran awal, Playtonic membutuhkan modal £ 175.000 (US$ 264.600). Tapi kini mereka sukses mengumpulkan hampir £ 1,3 juta (tepatnya US$ 1,948 juta). Yooka-Laylee dijadwalkan untuk diluncurkan di bulan Oktober 2016 di Windows PC, Mac, Linux, Xbox One, PlayStation 4 dan Wii U.
Via IGN. Sumber: Kickstarter.
Are you sure to continue this transaction?
processing your transaction....