Dana Introduces Home Shopping Feature, Adjusting to the Pandemic Situation
Connecting sellers or merchants with buyers through instant messaging
Prayogo Ryza - 4 May 2020
Dana digital payment platform has introduced a home shopping service that allows users to shop for goods, food and beverages from merchants through the application. Furthermore, the order will be delivered directly to the designated address. This service is one of the initiatives in response to physical distancing and PSBB policies that directly impact sellers or merchants.
"One of the most impacted by the pandemic is the food and beverage industry which experienced a very significant decrease in income in almost all locations in Indonesia. Affected parties are include the public as consumers, as well as business people ranging from micro-scale to large scale retail entrepreneurs," Dana's Co-Founder & CEO, Vincent Iswara said.
This feature is designed to connect sellers or merchants with users through WhatsApp instant messaging services. Furthermore, consumers can directly order goods or food from merchants and continue payment transactions using the QRIS Fund.
Some available merchants in the system include Martha Tilaar Shop, Senopati Pharmacy, Bengawan Solo Coffee, Burgreens, Le Viet, Dailybox, Genki Sushi, Momoiro, Bariuma Ramen, Steak 21, Roti O, and several others. DANA also promises to continue improving the list of merchant partners available on this feature.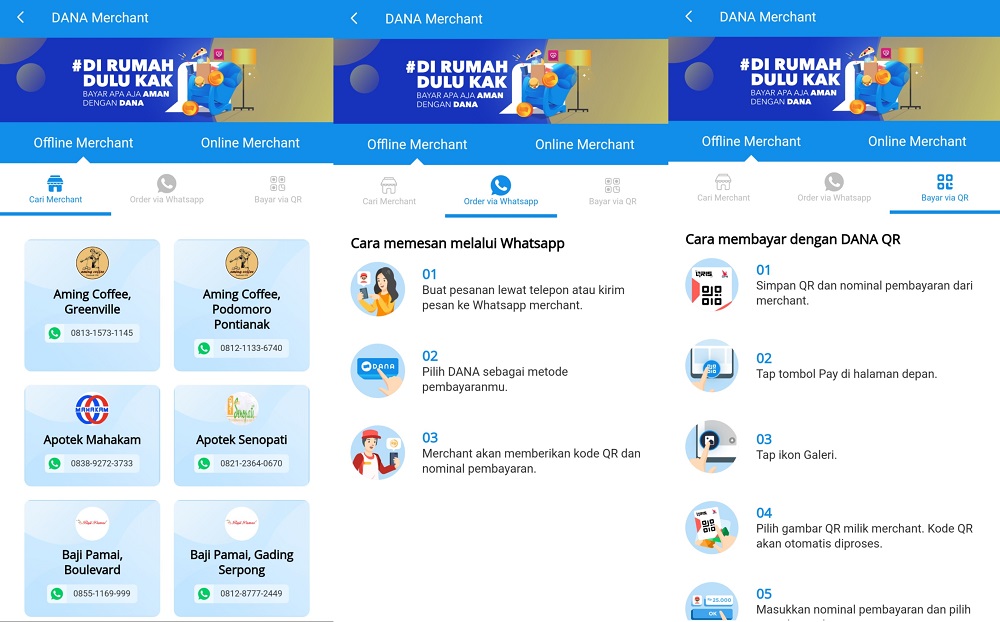 Adjusting to the pandemic situation
What Dana did was a form of business adjustment amid the pandemic. The home shopping feature will not only have an impact on users and merchants, but also the overall Dana service ecosystem.
In Singapore, Google Pay does the same thing. The "Menu Discovery" feature, which is present exclusively in Singapore's Google Pay, offering a list of merchants selling food stalls available for orders to users.
The strategy of digital payment developers is said to be a realistic strategy. As one of the large-scale e-money users in Indonesia, DANA has not been integrated with the delivery service, while the other two players, Ovo and Gopay have been integrated with GrabFood and GoFood.
Ovo and Cashbac have launched similar innovation amid this pandemic. They offer options for users to do shoping from home. In fact, they didn't launch exclusive features, only connect users with merchants through digital channels, both communication and payment.
Pandemic will have an impact on many things, including conditions that are often referred to as the new normal. Business reactions or innovations such as DANA may be one of many other forms of adjustment, the objective is to maintain the stability of the current business ecosystem.
–
Original article is in Indonesian, translated by Kristin Siagian
Application Information Will Show Up Here