DanaLaut Hadirkan Layanan P2P Lending Khusus Sektor Kelautan
Penyaluran dana dimulai dari wilayah Indonesia bagian timur
Randi Eka - 4 March 2019
DanaLaut menyajikan layanan p2p lending untuk sektor kelautan, dimulai dengan memfasilitasi permodalan untuk sektor usaha bahari di Indonesia bagian timur. Sejak 8 Juni 2018 lalu, DanaLaut sudah terdaftar dan diawasi operasionalnya oleh OJK.
Penilaian kredit (credit scoring) dipadukan dengan kearifan lokal, sehingga memberikan jaminan lebih kepada masyarakat yang ingin menginvestasikan dananya. Sistem bagi hasil diterapkan, peminjam tidak dibebankan bunga, sementara pendana tetap mendapatkan hasil dengan persentase menarik.
"DanaLaut saat ini beroperasi dengan mengenakan marketplace fee pada setiap pendanaan -- kepada pendana dan peminjam, masing-masing 3% seperti yang tertera dalam fact sheet. Saat ini Danalaut sudah mendapatkan dukungan dari beberapa angel investor," jelas Head of Marketing Communication DanaLaut Assed Lussak.
Sepanjang tahun 2018, DanaLaut mengklaim telah menyalurkan pendanaan senilai lebih dari 1 miliar Rupiah, dengan fokus awal penyaluran di Kepulauan Kei, Maluku Tenggara. Beberapa pengusaha laut daerah di sekitarnya juga sudah mulai mendapatkan penyaluran dana, meliputi wilayah Evu, Letuvuan, Satean, Hoat, dan Faan.
Rata-rata nelayan/petani/pedagang mendapatkan pinjaman 10-20 juta Rupiah. Sementara unit usaha yang meminjam rata-rata mengajukan 100-300 juta Rupiah. Pencapaian tersebut membuat tim optimis untuk mengembangkan sektor kelautan melalui jalur inklusi keuangan.
Menurut tim DanaLaut, ada tiga tantangan utama untuk mengembangkan sektor kelautan di sini. Pertama ialah soal harga yang cenderung tidak stabil. Lalu yang kedua adalah akses permodalan dan penjualan yang sulit bagi para pengusaha kecil. Dan yang ketiga rantai pasokan yang masih panjang.
Startup yang didirikan Niko Ariansyah (CEO) dan Ilham F. Novtenli (COO) tersebut mencoba menyelesaikan salah satu permasalahan utama di atas, yakni terkait akses permodalan.
Tim lapangan untuk kelancaran usaha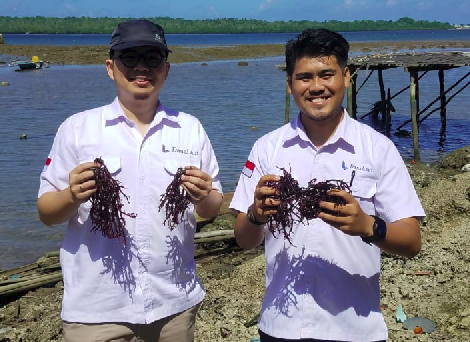 Hal yang menarik dari DanaLaut, dalam penyaluran modal kepada para nelayan/petani/pedagang, mereka turut menyertai dengan edukasi peningkatan produktivitas melalui tim pendamping lapangan.
"DanaLaut memiliki tim lapangan yang bertugas mendampingi peminjam. Tim lapangan tersebut secara rutin mengadakan diskusi dengan para peminjam terkait teknis perkembangan budidayanya, manajemen keuangan, dan pengelolaan. Mitigasi risiko kredit dilakukan dengan memperhatikan masa tanam/panen. Sehingga pemberian kredit dilakukan di waktu yang tepat," lanjut Assed.
Disampaikan juga, selain membantu mengelola budidaya dan keuangan, tim lapangan DanaLaut juga siap membantu mencarikan pasar. Karena DanaLaut juga menggenggam misi sosial untuk turut mengembangkan dan mengakselerasi ekonomi kelautan di Indonesia.
"Tahun 2019 DanaLaut memiliki target penyaluran pembiayaan hingga 50 miliar rupiah ke lima sektor kelautan, yakni pertanian garam, budidaya rumput laut, usaha turunan produk laut, tambak, dan pusat pengolahan hasil laut. Setidaknya akan ada 150 proyek pendanaan yang akan dikerjakan sepanjang tahun 2019", tutup Assed.
Are you sure to continue this transaction?
processing your transaction....