Disangka Hilang Lebih Dari Dua Dekade, Game Wonderland Dizzy Dirilis Gratis
Yoga Wisesa - 27 October 2015
Namanya mungkin tidak sepopuler Super Mario atau Sonic The Hedgehog, namun Dizzy dianggap sebagai salah satu franchise permainan tersukses di Eropa di era 80 sampai awal 90-an. Ia digarap oleh kakak-beradik kembar Philip dan Andrew Oliver, dan meskipun mereka tetap berkarya hingga tahun 2013, petualangan Dizzy tiba-tiba terhenti dalam Crystal Kingdom.
Sudah lebih dari 23 tahun semenjak perilisan Crystal Kingdom Dizzy. Developer The Oliver Twin sempat mencoba mengumpulkan dana untuk memulai proyek sekuel berjudul Dizzy Returns di Kickstarter, sayangnya gagal. Kembali ke masa lalu, nasib buruk serupa turut menimpa Wonderland Dizzy. Ia disiapkan menjadi penerus Crystal Kingdom, tapi publisher Codemasters tidak pernah melepasnya ke Nintendo Entertainment System.
Kemudian pada bulan Juni 2015 kemarin, Philip dan Andrew Oliver secara tidak sengaja menemukan disket 2,5-inci berisi source code Wonderland Dizzy di tumpukan kotak penyimpanan. Data tersebut bukanlah versi jadi permainan, namun seluruh aset grafis dan kode lengkap ada di sana. Mereka berdua segera menghubungi seorang penggemar Dizzy dari Polandia bernama Lukasz Kur, dan berkatnya, Wonderland Dizzy mendapatkan satu peluang lagi untuk meluncur.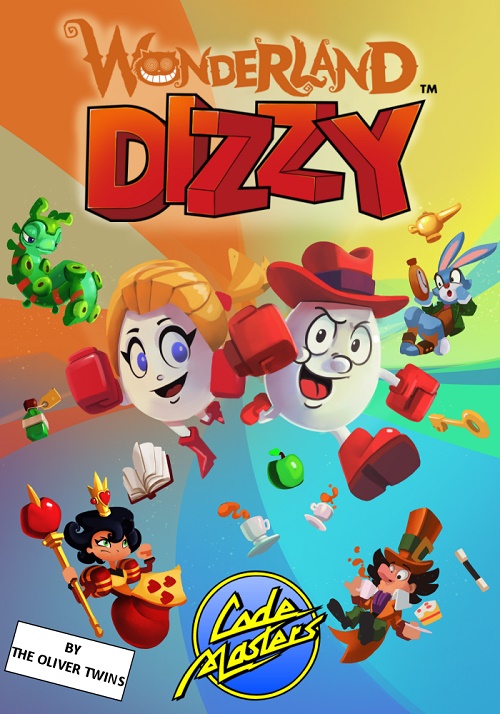 Setelah lebih dari dua dekade, Anda dipersilakan menikmati Wonderland Dizzy secara gratis melalui browser internet. Yang perlu kita lakukan hanyalah mengunjungi websiteWonderlandDizzy.com, kemudian tekan 'click to play'. Di situs tersebut, Anda juga bisa memainkan game-game Dizzy lain, menyimak sejarah The Oliver Twin, serta menonton beberapa video dari developer.
Info menarik: Satu Lagi Reboot Game Klasik Jadi Hit di Kickstarter: BattleTech
Seperti sejumlah game Dizzy sebelumnya, Wonderland Dizzy merupakan remake sekaligus upgrade versi terdahulu (khususnya Magicland Dizzy), tapi mengangkat tema Alice in Wonderland. Anda kembali bermain sebagai sang karakter bertubuh telur, dan untuk pertama kalinya gamer dapat mengendalikan karakter selain Dizzy, yaitu Daisy 'sang kekasih'. Buat standard gamer modern, mode klasik memang cukup susah, untungnya Lukasz Kur turut membubuhkan Fun Mode yang memberikan nyawa tak terbatas.
Saya sudah menjajalnya sedikit. Kontrolnya cukup sederhana, menggunakan tombol kursor pada keyboard (kiri, kanan, atas untuk melompat, dan bawah buat interaksi). Begitu Wonderland dimulai, Anda segera disuguhkan themesong retro dan grafis 16-bit. Ingin mengaksesnya tanpa browser? Wonderland Dizzy bisa diunduh ke PC.
Trailer Wonderland Dizzy versi NES dapat ditonton di bawah.
Sumber: Eurogamer.
Are you sure to continue this transaction?
processing your transaction....