Donald Wihardja Serves as The New CEO of MDI Ventures
Sitting in Nicko Widjaja's empty chair after vacant for 9-month
Previously a Partner in Convergence Ventures, which recently rebrands into AC Ventures after the merger with Agaeti Ventures, Donald Wihardja has officially appointed as the CEO of MDI Ventures, signing up for the 9-month vacant position since the predecessor left. In general note, this position was previously occupied by Nicko Widjaja who is now leading the BRI Ventures.
As Donald making his entrance, Aldi Adrian Hartanto now serves as VP of Investments at MDI Ventures.
As MDI Ventures' VP of investments, Aldi Adrian Hartanto told KrAsia, Donald Wihardja's experience in terms of investment and running a business should add up more colors to the investment style and culture of the next-generation MDI Ventures.
He added, in the next few years, the main objective of MDI Ventures is to remain the same, which is in line with the vision of being a VC that focuses on top multi-stage funding in Southeast Asia.
It is hoped that Donald and his team can help to accelerate fundraising activities, so as to create an independent funding association, as well as support and strengthen the organization. In 2019 MDI Ventures successfully made 5 exits, with 3 acquisitions and 2 IPOs.
New managed funds
This year, MDI Ventures will soon add two new managed funds to strengthen Telkom Group's startup investment portfolio from the early stage to the later stage. MDI Ventures' Managing Partner, Kenneth Li revealed to DailySocial that the add-up was due to their four-year first-round allocation is running out.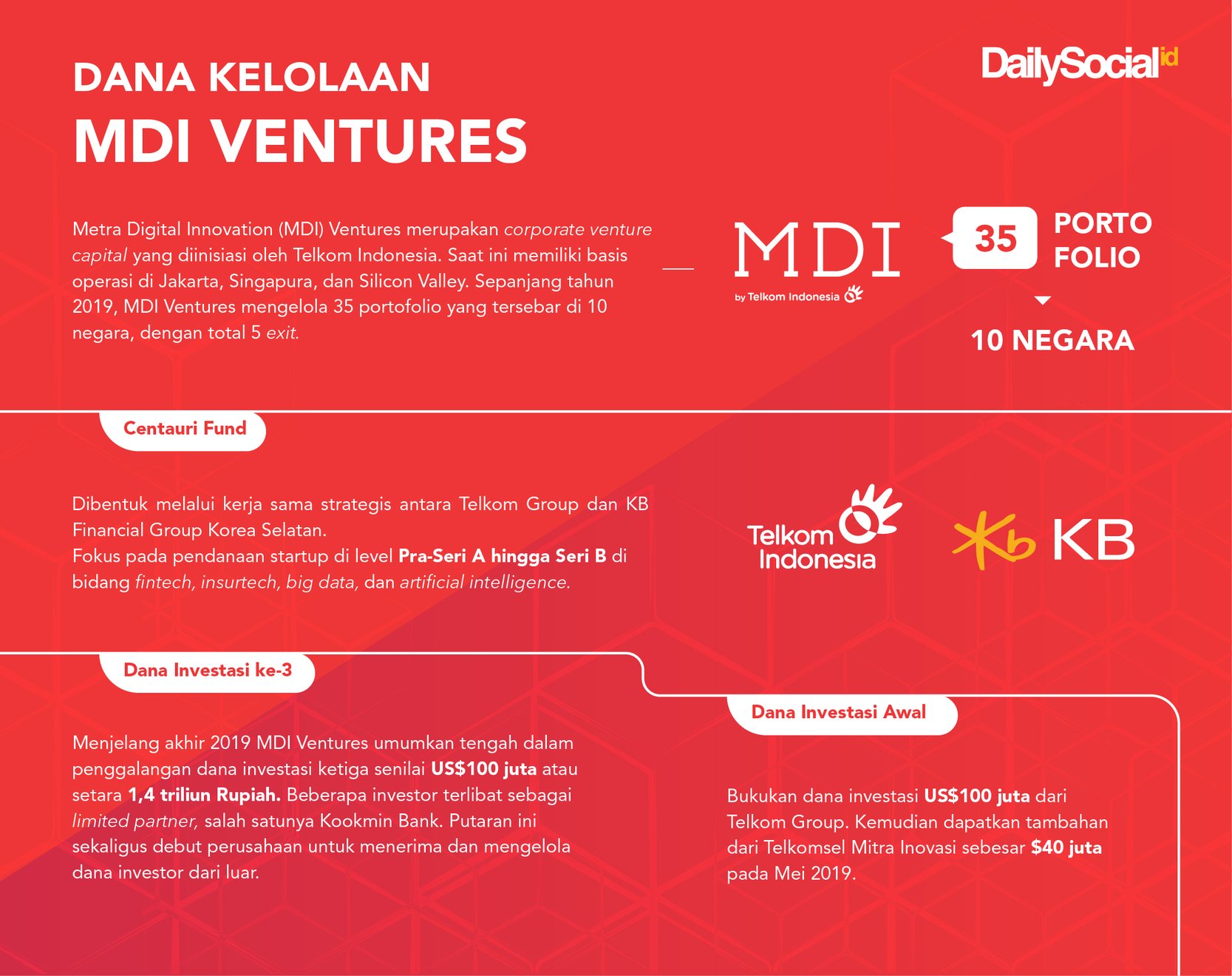 In early December 2019, Telkom Group through MDI Ventures and KB Financial Group from South Korea also formed a new managed fund called Centauri Fund. Tracing back, in mid-2019, a subsidiary in Telkomsel's cellular business formed a new investment unit, namely Telkomsel Mitra Innovation (TMI) which also be managed by MDI Ventures.
Investment blocks in 2020
The pandemic has caused shifting in many business strategies, even so with investment strategies. In a number of interviews with venture capitalists, we received a lot of insights about Indonesia's investment prediction to declining in 2020. Although some investors are convinced they will not delay any existing plans.
Kenneth said, there will be adjustments to investment activities. However, he estimates that there will be investors who take advantage of this situation to find startup portfolios whose valuations can be discounted, especially, investors with a strong cash reserve.
"We do not view investment plans from market aggressiveness, but startups that will succeed in the future. However, the investment depends on how investors determine their hypotheses. I am sure that VCs with new funds and good track records can survive in this situation," he said.
– Original article is in Indonesian, translated by Kristin Siagian
Are you sure to continue this transaction?
processing your transaction....