5 Fitur Unggulan OPPO A3S, Dari Desain Layar Luas Hingga Baterai Besar
Dengan OPPO A3s Anda dapat merasakan sensasi menggunakan perangkat high end OPPO F series
Lukman Azis - 19 September 2018
Bermacam-macam aspek tentu perlu dipertimbangkan dengan matang saat memilih smartphone agar sesuai kebutuhan. Misalnya, desain stylish, kapasitas baterai besar, kamera ganda, dan performa andal.
Pertanyannya, bisakah kita mendapatkan semua itu dengan budget minimum? Jawabannya bisa, smartphone anyar besutan OPPO yang satu ini pasti cocok untuk Anda.
Adalah OPPO A3s, dengannya Anda dapat merasakan sensasi menggunakan perangkat high end OPPO F series dengan harga di bawah Rp2 juta. Ayo kupas fitur dan spesifikasinya.
1. Desain Layar yang luas dengan Notch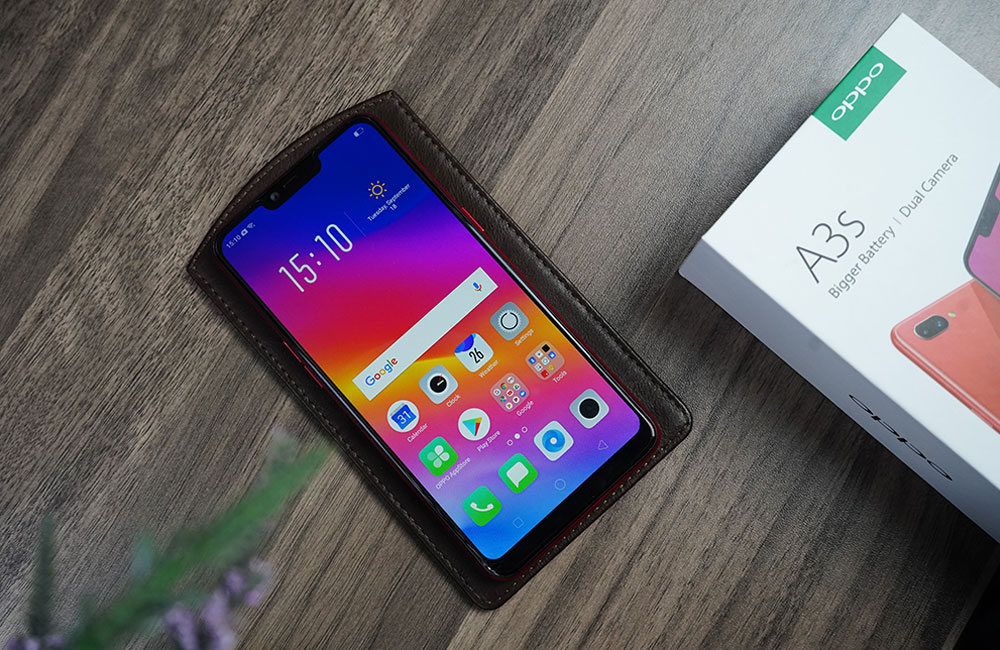 Saat ini smartphone sudah menjadi bagian dari lifestyle seseorang, maka dari itu tidak ada salahnya bila kita fokus pada tampilan. Seperti desain layar yang luas dan notch yang kekinian, OPPO A3s pun memilikinya.
OPPO A3s mengusung layar ekstra luas 6,2 inci dengan bentuk notch seperti OPPO F7 di bagian atas, ditopang resolusi HD+ (1520x720 piksel), dalam rasio memanjang 19:9.
2. Body Belakang Juga Mirip OPPO F7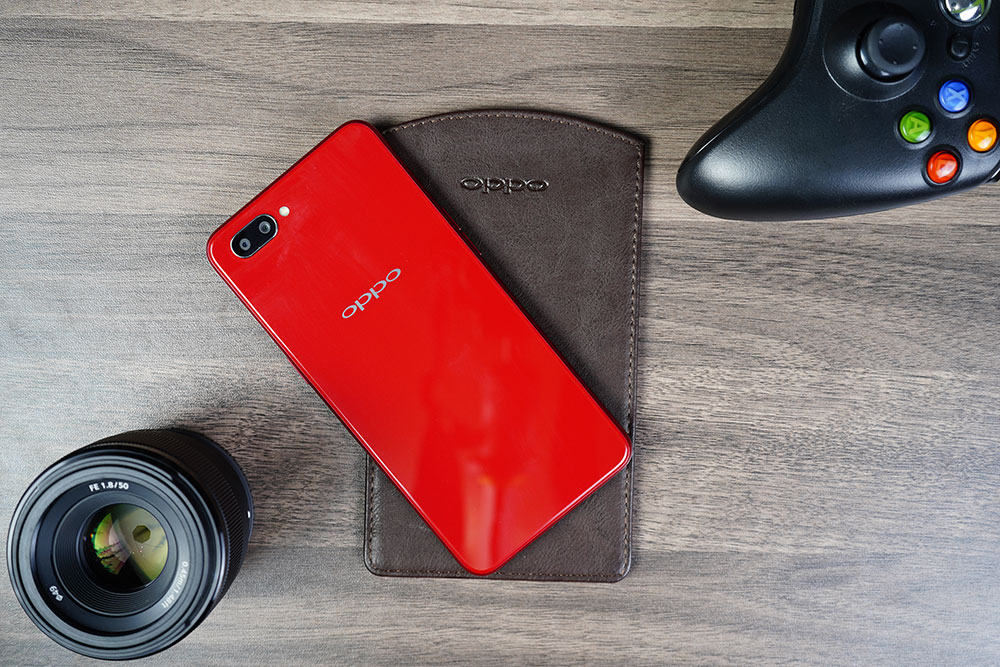 Tampang yang sedap dipandang mata, juga harus didukung build quality yang baik - sehingga mampu memberikan kesan premium dalam kepalan tangan. Meski OPPO A3s ini merupakan smartphone entry-level, kualitas body-nya tetap dikemas sangat baik.
Bagian belakang OPPO A3s ini mirip seperti OPPO F7, menggunakan material komposit berjenis tempered glass. OPPO memadukan material plastik dan kaca sehingga memiliki refleksi dan feel layaknya kaca.
3. Baterai Besar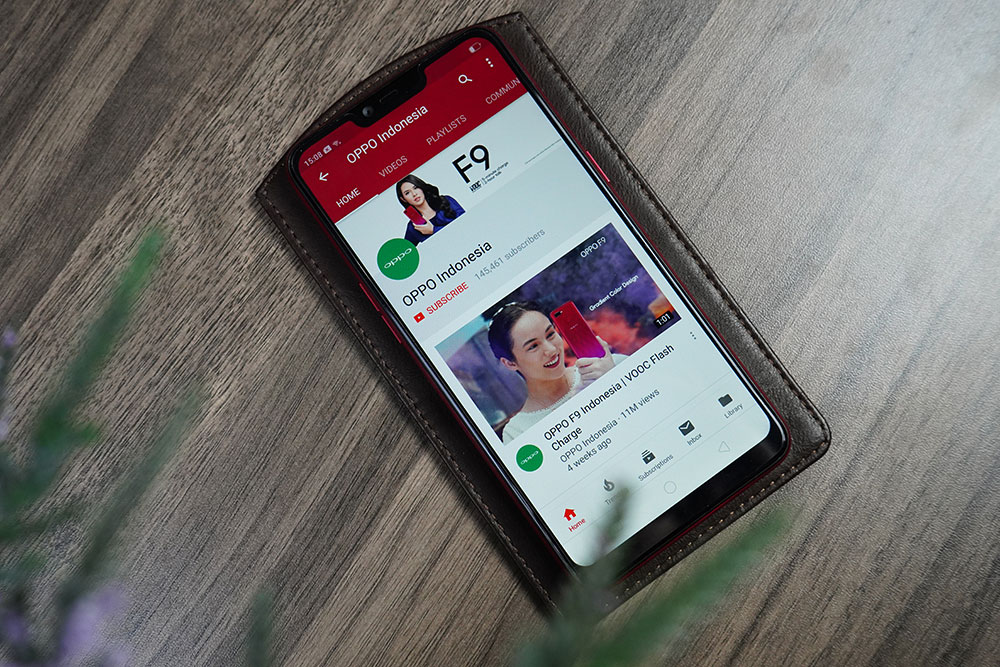 Kebanyakan smartphone rentan mati karena kehabisan baterai, apalagi bila pemakaiannya intens. Namun OPPO A3s dengan kapasitas baterai sebesar 4.230 mAh, tentunya menawarkan daya tahan baterai yang lebih panjang.
Bila penggunanya standar, bukan hal yang mustahil smartphone bisa menemani aktivitas Anda seharian. Lalu, meski tertanam baterai jumbo, dimensi OPPO A3s tetap ramping dengan ketebalan hanya 8,2mm dan bobot 168 gram.
4. Kamera Ganda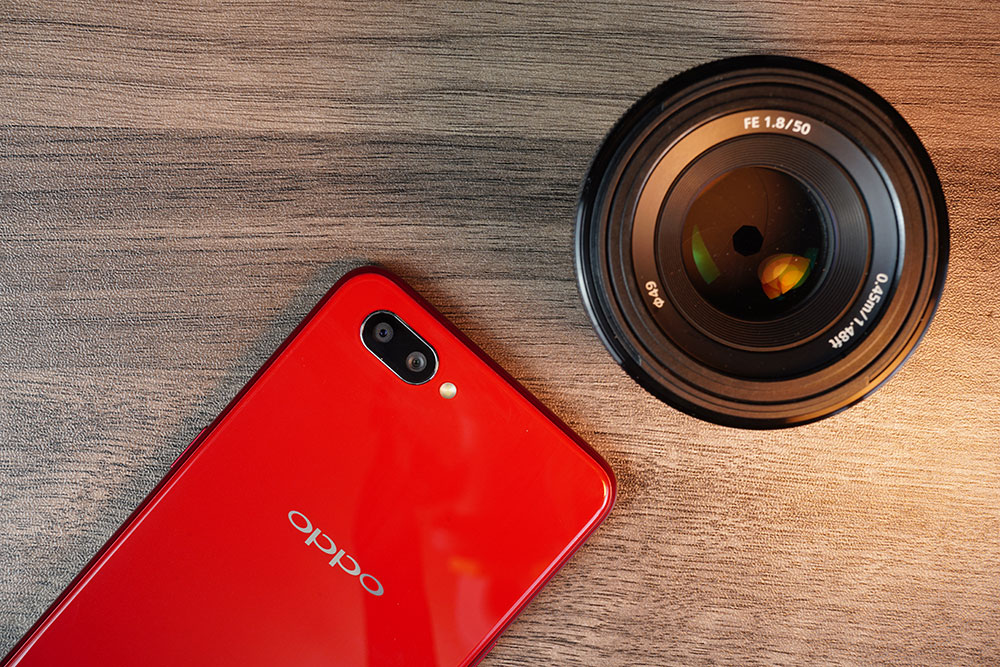 Bayangkan Anda bisa menciptakan foto dengan foreground dan background yang kontras atau bokeh yang terlihat artsy kapan pun dengan smartphone. Salah satunya bisa dicapai dengan penggunaan dua kamera.
OPPO A3s dibekali dua kamera belakang, dengan kamera utama beresolusi 13-megapixel, aperture f/2.2, dan berteknologi autofocus. Sementara, kamera sekundernya beresolusi 2-megapiksel dengan aperture f/2.4 yang bertugas menangkap depth of field atau kedalaman gambar.
Kepiawaian selfie juga tetap dimiliki OPPO A3s, kegiatan tersebut mengandalkan kamera depan 8-megapixel, aperture f/2.2, dan A.I Beauty. Teknologi berbasis kecerdasan buatan ini akan mendeteksi secara detail keunikan wajah kita, sehingga menghasilkan foto selfie yang natural.
5. Performa Andal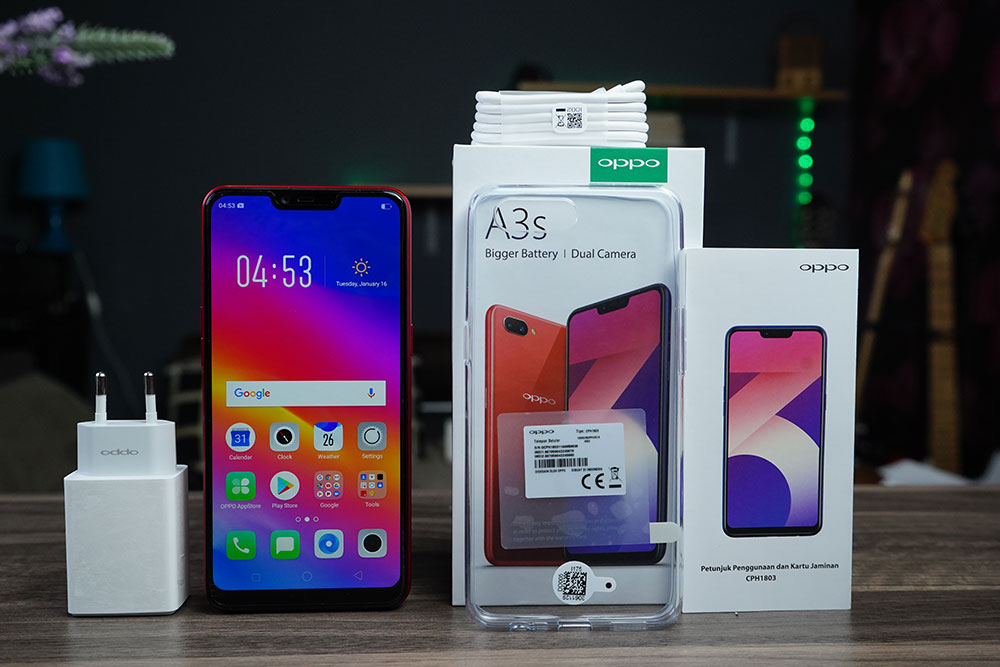 Jangan sampai kinerja smartphone mengganggu fokus Anda. OPPO A3s - smartphone Android 8.1 Oreo dengan skin ColorOS versi 5.1 ini diotaki mobile platform Qualcomm Snapdragon 450. SoC ini terdiri dari CPU octa-core 1.8 GHz Cortex-A53 dan GPU Adreno 506. Serta, di-support RAM 2GB dan storage 16GB yang bisa diperluas dengan slot microSD.
---
OPPO A3s memang merupakan smartphone entry-level, tetapi dikemas dengan sangat baik. Dibekali fitur dan pengalaman yang sama yang bisa Anda temukan di perangkat high end OPPO.
Smartphone ini terdiri dari dua warna, yakni red dan darkpurple. Selain menyediakan varian RAM 2GB dan storage 16GB dengan harga Rp1.999.999, OPPO A3s juga tersedia dalam varian RAM 3GB dan storage 32GB dengan harga Rp2.699.000.
Disclosure: Artikel ini adalah advertorial yang didukung oleh OPPO.
Are you sure to continue this transaction?
processing your transaction....