Fortnite Didepak dari Apple App Store dan Google Play Store
Epic Games merespon balik dengan menuntut Apple dan Google terkait praktik monopoli
Coba Anda cari Fortnite di App Store maupun Google Play sekarang, saya yakin game battle royale tersebut tidak akan muncul di hasil pencarian. Ini dikarenakan Apple dan Google sudah mendepak Fortnite dari platform mereka masing-masing.
Semuanya bermula ketika Epic Games merilis update untuk Fortnite di iOS dan Android yang menghadirkan mekanisme in-app purchase baru, yaitu direct payment. Sesuai namanya, direct payment memungkinkan pemain untuk membeli V-Bucks (mata uang dalam Fortnite) langsung dari Epic Games ketimbang melalui Apple atau Google sebagai perantaranya.
Alhasil, jika memilih opsi direct payment, pemain bakal mendapat potongan harga sebesar 20%; dari yang tadinya $10 untuk 1.000 V-Bucks menjadi $8. Sebelumnya, hal ini tidak dimungkinkan karena Apple dan Google menarik komisi sebesar 30% untuk setiap transaksi in-app.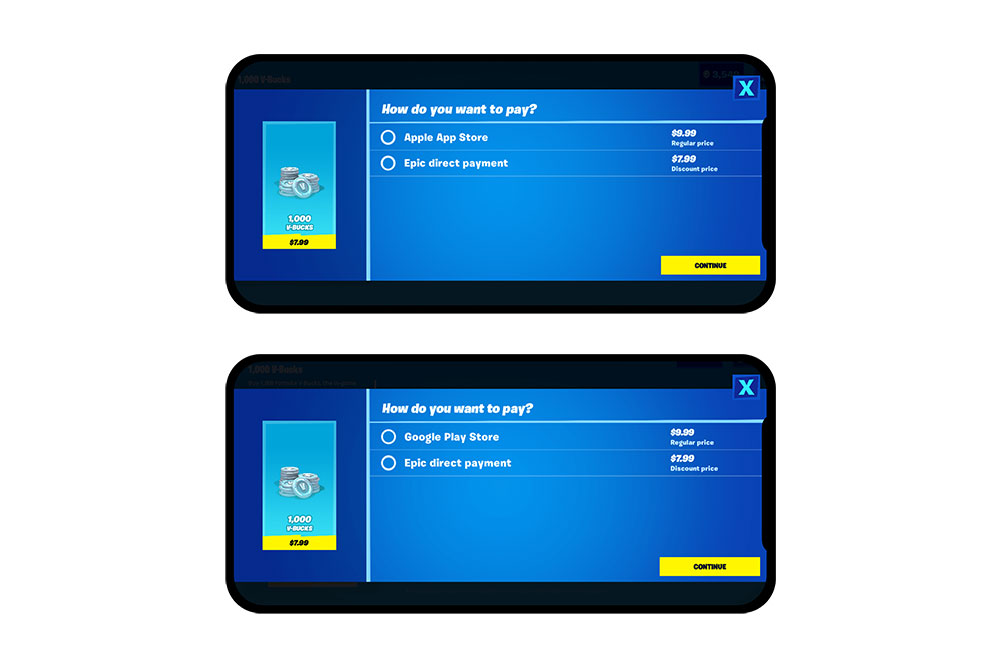 Lalu hanya selang beberapa jam saja, Apple langsung mengambil tindakan dengan menghapus Fortnite dari App Store. Alasannya? Mekanisme direct payment tersebut merupakan bentuk pelanggaran terhadap kebijakan di App Store. Tidak lama kemudian, giliran Google yang memblokir Fortnite dari Play Store dengan alasan yang serupa.
Di Android, ini sebenarnya tidak terlalu menjadi masalah sebab kita masih bisa mengunduh dan meng-install Fortnite langsung dari situs Epic Games, atau lewat Samsung Galaxy Store buat para pengguna perangkat Samsung. Pada kenyataannya, Fortnite sendiri baru hadir secara resmi di Google Play pada bulan April lalu, setelah hampir dua tahun tersedia di Android lewat metode instalasi langsung itu tadi.
Kasusnya sangat berbeda di iOS. Para pengguna iPhone dan iPad pastinya tahu bahwa satu-satunya cara untuk meng-install aplikasi atau game adalah melalui App Store (kecuali perangkatnya Anda jailbreak). Mereka yang sudah mengunduh Fortnite sebelumnya tapi belum sempat meng-update masih bisa bermain seperti biasa, akan tetapi mereka tidak akan bisa mengakses konten-konten baru yang datang bersama update Fortnite Chapter 2 - Season 4 ke depannya.
Kepada The Verge, Apple menyatakan bahwa mereka bakal berunding dengan Epic supaya Fortnite bisa kembali hadir di App Store, akan tetapi Apple tidak berniat memberikan pengecualian sehingga Epic tetap bisa menawarkan sistem direct payment pada Fortnite. Google pun juga memberikan pernyataan serupa dan membuka kesempatan berdiskusi dengan Epic.
Epic sudah menebak hasil akhirnya bakal seperti ini, sebab mereka langsung merespon balik dengan menuntut Apple dan Google sekaligus. Tuntutannya didasarkan pada undang-undang antitrust di Amerika Serikat, yang sederhananya menuduh Apple dan Google menerapkan praktik monopoli pada platform distribusi digitalnya masing-masing.
Apple dan Google sendiri belum lama ini juga mengirimkan masing-masing CEO-nya untuk bersaksi di hadapan Kongres AS terkait perkara antitrust ini. Jadi bisa disimpulkan timing drama Epic Games vs Apple dan Google ini bukanlah suatu kebetulan. Selain menuntut, Epic juga mengejek Apple dengan merilis video yang memarodikan iklan TV legendaris Apple dari tahun 1984.
Sumber: The Verge.
Are you sure to continue this transaction?
processing your transaction....