Fortnite Kini Dilengkapi Fitur Video Chat
Semakin matang sebagai platform sosial
Fortnite yang kita kenal sekarang bukan lagi sebatas game battle royale pesaing PUBG dengan grafik yang lebih kartun. Secara perlahan Fortnite terus bergeser menjadi semacam platform sosial baru, dan puncaknya bisa kita lihat di masa pandemi ini, di mana Fortnite telah dipercaya menjadi tempat penayangan perdana trailer sebuah film blockbuster maupun panggung konser bagi sejumlah musisi ternama.
Inisiatif Epic Games baru-baru ini juga semakin memantapkan konsep Fortnite sebagai platform sosial tersebut. Mereka baru saja menghadirkan fitur video chat pada Fortnite sehingga yang bisa saling menyapa di Fortnite bukan cuma karakter virtual saja, melainkan juga orang-orang di baliknya.
Fitur video chat ini memanfaatkan layanan milik Houseparty, aplikasi video chat yang Epic akuisisi pada pertengahan tahun 2019 lalu. Jauh sebelum ini, Epic sebenarnya sudah mengintegrasikan Houseparty ke dalam Fortnite, tapi hanya dalam bentuk voice chat saja, jadi tidak heran apabila banyak yang sudah memprediksi kedatangan fitur video chat ini sejak lama.
Untuk menggunakannya, pemain Fortnite wajib mengunduh aplikasi Houseparty di perangkat Android atau iOS terlebih dulu, lalu menghubungkan akun Houseparty dengan akun Epic Games-nya. Selanjutnya, pemain tinggal mengepaskan posisi perangkat supaya wajahnya terpampang jelas di kamera.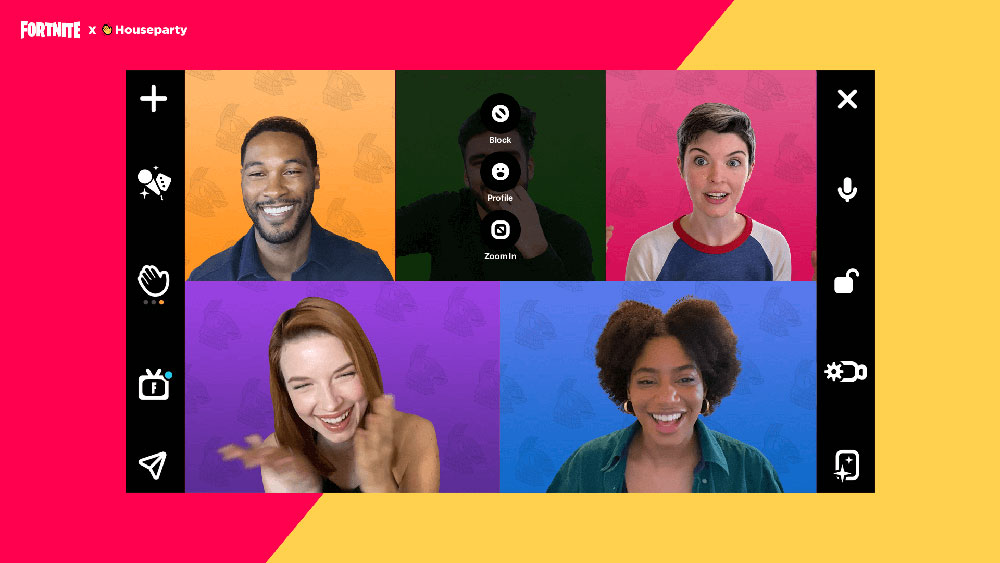 Penting untuk dicatat, fitur video chat ini baru tersedia di Fortnite versi PC, PlayStation 4 atau PlayStation 5 saja. Satu chat room bisa menampung sampai 10 orang, akan tetapi yang ditampilkan di sisi kiri game Fortnite hanya empat orang yang terakhir aktif berbicara saja.
Menariknya, tanpa mengharuskan pemain memasang green screen di belakangnya, aplikasi Houseparty bisa secara otomatis meng-crop bagian wajah sekaligus mengganti latar belakangnya dengan bermacam warna. Menurut Epic, hal ini dapat terwujud berkat penggunaan aset face detection library dari Apple dan Google sendiri – mungkin inilah alasan mengapa pemain harus menggunakan aplikasi Houseparty di smartphone sebagai kameranya.
Epic sejauh ini belum bisa memastikan kapan fitur ini bakal merambah Fortnite di platform selain tiga tadi. Apakah mungkin ke depannya integrasi Houseparty semacam ini juga bakal tersedia di game multiplayer lain yang menggunakan Unreal Engine? Kita tunggu saja.
Sumber: Epic Games dan The Verge.
Are you sure to continue this transaction?
processing your transaction....