Gaet Veteran Square Enix, Game Target Acquired Buatan Indonesia Sukses di Kickstarter
Yoga Wisesa - 12 November 2014
Judul-judul besar seperti Pillars of Eternity, Tides of Numenera dan Star Citizen berhasil membuktikan pada kita semua bagaimana nostalgia merupakan faktor penting dalam kampanye pengumpulan dana. Ia juga dimanfaatkan developer lokal untuk meracik game-game independen, dan permainan terbaru buatan TouchTen Games tak terkecuali.
Di sekitar akhir bulan Agustus, TouchTen Games - studio game berbasis Jakarta - mengumumkan Target Acquired. Ia adalah permainan action side-scrolling bertempo cepat, menyuguhkan visial 2.5D dengan pendekatan anime bertema futuristik. Anton Soeharya selaku COE menyebutkan, Target Acquired terinspirasi dari beberapa permainan klasik; Sonic, Super Mario Bros. dan Mega Man.
Dan setelah menyimak presentasi TouchTen, Target Acquired sangat mengingatkan saya pada Mega Man - termasuk senjata laser yang menyelubungi tangan karakter, namun menyuguhkan tokoh protagonis wanita. Berperan sebagai Yura Anders sang 'polisi kucing', pemain akan menjelajahi dan menyelamatkan kota Nekomipolis dari Robot Tikus Pencuri bernama Cammy.
Plot dan setting tersaji ringan, layaknya Mega Man, untuk merangkul pemain di seluruh tingkatan usia. Menurut tim developer, mereka ingin menghadirkan detail tinggi demi memuaskan Anda, para pemain. Namun membahas Mega Man, kita tahu bahwa Keiji Inafune dan tim Comcept sedang merampungkan Mighty No. 9, penerus 'spiritual' dari seri permainan milik Capcom itu. Mampukah Target Acquired bersaing dengannya?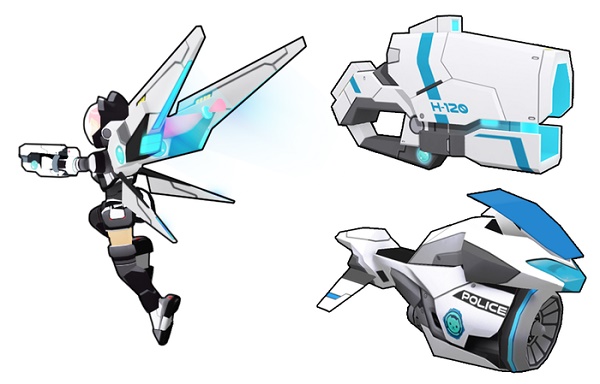 Info menarik: TouchTen Galang Dana Melalui Kickstarter untuk Realisasikan 'Target Acquired'
Sang developer tampaknya mengerti mereka harus mengambil strategi berbeda. Dalam proyek Target Acquired, mereka berhasil menggaet mantan CEO Square Enix Indonesia Ryo Teruya dan Eduardo Fabian yang pernah bertanggung jawab sebagai manager Quality Assurance Assistance permainan Wanted: Weapons of Fate.
Tak cuma Teruya dan Fabian, komposisi musik dan efek suara di Target Acquired diserahkan pada Manami Matsumae. Siapa dia? Bersama Inafune, Matsumae juga pernah bekerja di tim Capcom, menjadi komposer game Mega Man. Selain itu, ia juga memiliki andil dalam proyek Dynasty Wars, seri Derby Stallion, Dragon Quest Swords dan yang terbaru, Shovel Knight.
Telah melewati batas US$ 10.000, tim kini mengincar target stretch US$ 16.000, menjanjikan armor dan skill baru. TouchTen mempunyai reputasi cukup tinggi di lini mobile berkat beberapa game mereka sebelumnya: Sushi Chain, Infinite Sky serta Ramen Chain.
Target Acquired akan dilepas sebagai game mobile, tapi jika crowdfunding di Kickstarter menyentuh angka US$ 68.000, akan tersedia pula versi PC dan Mac-nya.
Are you sure to continue this transaction?
processing your transaction....