EA Ungkap Video Teaser Gameplay Command & Conquer Remastered
Tetap gunakan grafik 2D, tapi seluruh asetnya sudah diperbarui menjadi sangat mendetail
Apa persamaan antara Age of Empires, Command & Conquer, dan StarCraft? Ketiganya adalah franchise RTS (real-time strategy) legendaris yang berkontribusi besar terhadap popularitas genre tersebut. Game pertama dari masing-masing franchise itu juga masih sangat relevan sekarang, terutama berkat versi remastered yang dirilis.
Ya, setelah Age of Empires dan StarCraft, Command & Conquer orisinal juga ikut mendapat perawatan modern yang sama. Kabar mengenai C&C Remastered sebenarnya sudah diumumkan sejak tahun lalu, akan tetapi kala itu masih belum ada kejelasan mengenai arahan remaster yang bakal diambil oleh EA dan Petroglyph Games.
Setahun berselang, mereka pun sudah punya video teaser dari gameplay-nya. Terlihat jelas bahwa arahan remaster yang diambil sama seperti AoE maupun StarCraft; perubahan terbesarnya hanya dilakukan pada aspek grafis tanpa menyentuh mekanisme orisinalnya sedikit pun.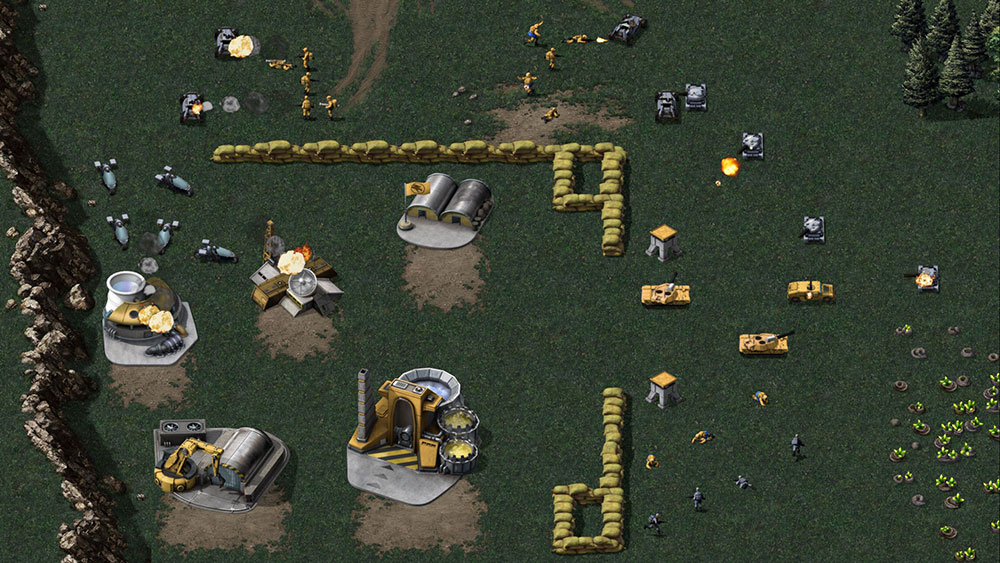 EA bilang bahwa Lemon Sky Studios, tim yang dipercaya menangani modernisasi visualnya, telah merombak satu per satu aset grafik C&C dari nol, sehingga wajar apabila hasilnya tampak begitu mendetail. Setelahnya, barulah tim Petroglyph yang mencocokkan frame demi frame dari aset barunya dengan aset orisinalnya.
Proses seperti ini diambil demi menjaga nilai otentik C&C orisinal selagi hanya memperbarui aset visualnya. Begitu kompleksnya proses semacam ini, satu aset seperti unit Grenadier saja bisa terbentuk dari lebih dari 600 frame.
Satu fitur menarik yang ditawarkan C&C Remastered adalah, selagi memainkan mode Campaign, kita dapat mengaktifkan visual lama atau barunya kapan saja dengan satu klik tombol, sehingga kita bisa membandingkan langsung aset orisinal di resolusi 320 x 200 dengan aset barunya di resolusi maksimum 3840 x 2160. Sebelum ini, StarCraft: Remastered juga hadir membawa fitur yan sama.
Sayang sekali EA masih belum punya jadwal rilis untuk Command & Conquer Remastered. Beberapa aset pada video teaser-nya juga masih belum selesai dirombak, dan sejumlah bug juga masih harus mereka tangani.
Sumber: Rock Paper Shotgun dan EA.
Are you sure to continue this transaction?
processing your transaction....