Gojek Kenalkan GoCar Instan di Bandara Internasional Soekarno-Hatta
Mulai tersedia juga GoRide Instan di Stasiun Depok Baru dan Pasar Blora Dukuh Atas
Prayogo Ryza - 10 September 2019
Gojek secara resmi memperkenalkan fitur GoCar Instan. Sebuah fitur yang memungkinkan pengguna yang ada di Bandara Internasional Soekarno-Hatta mendapatkan layanan GoCar dengan cepat.
Co-Founder Gojek Kevin Aluwi menyebutkan fitur GoCar Instan mampu mempersingkat waktu tunggu penjemputan di terminal kedatangan sehingga berdampak pada lancarnya arus keluar masuk kendaraan di bandara.
"Kami sangat berterima kasih kepada Angkasa Pura II atas sambutan hangat serta keterbukaan untuk mengadopsi teknologi yang memudahkan mobilitas pengguna bandara. Untuk itu, kami menghadirkan fitur baru, GoCar Instan di Bandara Internasional Soekarno-Hatta. Fitur tersebut merupakan salah satu solusi Gojek untuk transportasi cepat dan mudah dari bandara," jelas Kevin.
Mengenai GoCar Instan di Bandara Internasional Soekarno-Hatta Kevin menjelaskan, mereka tak hanya menyediakan fitur pemesanan on the spot tetapi juga dilengkapi oleh solusi pengelolaan antrian untuk membantu konsumen mendapatkan kendaraan dengan cepat tanpa menunggu kelancaraan arus kendararaan. Bagi mitra driver Gojek, fitur ini memudahkan mereka untuk bisa cepat bertemu dnegan pelanggan.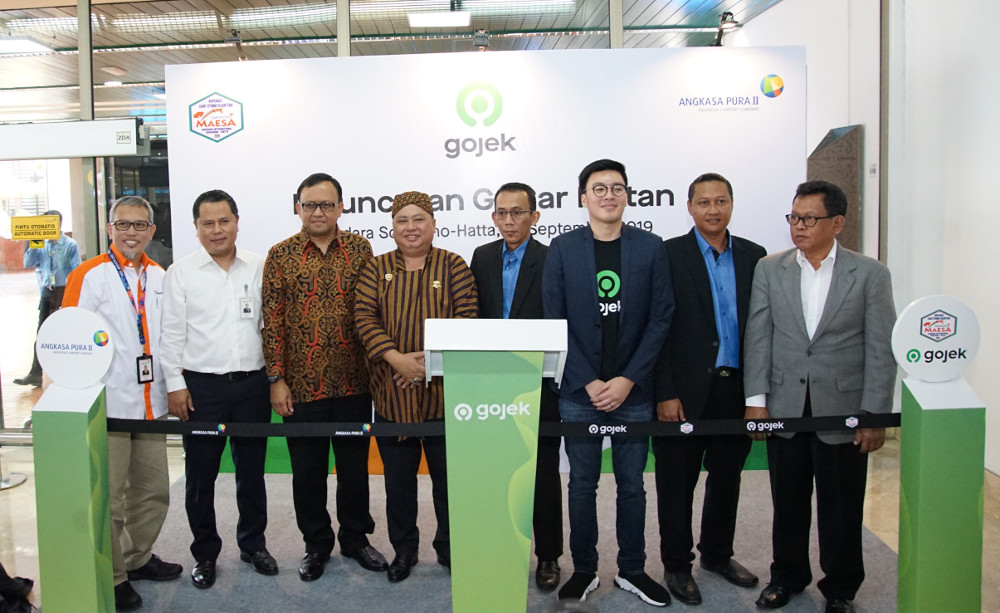 "Kami tawarkan solusi pengelolaan antrian yang membuat arus masuk dan keluarnya kendaraan jadi ringkas. Kami melihat bahwa penumpukan antrian kendaraan cukup sering terjadi di bandara, sementara zaman sekarang masyarakat ingin semuanya serba cepat. Untuk itu kami hadirkan fitur GoCar Instan agar pemesan layanan dan mitra driver cepat bertemu dan dapat langsung berangkat," jelas Kevin.
Fitur GoCar Instan juga didukung dengan hadirnya titik jemput GoCar Instan di Terminal Kedatangan 2D, dan 2F. Dalam waktu dekat juga akan diperluas untuk area kedatangan 1A dan Terminal 3 Domestik serta Internasional di Bandara Soekarno-Hatta.
"Dukungan dari Angkasa Pura II menjadi tonggak sejarah pengembangan layanan pemesanan on the spot yang cepat dan mudah. Kami juga berharap masyarakat mencoba layanan baru kami di Bandara Internasional Soekarno-Hatta dan tidak ragu berbagi pengalaman bersama kami agar kami dapat ide-ide fresh untuk terus berinovasi," terang Kevin.
Selain GoCar Instan, Gojek juga memperkenalkan GoRide Instan yang mulai tersedia di Stasiun Depok Baru dan Pasar Blora Dukuh Atas, lokasi ini berdekatan dengan Stasiun Sudirman maupun Stasiun MRT Dukuh Atas. Fitur GoRide Instan ini merupakan fitur yang serupa dengan GrabNow milik Grab.
Application Information Will Show Up Here