GoLife Tutup Lima Layanan, Fokus ke GoClean dan GoMassage (UPDATED)
Lima layanan tersebut adalah GoLaundry, GoDaily, Service Marketplace, GoGlam, dan GoFix
GoLife, layanan jasa gaya hidup Gojek, mengumumkan penutupan lima layanannya secara bertahap mulai dari 31 Desember 2019. Layanan hanya menyisakan GoMassage dan GoClean sebagai fokus utama. Secara total aplikasi ini telah diunduh lebih dari 6 juta kali, baik di Google Play maupun di App Store.
Pengumuman ini mulai dipublikasikan serentak di dalam aplikasi. Dalam penjelasannya, layanan laundry GoLaundry, pesan antar kebutuhan harian GoDaily, dan Service Marketplace tidak dilanjutkan per 31 Desember 2019.
Sementara layanan kecantikan GoGlam dan layanan reparasi GoFix mulai ditutup pada 15 Januari 2020. Layanan cuci kendaraan GoAuto akan dilebur dengan layanan kebersihan GoClean mulai 17 Desember 2019.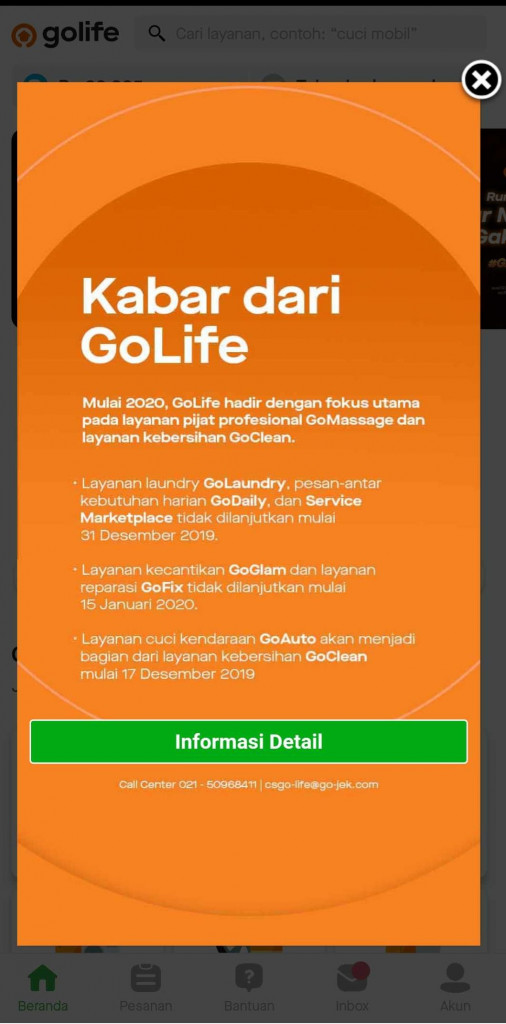 Kabar ini mengindikasikan kurangnya traksi untuk pemanfaatan layanan dari GoLife untuk kebutuhan sehari-harinya. GoLife menyisakan GoMassage dan GoClean karena secara bisnis dan loyalitas layak dipertahankan.
Menurut keterangan resmi, Head of GoLife Wesly Simatupang menuturkan saat ini kontribusi layanan GoClean dan GoMassage mencapai hampir 90% dari total order di dalam ekosistem GoLife.
"Sehingga, pengkajian dan pemfokusan ulang perlu dilakukan supaya pertumbuhan usaha terus berkesinambungan, sekaligus memastikan konsumen tetap dapat menikmati layanan maksimal dari ekosistem GoLife," ujarnya, Rabu (18/12).
Wesly kini menggantikan Dayu Dara Permata yang mengundurkan diri pada bulan lalu.
Beri opsi untuk mitra GoLife
Dalam mempertahankan jumlah mitra GoLife, perusahaan melakukan sejumlah inisiatif guna memastikan para mitra tetap memiliki opsi mendapatkan penghasilan tambahan, dengan bergabung di layanan Gojek lainnya.
Beberapa diantaranya, memberikan kesempatan untuk masuk sebagai mitra GoRide, GoCourrier, rekan usaha GoPay, GoTix, hingga Usaha Mapan; memberikan pelatihan dan modal awal bagi yang bergabung jadi mitra Usaha Mapan untuk memulai usaha baru.
"Khusus mitra GoFix kami memberikan kesempatan pada istri mereka untuk dapat mendaftar sebagai mitra Usaha Mapan. Juga membuka kesempatan masuk ke platform online sejenis di pasar."
"Alhamdulillah, langkah-langkah tersebut mendapat sambutan yang sangat baik dari para mitra," tambah Wesly.
Sebelumnya, dalam pernyataan resmi, GoLife meluncurkan dua fitur keamanan tambahan khusus mitra yakni KYC dan customer rating untuk melengkapi sistem keamanan yang telah diluncurkan sebelumnya, termasuk kemitraan dengan polisi untuk penyuluhan pertahanan diri, emergency panic button, dan in-app message.
GoLife pertama kali diperkenalkan pada tahun 2015, lalu di spin-off menjadi aplikasi terpisah dari Gojek setahun kemudian. Dalam perjalanannya, GoLife memiliki beragam layanan hingga Go-Pertamina untuk pesan antar bahan bakar resmi dari Pertamina.
Total mitra yang bergabung diklaim lebih dari 30 ribu mitra profesional dan 30 ribu usaha mikro, kecil, dan menengah, tersebar di 70 kota di Indonesia.
Kompetitornya, Grab, bekerja sama dengan Sejasa merilis layanan sejenis GoLife bernama Clean & Fix. Layanan ini menyediakan jasa servis elektronik (AC, mesin cuci, dan kulkas) dan jasa cleaning (daily cleaning, sofa cleaning, dan sedot tungau).
* Kami menambahkan informasi resmi dari pihak GoLife
Application Information Will Show Up Here
Are you sure to continue this transaction?
processing your transaction....